APRIL 1903 - HIRAM PRATT DIARY
Waveland, Indiana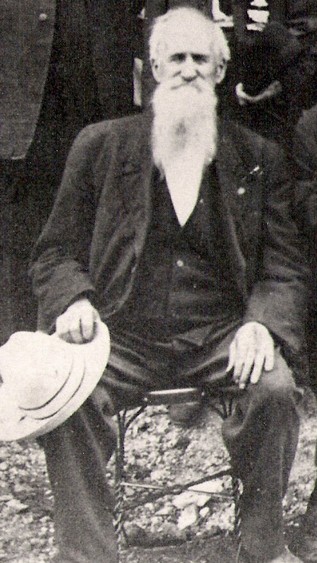 Note: These diaries were in the Waveland Public Library for decades but were disposed of by a librarian several decades ago. Luckily, another librarian's daughter (thanks sooo much Pam, at the death of her mother, Virginia Banta Sharpe found them in some belongings and gave them back for proper housing. A complete circle; however, only 14 of the 50+ diaries were saved from the library's incinerator. I'm a librarian too and thought since they'd been lost to posterity for so many years that it would be a good thing to transcribe them and give them to the world. They are currently housed in proper temperature/storage at the Crawfordsville District Public Library - typed as they were written
Note 2 : Karen Bazzani Zach (transcriber) was raised in the big 'ol town (500 people) where HA Pratt lived 5 decades before I was born. I remember the building where his little shop was and wish it was still there. What an interesting little place. ALAS! Progress ! Oh, and I've tried to type the diaries as is - mistakes & all
Note 3: Some information about Pratt -- he was born in Parke County, Indiana April 20, 1840 the oldest child of eight born to Erastus & Elizabeth Allen Pratt and died October 12, 1914 in his beloved Waveland, Indiana. He was twice married, first to the love of his life (he kept a life-sized poster of her in one of his cabinets at his barber shop, even long after his second marriage) Eliza Franklin Shaw (born Oct 23, 1841 died Oct 12, 1887), and #2 to his friend, Evaline "Eva" McMains. He was very active in the community where he and Eliza chose to live. He gave generously of his time and money to the Methodist Church in Waveland. For a few years, he served as Marshall of the town. Also, he worked diligently for his Odd Fellows, Rebekah & Knights of Phythias Lodges, was for a time on the town board, and read to those who could not read from the several newspapers he was agent for. Pratt volunteered and served for three years during the Civil War (Co. B, 36th Infantry), and spent time in the dreaded Andersonville prison. He and Eliza adopted a son, Willie Franklin Stump, age two (not sure ever officially or just had permission to take him from the Poor House in Crawfordsville) and he was an amazing young boy (high grades, worked in the church, quite musicially inclined, just an ideal child) until Eliza was taken to the hospital where she was operated on for six cervical tumors (one weighing six pounds) from which she died. Willie went wild after that and he and Hiram's second wife, Eva never got along. He ended-up in Reform School (for stealing a dollar twice from Eva among other small crimes), and later sent home to die due to consumption (what we know as tuberculosis) dying in Hiram's arms on April 12, in 1894. Hiram missed Willie and Eliza more than most I do believe as he wrote about them so often in these diaries. Just wish the rest of Pratt's diaries he wrote for over 50 years as a barber in Waveland still existed :( kbz
---
Wednesday April 1 -- $1.70. The roads are dusty and getting in good shape and everybody seems to be happy because of the nice weather. Penn Hanna is busy having his house repaired. CH Spencer is having a barn built and Mrs. Dooley is having repairs on her house and Acker is refitting up his harness room for a meat market. Mr. Carrington is going to move his market over there.
Thursday April 2 -- $1.50. Paid dues in the Knights of Pythias order $1.30. Bought a mole trap for a dollar. I am going to exterminate the moles that work in our premises if I can. A telephone from Portland Mills stated that Aunt Bet was alive. Twice last night she was thought to be dead. Mercury was up to 71 today. Rain is likely to be here for morning.
Friday April 3 -- $2.10. Had a big rain last night. Today we have had rain, wind sunshine hail and snow a regular march day. Exchanged 6 doz eggs for 26 cakes of Utility Laundry soap. 2 for a nickel (5 cts) We got word this morning that "Aunt Bet" passed away at 2 o'clock this morning. She was a long sufferer of rheumatism. Funeral Sunday at 10 a.m.
Saturday April 4 -- $7.85. Mercury was 10 degrees below the freezing point this morning. If any fruit has passed the other cold snaps, this one surely destroy every one left. We were done work by 12 or midnight. Wesley Chamness died at about the noon hour. He had consumpsion (sic). Paid 40 c for cured ham and a beef steak. Clear and cool all day.
Sunday April 5 - I visited Willie's grave early this a.m. was on my way to Fullenwiders to get "Bob". Since our stable is so awful wet and muddy George keeps him up there. We were on our way to the funeral of "Aunt Bet" McMains by 20 minutes after 7. Arrived at Sam's by 15 m of 9. Funeral sermon by Elder Lane. Her body les buried in Union Church Cemetery 1 ½ miles west of Morton. The day was cold and damp. Home by 3 ½ p.m.
Monday April 6 -- $4.40 Apples 2 for 5 c. Eva was up town Saturday and spent 50 cts Patton's. 10 c for fruit 15 gal coal oil $1.75. House broom 35c. I neglected to pay George the $1 last Saturday. It is paid now. Last night I was at meeting and heard our pastor Olliver P. Paxon. "I am not ashamed of the gospel of Christ v2." Was the text. A little cool today but not enough to keep up a fire in the heating stove.
Tuesday April 7 -- $3.25. Tonight Bro. Paxon came in and offered to give some one a ticket to the lecture by Ralph Parlete at the Baptist Church. I accepted the ticket. The lecturer is well recommended as an entertaining speaker. I had work to do until nearly 9 o'clock and when I got there he had been speaking for several minutes.
Wednesday April 8 - $.45 -- Paid 45 cts for a peck of apples to eat. Bro. Moorman gave Eva his wife ticket to the lecture last night. She did not care to attend. Bro Paxon's wife was of the same trend of mind is how I came to get her ticket. I was very much amused at the play he made upon words. He kept the crowd attention for 2 hours.
Thursday April 9 -- $5.15. $1.10 for a large bag of flour 49 lbs one fourth of a barrel. Bought 3 mackerel fish 25 c. 1 quart of New Orleans Molasses for 15 c. Yesterday I sent the Cin News Co $5. I believe it was on Tuesday. Paid 40 c for nearly 8# of fresh pork "spareribs" and 20 c for a couple slices of green ham. We had a mess of greens for our dinner. Weather real nice.
Friday April - $1.80. President Roosevelt is in his western tour. He will not return to Washington until 6th of next June. The weather continues very fine. Phillip McMains and his sister Miranda Ellis returned to Rossville, ill on the early morning train up from Terre Haute last Tuesday.
Saturday April 11 -- $9.15. I have had to keep up fire in the heating stove all day. Notwithstanding the severe cold weather and the late cold snaps there are a few peach boom (bloom) not yet destroyed. Early pears have been injured late pears promise to be a full crop. Jim Alfrey made a purchase of fresh beef for me this evening. I do not know the cost of it at present.
Sunday April 12 - There was no preaching in the Methodist house of worship today. I heard Bro EE Moorman at the morning services. He preached the New birth to be water baptism and the "one baptism" also a water baptism. I did not visit Willie's grave today. He has been in the grave 9 years and 29 days. My little lady (Eliza F. Pratt) has been dead 15 years and 6 months.
Monday April 13 -- $4. Paid $4.05 for 30 gal of gasoline 30 c for express on the return of the laundry hamper with contents it was not received until tonight. Yesterday was a very rainy day rain has been falling most of today. There is an old 'saw" that if it rains on Easter Sunday it will rain for 7 consecutive days and if on Monday, two more days that week. I have known it to fail.
Tuesday April 14 -- #1.40. Eva and I went on our way to meeting last night, stoped at Alfreys a rain came up and we discontinued going to meeting. Paid 25 c for 4 small fish. John McMains took them down home and prepared them for cooking. We had all we wanted for our dinner and more. We have been blessed with more rain today.
Wednesday April 15 -- $2.25. One pound of lettuce 20 c 1 bunch of onions 5 c Post office box rent 15 c. Telephone rent for last month $1. Beef last Saturday cost 35 c. Rained nearly all day. We are abundantly supplied with moisture. Bale straw for Bob 35 c. Exchanged 6 doz of eggs for soap and 3 doz for coffee. 11 c per doz for the eggs. Last week I sent the Enquirer a dollar.
Thursday April 16 -- $1.25. I sent in the laundry to JJ Campbell of Logansport Ind $2.00. Mary Lewis, Eva's niece was at our house all of last night from 9 p.m. Eva has a letter from her sister, Almira of Okmulgee, Indian Territory stating Perla is to be married next month. Bale of straw for the cow 35. The sky is clear today cool enough o have fire in heating stoves.
Friday April 17 -- $1.10. Bought a couple of hand mirrors for 25 . Weather has been clear yesterday and today. James Robertsons returned this morning from Oklahoma Territory whither he had gone two weeks ago to administer on the estate of his uncle Allan Robertson. I am prepared to attend Knights of Pythias lodge tonight. Eva has written a letter to Mesa Beaupree, Indianapolis, Ind.
Saturday April 18 -- $9.05. There was no rain fell today. The laundry failed to arrive. It also failed last week. The week before I sent it to Ed E. Lawrence of Terre Haute. Sent him a money order of $1.62. We were done our work by 11 o'clock. It was nearly 12 when I went to bed. Paid 45 for fresh beef. Have promised of rain to morrow .
Sunday April 19 - Rained all of the forenoon, commenced sometime in the night. Hitched "Bob" to the buggy and went over to Kelso's to spend the day had intended to go to meeting this a.m. to hear Henry C. Moore - he is a student from this place to Asbury University. No meeting tonight on the account of no coal for the furnace. Visited Willie's grave at 10 a.m. as I was on the way to get "Bob" Mrs. Marthay McClure of Crawfordsville is at our house.
Monday April 20 -- $.280. We have had no rain today. Have had no fire in the shop stove. Mrs. Martha McClure returned to her home in Crawfordsville at 3:27 p.m. I paid 30 c express for gasoline 4.73 for a bale of straw 35 and 25 for evaporated apples and 20 c for a pine apple 35 c for a doz oranges. I am 63 years old today.
Tuesday April 21 -- $1.20. I wrote the diary for yesterday last night by the light of an "Acorn" or the American Arc light 700 candle power and some 10 or 12 feet distant without the aid of spectacles. I notice that I did not plumb the line after leaving the first ruled line. Paid 35 for meat. The meat market is now on the east side of the street and is filled up in fine style. Cool all day.
Wednesday April 22 -- $1.10. Spent 25 for fresh pork at 10 c per lb. Perry Garland says he seen snow falling yesterday. I seen it today - only a few small flakes. Have had a fire in the heating stove all day. I drew the buggy to John Sharp's paint shop to have it repainted. George Fullenwider will give up his job after next week. I will then have paid him $23.
Thursday April 23 -- $1.65 There was a white frost this morning. Ice was formed in vessels where the water was shallow. Paid 25 c for cakes 15 for ¾ lbs of cheese. 1 lb of butter 20. Guy McMains and wife of California are at our house tonight. Guy is my wife's nephew, son of her brother Anderson's. He was a soldier in the war with span and in the Philippine Islands.
Friday April 24 -- $2.95. Bought 6 oranges 25. 1 doz of bananas 15 . Apples 10. Guy and his wife my wife and I were at Jim Alfreys for dinner. Sam and John McMains are at our house tonight. Paid 25 c for a small tin pail. I lost one and had to get another. I take ½ pint of milk to Mrs. Walls every morning. We had a very light rain fall today.
Saturday April 25 -- $6.85. Paid Crawfordsville Journal $10.74 Expense 16 c Beef roast 80 c. Jim Alfrey took Samuel McMains over to Portland Mills this forenoon. Gave George Fullenwider a $. Paid a dollar for am ole trap. We were done work by 11 o'clock. The day hass (sic) cold and damp all day. Have kept up a fire since yesterday morning.
Sunday April 26 - I made my visit to Willies grave at about 11 o'clock. There was no meeting in the Methodist church house and I went to Bro PM Conner's. John Sharp and his wife - Conner's daughter - rendered a few pieces of very excellent musick (sic). I was home by 12:30 p.m. This evening I went to meeting with my wife. The day has been very nice no rain and this is the second Sunday after Easter.
Monday April 27 -- $3.75. Paid $4.05 for 30 gal of gasoline. There was no rain fall today weather promising to be fine. Eva has commenced to clean house. She says house cleaning is like a case of typhoid fever, it has to very bad before it can get any better. There is strong talk of Harry Kritz and Miss Grace McCampbell going to marry - a good match.
Tuesday April 28 -- $4.50. Paid 40 c for tickets (2) for the Zobo or Bozo entertainment. It is given by the womens aid society of the Methodist Church. It will be in their church house. We are intending to go. Eva has the summer kitchen cleaned up in good style. Mrs. Gilkinson has promised to help her.
Wednesday April 29 -- $2.80. The Bozo entertainment was to me the nicest affair I ever saw. The living pictures were very beautiful, Flossie Charles hanging to the cross while the band played "Rock of Ages." Perla Guy with the starry flag and shield was a patriotic scene - very beautiful. Sadie Barton and Mrs. Miller each spoke a piece that was very nice. Carpet tax 5. Cheese 20. No rain.
Thursday April 30 -- $1.30. I sent the Union Mutual Life insurance of Portland Maine 4.66. Expense 5. The weather commenced turning colder soon after dinner and by night we had to have a fire in the heating stove. Eva thinks she will get through with the house cleaning tomorrow. Paid 25 c for a short pound of dried beef. The President and Ex-pres Cleveland are in St. Louis today. Sent the laundry $2.