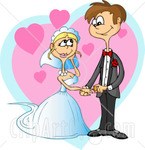 Marriages will be placed on this page under the headings of Marriage Records & Individual Marriages in Newspapers (see sections below). Also the 1820-1883 group is based on the WPA records for Montgomery County. From 1883 + you should also check the Crawfordsville Library link toward the bottom of this page :) Have FUN!!
The 1823-1888 records index has been placed into
easy to read tables along with verifying and combining with the pre 1850 records. After six months
of work, I have completed this event. It is not perfect, but we have tried to check
marriages as I performed this project.
The names in each marriage should appear twice, once in the "Name" Column and also in the "Spouse" column. Indexed by the SURNAME. These have not been verrified, some only appear once.




Dates will be in the Month, Day, Year format.

Book and Page numbers used as found.
---
*******Note
: THERE ARE NO "X" MARRIAGES LISTED
Note
*******
---
Montgomery County Marriages 1883-2001are found at:
Crawfordsville District Public Library
Vital Records Department
Indiana State Department of Health
2 North Meridian Street
Indianapolis, IN 46204
(317) 233/2700
Fax: (317) 233/7210
Montgomery County Health Department
Vital Records office
110 West South Boulevard
Crawfordsville, IN 47933
(765) 364/6440
F ax: 765/361/3239
Hours: 8am/4pm, M/F
Birth Certs $4
Death Certs $5
NOTE:
I and many others have spent 20 plus years (from its inception) on this project --
PLEASE GIVE
CREDIT
if you use our work! I've found hundreds of obituaries FROM THIS SITE on findagrave and many personal genealogy sites - I know the obituaries etc. came from here but I don't see any credit.
PLEASE GIVE CREDIT!!!!
Here is the citation you should use & thanks so much in advance :)
---