Waveland Christian Church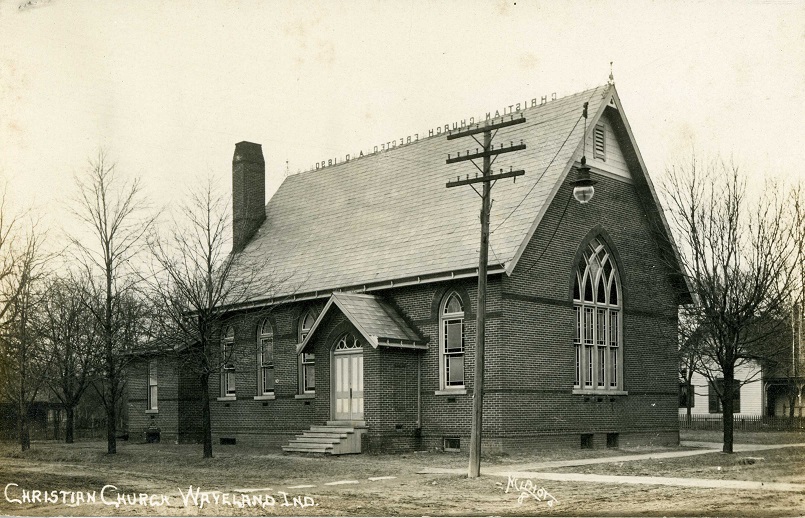 Christian Church - Waveland
Waveland's Christian Church with Rodney Coffman as minister dates back to November 1867 when two churches (Bank Springs and Antioch) were combined. Some of the materials from the Antioch church were used to build the one seen today at a cost of $5,000. The formal dedication however did not occur until December of 1890. The church has Sunday school rooms, a nice kitchen, a church library and much more to offer. I noticed the other day when I drove through town it has a nice metal roof.
Point of Interest

-
Source:
Crawfordsville weekly Journal 9 Jan 1873 p 3
Waveland -- The friends of the Christian Church had a large tree on New Year's eve, loaded down with such things as sacks of flour, meat, sausage, sugar, coffee, tea, lard, chickens (alive and dressed), canned fruit, potatoes, greenbacks, shoes, dresses, etc. all for the benefit of the poor widows and orphans of the village and vicinity. There was a sack of flour for every widow in town. How pleasant it would be if such trees would bring forth fruit more frequently. In our joy and mirth we forget the poor and bestow most of our gifts to our friends. Mr. Morris, pastor of the Christian Church, deserves much praise for taking the lead in this noble enterprise.
Dave Fullenwider took this picture
of "an old printing plate (part of a set) of the Christian Church building. Don't know how old but one of them is made of copper and it shows a reverse image."
THANKS MUCHES DAVE