Source:
Crawfordsville Daily Journal 20 Aug 1894 p 4)
Darlington Aug 20– For almost 40 years it has been our good fortune to associate with and in the years gone by to assist the good people of the Potato Creek neighborhood in many good works. When we first made their acquaintance they were then holding Sunday schools in the log school houses of the day where they met each Sunday some in the morning and others in the afternoon, each going and assisting the other, going on foot and in wagons, with the exception of the young men and women, who invariably went on horseback and it was no unusual sight to see 40 or 50 young people riding horseback on Sunday and many a horse was allowed to show his fleetness when they got away from the old folks. North of what is now known as the Potato Creek Church some 4 miles stood the only church and was known as the Union Meeting House in the midst of a heavy piece of timber. Although the church has long since passed away, many person now old have a fond recollection of Old Union. Then later the Presbyterians built a church for many years worshiped about one mile east of the present church but it has long since passed away as well as almost the entire membership. By this time new school houses were larger and more modern and for a time seemed to be very fitting for church work. But as our population increased the school houses were found too small and entirely inadequate to the demand. Then came the Potato Creek Church, which, ever since the day it was dedicated by Elder John L. Smith has been a noted meeting house and a place for worship, until at the present time it is as the school houses were, entirely too small for the crowds that assemble there each Sunday. Every Sunday morning during all these years they have continued to hold Sunday School and many are the socials, suppers and festivals they have held for the benefit of the school. This time they decided to hold an old fashioned picnic and invite all the Sunday schools in reach and fixed last Saturday as the day for the occasion. All week the Petersons, Irons, Holloways, Harpers, Paddocks, Mahoys, Russells and a host of others were at work in the grove of Silas Peterson, cleaning and arranging for said occasion. Early in the morning crowds began to assemble and promptly at 10 o'clock a procession was formed near the church and marched to the grove headed by the Darlington band. Then came the big wagons with banners flying and crowded with happy children – one from Potato Creek, one from Linden and two from Darlington. Them came the classes of Miss Mattie Hollowell and Miss Jennie Steart on horseback, numbering 50 and composed of the good boys and girls of the Creek, all in their best, wearing sashes and their class number. Then followed just everybody not already there. The meeting was called to order by Superintendent, WA Irons and opened with a song by the entire school and prayer by the past, Rev. Worral. Then came a song by class No 5, followed by the address of welcome by Rev. Worrall and then a song by class No 6. There was a short address by Rev. TJ Shuey, followed by a song by the Darlington school and then a short talk by Rev. Shanklin. After a song by the Linden school the Sharon and Fairiew schools each sang a song. About this time someone announced dinner and in less than 15 minutes all that vast crowd was seated at impromptu tables or on the ground, enjoying a feast of the fat of the land and after the dinner hour was over if anybody went hungry it was their fault and not the good house wives of Potato Creek as we can testify to seeing enough returned to the baskets to feed the entire Commonweal army. At 1 o'clock after a few selections from the band, the following school reported thir enrollment and average attendance to be: Sharrow – 75 enrolled – 60 Average attendance. Fairview 50 – 40; Campbell's 50-30; ME Linden 80-60; Christian, Linden 60-40; ME Colfax 100-60; Kirkpatrick 70-50; East Christian, Darlington 85-60; ME Darlington 127-90; Potato Creek 160-86
With the exception of Sharrow and Fairview all are of this county. Miss Etta Campbell recited a very fine selection in her happy manner. Miss Jenkins of Ohio, a relative of Mr. and Mrs. Paddock, gave a recitation that, by her manner and mode of delivery held the audience spell bound for some minutes. Dean Jackman then gave us "The Smack in School" putting everyone in the best of humor. The afternoon was taken up by songs from the different schools, short addresses by Rev. Neal, their old pastor, Rev. Galbreath and Rev. Shuey. Everyone, big and little, old and young, rich and poor, enjoyed the day until about 3 o'clock when a black cloud arose in the north. Soon the thunder pealed forth, the winds blew and the big crowd was gone, although each said they knew it would not rain, yet at the same time they wer eon the go. Soon the heavens opened and many got wet, yet all joined in praise to see it rain, even if would take much laundrying before they can attend another. Will Hollowell, Clint Tribbitt, John and Harve Cufter acted as marshals and right well did they perform the tasks assigned them as not a jar was seen or felt during the entire day. The crowd was variously estimated at from 1500 to 2,000. Thoswe from a distance were Jake Hose, FP Elston, Wilson Hunt and Jim Shannon. Candidates were conspicuous for their absence. While we know many good wives and mothers are saying over there today that never, no never, will we undertake the like again, yet we know that death alone can stop them in this good work!
---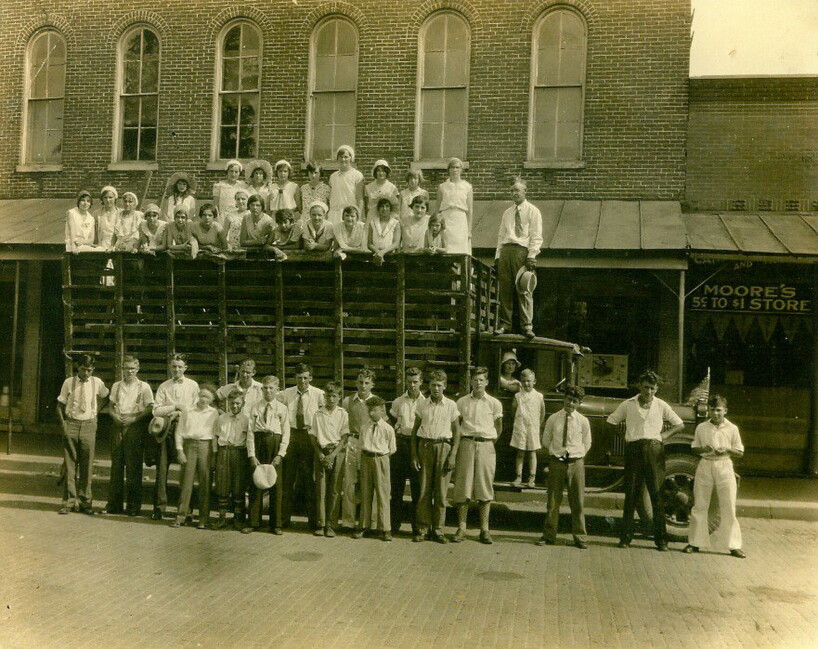 1931 Sunday School Classes of Potato Creek Church
probably taken in Darlington, Indiana