EUB Church - Bowers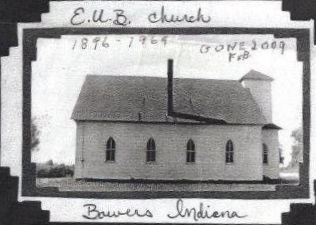 -
thanks so very much to Lynn Ream whose family members were prominent in that community
---
BOWERS CHURCH RECORDS
(thanks to Steve Kirk on Martha Ellen Flaningan's awesome Sugar Creek Township Facebook page).
Introduction: -- Records and statistics are becoming increasingly valuable. The importance of care, neatness and accuracy in keeping our church records cannot be overestimated. It is the duty of the pastor to see that this work is done and ignorance or carelessness should never be accepted as an excuse for failure to do or have this work done. No check marks, pencil marks, lines drawn through a name, erasures, or irregular markings should be tolerated. Names are never to be rewritten. This is the official church record book and has been adopted by the General conference in the interest of unity and simplicity. It is designed to give each church a complete record of its life. Every item should be filled in, in its proper space so that in years to come reference to it will give such information as this book contemplates keeping. Blanks for securing the information needed can be secured from the Otterbein Press. This record includes the following important divisions: Historical Record. Alphabetical List of Members. Record of Members in the Order of Admission. Record of Persons Baptized. Record of Funeral Conducted. Record of Marriages Solemnized. (above was typed – rest is handwritten on sheets.
HISTORICAL SKETCH – Bowers Church
Bowers class was organized in the Spring of 1896 by Rev. James S. Carmack on the Clarks-Hill Circuit with the following charter members: Belle Rodgers, Alice McDaniel, Ebenezer Riley, Laura Bundy, Fannie Gordon, James Kirk, Belle Kirk, Lula Kirk, Louisa Kirk, Margaret Simpson, Sarah Wandell, Frank Kirk, Susan Kirk, John McDaniel, Flora McDaniel, Nathan Lewis, Louise Lewis, Rettie Lewis, Jacob Lewis, John Hutchinson and Serilda Hutchinson.
The first class officers were: John McDaniel, leader and John Hutchinson, steward.
The frame church at Bowers, Sugar Creek Township, Montgomery County, Indiana was erected in the year of 1896, through the labors of Rev. James S. Carmack, by the following trustees: Robert Turner, James S. Carmack and James Kirk, at the cost of two Thousand six hundred dollars. And was dedicated by AJ Newgent. Aug 24, 1896.
MINISTERS
Here is a list of some of the ministers that has seved at the Bowers EUB Church.
Rev. Carmack
Rev. Fightner
Rev. Spratt
Rev. Billie Myers
Oct 7, 1963 – Rev Wilbur York, Acting Minister
The official Board met at the Bowers EUB Church to elect trustees for the church. Robert Lee being deseased (sic) a new trustee was elected to take his place. Mrs. Mildred Lee's name was nominated. By Louisa Kirk to finish out his term. The motion carried through and Mildred Lee was elected for 2 __.
Ward Keyes already was a trustee for 1 year. The board elected Herschel Cox for a term of 3 years. He was nominated and the election carried through and he was elected for 3 yrs. Herschell Dox Pres of Board & Mildred Lee Sec & Treas. Signed: Mildred Lee Sect – Rev. Wilbur York
Dec 6, 1964 – Rev. Wilbur York – Acting minister. The church group held a small business meeting before church service Sun Dec 6th. Rev. York conducted business. Mildred Lee was elected deslegate to annual conference. 1964 and Louisa Kirk alternate. The motions were carried. Ward Keyes was reelected Trustee as his term had done.
Rev. George Stone – 1914
Rev. Henry Workman – 1921
Rev. Nellie Booher
Rev. Charles York
Rev. Lucy Sharp – 1922
Rev. Sylvia Hardest – 1930
Rev. Roy Wilmouth – 1931
Rev. Lester E. Payton -1932
Rev. JT Combs – 1933
Rev. CK Saylor – 1934
Rev. Chester H. Grace – 1935-1936
Rev. Emory W. Leader – 1937-1938
Rev. LO Beitler – 1939
Rev. Carl Eastburg – 1940-1941
Rev. Lawrence Oliver – 1942
Rev. Ralph Bowman – 1943-1944
Rev. Esther Anderson – 1945-18
Rev. __ Wheeler – 1949
Rev. WSayne Stine – 1950-1951
Rev. Richard Baker – 1952
Rev. Riffle Howard – 1953
Rev. Robert D. Snell – 1954-56
Rev. Edith E. Hale – 1956-57
Rev. Wilber York 1960-1964
Letter / remembrances of :either a church member or one of the ministers
"Ethel Holt says her father & mother, Mr. and Mrs. Lewis Kirk kept Rev. Carmack in their home while the church was being built. It was through the labor and hard work of the pastor that the church was finished. The group held services in the hall above the Bowers store before the church was completed. Myrth Doty tells me her and Grace Clouser (?) Cloven (?) Huber walked to the revival meeting at night and carried a lantern. They would be so afraid when they got home but were ready to go back the next night. The church was full.
The Kirk sisters, Laura & Ida would walk from the Kirk home place up through the field and railroad. There would be deep snows and their brothers would clear paths for them to walk to church in.
It was the last wish and desire of Louisa Kirk to keep the doors of the church open and it has been carried out throughout the years. Until our modern times is doing away with our little country churches.
Ethel Long has been a faithful member through the years. She is a devote Christian and can well remember when the church was being built. She came Saturday and worked cleaning the church and did as much as the rest. She was married in the church and the Bowers Church holds many memories for her.
The WSWS Missionary Society from the Church continues with their meeting. We have held 2 meetings here in the church this summer."
---
Below is an album contain 5 pages of the Church Record Book.




Below we have a self playing slide show. By placing the cursor below the "Control Bar" you will see a description of the photo. There is an icon "[ ]" on the right side of the "Control Bar" that by clicking on it the slide show will enlarge to "Full Screen". You can then move forward or backward, at your own pace, by clicking on the right or left arrows. Then there are full screen controls in the upper right hand corner. Please enjoy!