WAVELAND (Brown Twp) ALBUM
This
Index Page lists all of the
Businesses, Churches,
and Places of Interest
---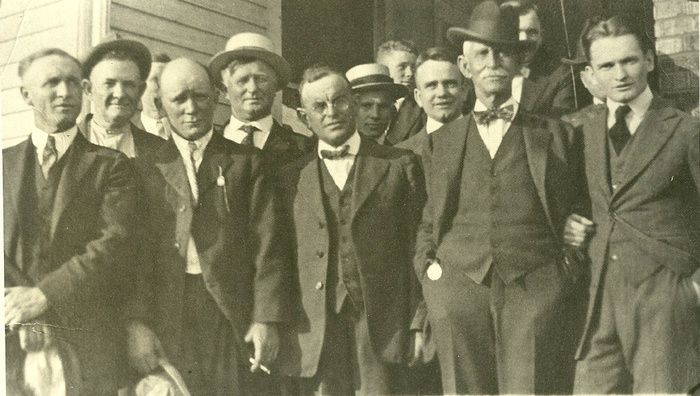 ABOVE PICTURE - 1920 businessmen of Waveland -
thanks so much to Jay D G :) Left to right: Frank Carrington; John Gilliland; Harry Moody; Sant Moody; Sam Grimes; Earl Gilliland; Frank Howard; Sherm ? ; George Davis; Paul Moody (on back of picture it said to Lou (Gilliland) from Winnie (love to know who she is). See below their lady's pic - LOVE IT !!!
Many of the photos/clippings are compliments of Mike & Sharon McClure Cook - Mike received them from various people in the area. Thanks to Mike Hopkins for one of my favs, the Deer's Mill one with the general store (grocery) showing. J.D. (David) Gilliland has been a great help in providing some unique ones (the Chautauqua, Shades ...). My great brother, Larry B sent me several. Ron Keedy is a recent contributor, as well. Others came from Marianne Burrin Marcussen - see her grandad below --- and Kathy Weaver Dominguez sent me several --thanks EVERYONE so much for sharing them :)
--KBZ --

Note:
it looks like some of these are from books but I don't know where/when ?? Sorry
---