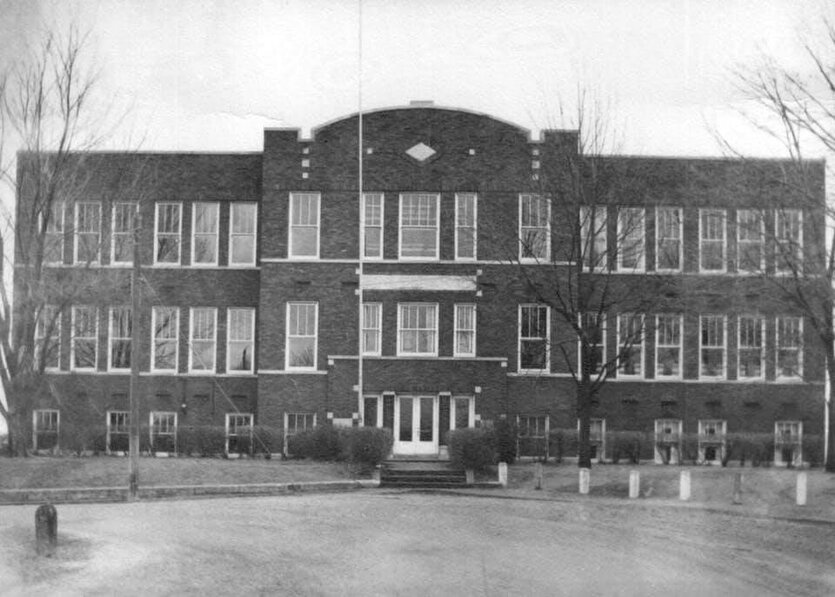 This
Index Page lists all of the
---
We know there are more historical
Darlington Photos
, please help this page grow Your sharing will help future generations know the history of
Darlington
.
Please contact the Webmaster! If needed we can scan your old photos and return in a safe manner.
---
Thanks so very much to Bill Boone for his great help in making these town albums available -- now, if we can just get others to join in and send more great photos to add - thanks BB :) Please visit
Bill's blog spot for DHS
- Darlington Indians, as well. Some photos linked to the "people" index of this site - Clouser photos from Mary Jo Barton :) Thanks Bill & Mary Jo !!
---
-- A --
Academy - see Darlington Academy
Baptist, Primative - Sugar Creek See~Sugar Creek Primative Baptist
Basketball Team - 1924
-- Top: Coach Ed Miller; Unknown; Gayle Irvin; Frank Peacock; Charles Kounen; Principal Leslie Gordon. 2nd Row: Unknown; Lewis Francis; Fritz Miller; Lock Hankins; Fred Peacock. Front: Carl Long; Bob Vannice; Bill Hankins -
photo from the Drlington public Library Darlington Herald Newsletter, Nov/Dec 2015 by Butch Dale
Beck House
- I believe (anyone know for sure) this served as both a home, a business and for one of the service organizations and at the time of the picture, perhaps apartments upstairs ?
Bundy Store -- see Bowers photo album
Clouser Family Photos
- thanks so much to Mary Jo B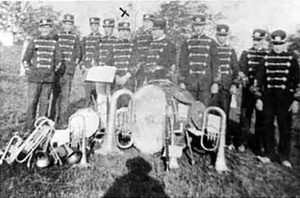 Covered Bridge, 3 Views
(
from CDPL site
)
Cox Cafe
(
Cecil & Kenneth Cox Cafe 1932
)
-- D --
Darlington Band
-- this may/may not be the ones from this short article from the Crawfordsville Weekly Review March 13, 1908 p 2 -- The Darlington band has reorganized and by May 1 hopes to be making the vales of Sugar Creek echo and re-echo with its sweet refrains. Its membership is practically the same as it was last year. Officers include: Newton Boots, president; B.O. Flora, sec; Earl Woody, treasurer and Charles Marshall, director.
Darlington HS, 1895
(love that bell tower)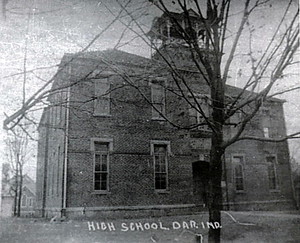 DHS, Winter View
Darlington - 1914 - wells drilled -- see Wells - Darlington
Darlington Petroleum Company - see Wells - Darlington
-- I --
Library - Darlington Carnegie Library
dedicated on Dec. 29, 1915. Building was designed by Darlington native Hubert Peterson.
Thanks muches to Jerry T for the information on the history of the library.
2013 there is a nice addition where the main activities go on but the older part is used as a local history repository.
St. James Lutheran Church
-- This is a picture of St. James Lutheran taken around 1962. The church was located three miles east of Darlington. It was razed around 1966. A commemorative marker and cemetery are still there. I lived across the road from 1961 until I went off to college in 1968.
Regards, Ron Schoen
- thanks so very, very much, Ron -- this is awesome.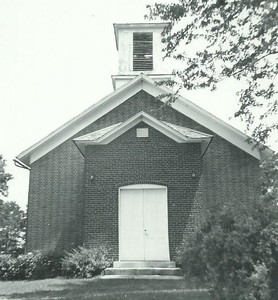 -- M --
Main Street, 1910
See
East Main Street, 1910
above
Reed, Ed (driving hearse) See

HEARSE

above
-- T --
Toll Gate
- built in 1867 and used for about 10 years - moved to Darlington from 3 miles away - given to the town in 1982 by the Butler family
Watermill
- 2 Views and 1 is touched up (3 photos all together)- -
both are thanks to the Crawfordsville District Public Library (CDPL)