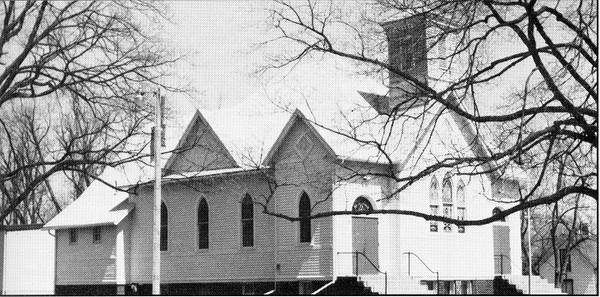 This
Index Page lists all of the
---
We know there are more historical
Linden Photos
, please help this page grow Your sharing will help future generations know the history of
Linden
.
Please contact the Webmaster! If needed we can scan your old photos and return in a safe manner.
---
--E--
Main Street of long ago (1913) -- on the CDPL site it states -- A restaurant and the office of Dr. Eifert are visible. This postcard was addressed to Charles Buckingham of Ramsey, Illinois, and the stamp was canceled in Linden on 1913-05-28. The note on the postcard reads, "Charles, This was not one of those warm day's ha' ha' – Earl B." Digitized copies of this and other postcards were provided by Jane Lyle, February 2011.

Methodist
--
Linden-Kirkpatrick United Methodist Church.
Monon Train - 1896 - stopped in Linden