Sec 20, Davis Township SE 1/4 - Road 144 N in School District 5. In existence from at least 1892 to 1925 - there is a school
picture from 1892
in the new
History of Fountain County, Indiana
(2013).
Below is the photo referenced in the book above, showing students and a listing of names.
Thanks so much to Jeffrey Bossaer
IMG_0286a
Davis Township District 5
Hall School - 1892
Row 1: Willie Whithead, Fred Stanglemeir, Guy Shamp, Alton Bowen, Sabra Johnson, Katie Teagarden, Anis Hawkins, Ethel Hawkins.
Row 2: Archie Johnson, Frank Wagner, Sam Shamp, Charlie Holmes, Archie Teagarden, Mary Stanglemeir, Rosetta Hawkins, John Patterson, Will Bowen, Carrie Stanglemeir.
Row 3: Mae Lonberger, Pearl Shamp, Hugh Martin, Carrie Lonberger, Lizzie Sutton, Grace Bowen.
Row 4: Harry Hawkins, teacher John Hatt, Dolly Haniford, John Wagner, Katie Hawkins, Emma Lonberger, Etta Lonberger.
---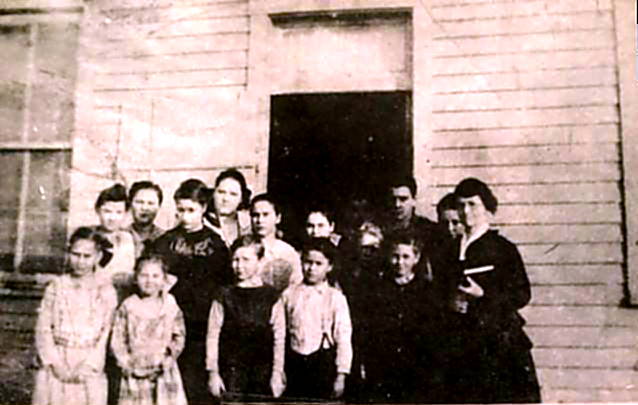 Hall School
From a collection of photographs from "Attica of Yesteryear" consisting of pictures that were collected by the Attica Sesquicentennial History Committee and Jeff Bossaer. Thanks Jeff! (Picture Courtesy of Mrs. Lawrence Fix, Attica)
Pictured in front of the old Hall School in Davis Township, Fountain County, around the year 1919, are grades 1 to 8. The teacher was Miss Mayme Glenn; the trustee, Jim Brown; and the superintendent, Guy Waldrip.
The building was later purchased by Frank Wagner and torn down. The school was located about 3 miles east of Riverside.
Front Row, left to right: Louise Snider, Orpha Snider, Merle Weigle, John Schultz, and Vernon Wagner.
Second Row: Gladys Stetler, Vera Blackburn, Grace Snider, Dorothy Acheson, Loren McMaster.
Top Row: Elizabeth Schultz, Louise Acheson, Forrest Bowen, Clarence Snider, and Lester Weigle.