(31 October 2021)

Bear Creek School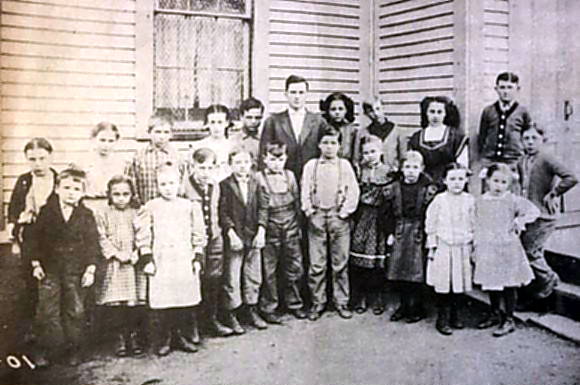 Bear Creek School, 1910
The Bear Creek School, located in southwest Shawnee Township in Fountain County, is shown above in the year 1910. The building is still standing (1962), now used for farm storage.
Front Row, left to right: Homer Galloway, Dema Edwards, Marie LaBaw, Paul A. Boatman, Leonard Clawson, Robert Galloway, Russell Cox, Glenna Cox, Berniece Glover, Ruth Brown and Cecil Brown.
Back row: Grancis LaBaw, Della Lamb, Clyde Cox, Glee Abernathy, Jesse Lamb, Warren Myers-Teacher, Edith Clawson, Glen Boggs, Sylvia Rusk, Mont Boatman and Kenneth Rusk.
Photo Courtsey Robert W. Galloway, R.R. 1 Covington.
From a collection of photographs from "Attica of Yesteryear" consisting of pictures that were collected by the Attica Sesquicentennial History Committee and Jeff Bossaer. Thanks Jeff!