Pyle School, 1913
7 miles east of Attica
Front row, left to right - Robert Jones, R. A. DeSutter, Everette Plunkett, Opal Jones, Penelope Houts, Mary Jones
Back row - Law DeSutter, Seraphine DeSutter, Chas. DeSutter, Jesse Funk, Ed Funk, Ralph Houts The teacher was Mrs. Reina Helms
note:
there is also a picture of 1896 students (Bethel; Brown; Dunkin; McGovern; Mattox; McMurtrie; McKinney; Pyle; Snyder; Stevens; Verhey; Washburn)
See it Below!
---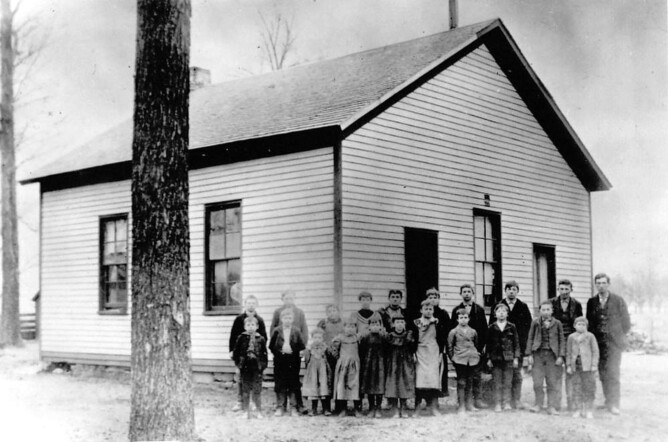 Pyle School - Davis Township District 6-1896
Row 1: Walter Snyder, Frank Mattox, Inis Snyder, ??? ???, Josie Brown, Rhodie Brown, Carrie McGovern, Fred Washburn, J. McKinney, Jesse McMurtrie, Lee Mattox.
Row 2: August Verhey, Harvey McMurtrie, Alma Stevens, Jennie Bethel, Carrie Pyle, Phoebe McGovern, Fred Bethel, Orrie McMurtrie, John McMurtrie, Joshway Dunkin-Teacher.
From a collection of photographs from "Attica of Yesteryear" consisting of pictures that were collected by the Attica Sesquicentennial History Committee and Jeff Bossaer. Thanks Jeff!