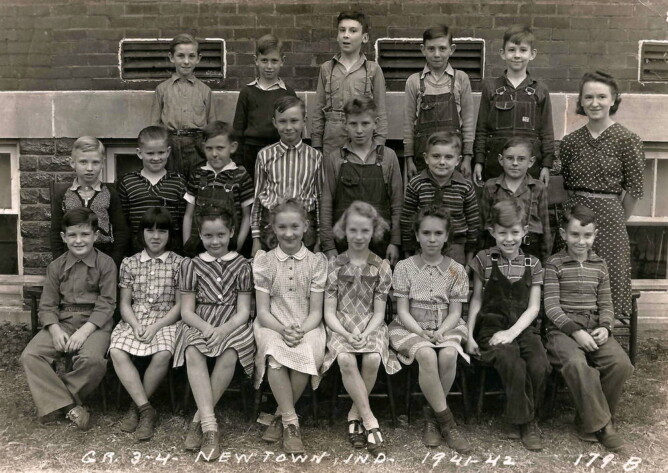 Class Picture taken in 1941 of Newtown's Third and Fourth Grade Class!
Teacher: Mrs. Helen Oswalt
Photo from the collection of Jane Marlatt,
Thanks to Andy Rice for the submission!
Class Members from left to right.
Front Row: Kenneth Krug-4, Marlyn Palin-3, Aharon Cunningham-3, Helen Louise Kell-3, Margaret Ann Lawton-4, Jane Marlatt-4, Pat Pevler-3, Donals Snelling-4.
Middle Row: Gerald Royal-3, Martin Mitchell-3, Kenneth Kirpatrick-3, Gale Pierce-4, Ole Simmons-4, Billy Fisher-4, Warren Richardson-4, Teacher - Mrs. Helen Oswalt (Greenburg).
Back Row: Robert Wilkinson-3, Lloyd Martin-3, James Simms-4, Donald Smith-4, Harold Jones-4.
Below is the Image of the backside of photo with hand written names.