---
Note:
Wasn't sure how long these would be up on The Paper site and wanted to preserve this so if you'd like to see the photo and/or the actual article, as of 1-13-2012 (my 44th wedding anniversary by the way)
click here
- there are also other articles from that site you can read (again, as of 1-13-2012)
---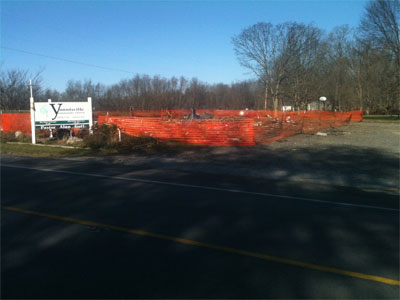 -Yountsville pastor Alan Goff is dreaming of a new church building this holiday season. The Paper photo by Frank Phillips - Yountsville pastor Alan Goff is dreaming of a new church building this holiday season. By Frank Phillips Editor

---
YOUNTSVILLE - A pile of rubble is still smoldering and the smell of smoke reminds drivers that a week ago there was a thriving church on S.R. 32 just west of Sugar Creek. Then, the unthinkable happened. An electrical fire destroyed the Yountsville Community Church building, but the people of the church are still vibrant in their faith, according to Pastor Alan Goff. He sees the new church building as a challenge. "I plan to call a meeting of the men of the church and ask them if they are willing to go forward," Goff said Thursday morning. Goff understands the emotional loss the building fire has been to the church members. "My wife has gone there since she was four," he said. "She remembers when there were out houses at the church. We were married there in 1980. "The building is gone but the memories are still alive." Firefighters rescued the church bell. It is cracked but it is there. Goff wants to mount it on a platform made of the original brick foundation of the church to honor the building's memory. Like the bell, the people were hurt by the fire but the church also has a future. On Sunday, the congregation plans to meet at the home of Harvey Smith on Camp Rotary Road. After that, the members will find some place else to meet until the building is rebuilt. It was completely covered by insurance, Goff said. Various groups have offered the use of their buildings. Two funeral homes, Shoemaker in Waynetown and Burkhart in Crawfordsville, have offered the use of their chapels. Though it hasn't wavered, Goff's resolve was strengthened when he received a letter from a little girl: "Dear Pastor Goff, I feel bad to hear that your church. We'll help. Our phone number is at top of (this note) paper if you need help. "I love going to VBS. It was the best church ever. Will you still have VBS this year?" Goff showed the letter he saved to his iPhone and said, "I will move heaven and earth to be sure she has a VBS to go to this year." Goff wrote a letter to the editor, thanking the community for their help. That letter is on page A4.