Catholic Cemetery
Online Map and Coordinates for this Cemetery:
UTM 16 451140E 4203888N
If you have any information on "occupants" in this cemetery, please send them in.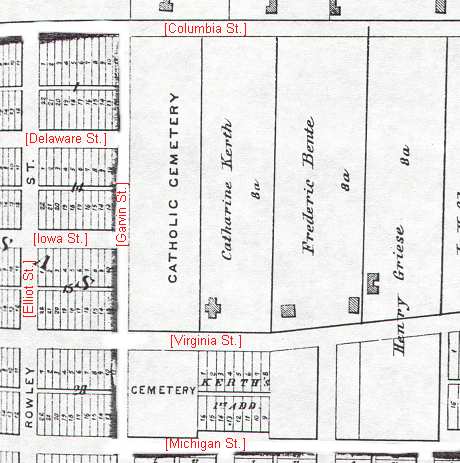 ---
Other Resources

Griffing's Atlas of Vanderburgh County, Indiana : From Actual Surveys Under the Direction of B. N. Griffing. An Illustrated Plat Book of Vanderburgh and Warrick Counties, Indiana. Evansville, Ind.: Unigraphic, 1975. (Reprint. Originally Published: Philadelphia: D.J. Lake & Co., 1880 (1st work) ; Evansville, Ind.: Tillman & Fuller Publishing Co. (2nd work).

"Old Cemeteries Often Disappear." Evansville Courier & Press 20 February 2000.

Tenbarge, Eleanor Glenn. Early Death Records, Evansville, Vanderburgh County, Indiana As Early As 1818, Through 1883; Includes Civil War Soldier's Burials. Evansville, Ind.: E.G. Tenbarge, 1990.