Todd-Reynolds Family Photo Index
Montgomery County, Indiana

Todd-Reynolds Family Photo Index
Angie Todd has provided the majority of these photos :) THANKS MUCHES
HAMILTON, Mamie Reynolds
--
this from Angie Todd on 2-26-2013
-- .I am searching for info of a great aunt of mine, Mamie Margie Reynolds Hamilton, who, according to her obit, and the death date recorded on the photo below, appears to have died on June 20, 1924 in Grant Park, Kankakee County, Illinois. Her husband, Edward Hamilton, my great uncle, who MAY have died on Nov. 28, 1948 (not yet proven), is of interest to me, as well. Could you help me to find out more info, especially a cemetery, funeral home, anything for Mamie? One of Mamie Margie's sisters, Flora Etta Reynolds Todd (Mrs. John Henry Todd) , whose handwriting is on the photo, below, was my grandmother. Several years ago, I accidentally cut the date off from the back of the photo (I taped it back on) when I was trimming the damaged border, in case you're wondering about the irregular border on the back of the photo. I further cropped the photo, itself, but only on the online copy, not on the original. I hope this link, below, works for you. It's Mamie's obit, which ran the day after her death, on Saturday, June 21, 1924, under, "DEATHS AND FUNERALS", at the top of page seven, under, "Word of the death of Mrs. Edward Hamilton..." This was in the Pharos-Tribune newspaper, Logansport, the county seat of Cass County, Indiana.
Ihttp://pharostrib.newspaperarchive.com/PdfViewer.aspx?img=84085107&src=browse I never knew Mamie Margie, as I wasn't born till 1947. Note on the back of the above imagine it says, "Margie" died June 20, '24
OLIPHANT, James H & Catherine =
Elder James H. Oliphant and wife. The famous Primitive Baptist preacher who married John Henry Todd (3-13-1884--9-2-1958) and Flora Etta Reynolds Todd (8-20-1888--2-10-1960) in Crawfordsville, Montgomery County, Indiana, on February 6, 1907. Elder Oliphant's name appears in Flora's Bible Records, as well as in marriage record 16, page 547, Montgomery County Circuit Court. On July 18, 1991, Babara A. Covington, Clerk of the Montgomery Circuit Court sent me all of the marriage records, marriage application included. They correspond with Flora Todd's Bible records. John Henry was a son of John Starnes Todd and his second wife, Mariah Jane Hawkins Todd, from whom I am descended. John Starnes Todd was a son of Thomas Todd and Sallie Helton (Heltonville) Todd. By the way, there were other Oliphants, who also preached.

--
Angela Frances Todd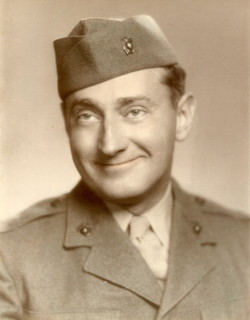 Harvey "Allen" Todd, U.S.M.C.
TODD, Allen & Maurine
-- Allen was born in Waynetown, Montgomery County, Indiana 18 March 1908 and passed away 82 years later on 18 Sept 1990. Wife was Esta Maurine Vore.
TODD, Oscar Francis "Frank"
married Myrtle May Higgins (7-2-1910 in Montgomery COunty) born 26 Jan 1888 and died 13 Sept 1980 - barber for many years -
thanks Angie, what a nifty picture
Back (4th) row: Jacob E. Todd, John Henry Todd (my grampa. Jacob ("Jake" was his older brother), John Henry's son, Harvey Allen Todd, Senior, Allen's wife, Esta Maurine Vore Todd. Guy might be the husband of Mildred Norman Whitaker (in front of him, in the white blouse), To the right of that man, in the glasses, is one of John Henry's sons, Ralph Preston Todd (owner of "Todd's Appliances" in Logansport). Ralph's wife, Gladys Estella Burks Todd (in the button down dress and dark belt) is in front of him. The man in the suit, to the right of Gladys, is Stanley Norman, married to John Henry's older sister, Mary Alice Todd Norman (not in photo).
Third row: James ("Jimmy/Jim") Edward Todd, Senior (in the striped shirt) is one of three children of Allen (back row) and Maurine Todd (in back row). To the right of Jimmy Todd is Emma Etta Horn Todd (wife of Jacob "Jake", in back row), Mildred Norman Whitaker (daughter of Stanley Norman) in dark suit, on the far right side of the photo. To the right of Mildred, in the white dress with six dark buttons is Mary Katherine Burks Todd, sister of Gladys. Gladys is to the right of Mary. Mary's hands are resting on the shoulders of Forrest Todd (in the second row). Forrest is a son of John Henry Todd (in back row)
Second row: With arm over face is Marie Elaine Todd, later to become Marie Quinn and Marie Guerrette. Child to the right in striped shirt and dark suspenders, is Michael Francis Todd, and Christine Annette Todd, later known as Chris Cook. Christine, with a bow in her hair and sandals, is being embraced by her Uncle Forrest Edward Todd (another son of John Henry and Flora Todd). Forrest is the only husband of Mary, whose hands are on his shoulders.
In the front row is Rosemary ("Rosie") Todd, on the left, and Martha Alice Todd, two of the children of Paul Raymond Todd, Senior, and Ruth May Potts Todd, who lived next door to John Henry and Flora Todd.