Welcome, to the newly revised Fountain County Genweb Site
!!! Something New!!! To help facilitate moving between sub-sites, I have added what I call the "
Get Around Links
" I have placed a link at the top of all the Projects Main Page's for the "Get Around Links". I recommend opening one in a seperate "TAB" and leaving them open for easier access. Also, do not forget to check the "Pull Down Menu" in each Project, for smaller items of interest.
At the start of 2019, you will find a few of the Obituary projects have been split into two seperate projects. This has been done to help with easy access and keep them from getting too big.
I have tried hard to give the Genealogists of Fountain County something to be proud of. If you discover a problem, let
Karen
know. Everyday I am learning something new about this procedure. Please be patient, Thanks, Jim!
Feel free to use the site search engine, the nice people at FreeFind have graciously indexed our website for free for several years now, and it indexes about 85% of all words- (some it skips because they may be common, or the engine runs out of time to index us.)

Search this site or the web powered by FreeFind

..............
FEATURED PHOTO
...........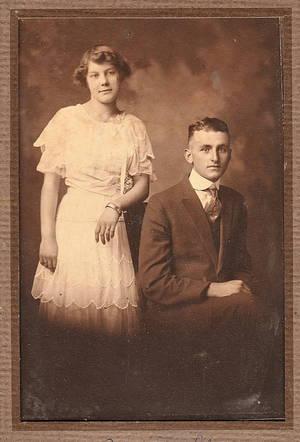 Foreign Myers and his wife Jewel Starnes
Thanks to Miranda Waltrip on the Fountain County Indiana Genealogy Facebook page
Thanks to all my helpers

-
I have a FANTABULOUS bunch of contributors -
it's
awesome to see the site grow with their super help:
Barbara; Beth (RIP - loved that lady); Betty; Cathy; Chris; Christi;
Cheryl; Debbie; Debby; Ginny; Glynnis; Jack (who is sending obits faster than I can up 'em); Jamie; Jennie (lots
of photos, too); Kelly; Kim; Lena; Melissa; Roselyn; Tom; Vickie; Walt (did a large amount) Bless you
all !!!!!
KZ & all our Fountain Co INGenWeb users
Note:
The
current additions
for the month are on the
bottom of this page
-- If you click on the word, "What's" above, it will show you what we have put on the Fountain GenWeb site this year :)
Click above "What's" -- New -- to see the year review --
see bottom of page for what has been added this month
:)
ENJOY !!
Fountain County History
- working on it continuously :) Should be fairly good when it's finished - my intent is NOT to make it lengthy but short, informative data :) Wish me luck - kbz
Kingman Photo Album
(it's growing big-time - thanks mainly to James Patton - ya' rock, kiddo) PLEASE send me more pics :)
1000 -1200 Obituaries --
Accomplished
(1001 on Sept 30 but we'll get more :)
Add MORE photos - at least 25 -
Accomplished
Finish McKnight diaries - find other diaries to add (almost done)
Add letters -
ANYONE HAVE ANY???
Add 10 Who's Who folks - 1 added

---
What's NEW In 2020
See below for what's been added so this month, in 2020

Click here to see what has been added in
2020
Click here to see what has been added in
2019
Click here to see what has been added in
2018
Click here to see what has been added in
2017
Click here to see what has been added in
2016
Click here to see what has been added in
2015
---
**
ADDED THIS MONTH
** **
OCTOBER 2020
**
OBITUARIES
112
Added:
- (1113 year to date & 13,264 obituaries all totalled to date) : Names include: Note: Some have multiple obits with one person -- Ammerman (Estella, Richard); Barclay (Evelyn); Barkley (Martha Osborn Miller); Barnett (John, Lela); Barr (Carol); Barker (George O; Hollis); Beck (John Paul); Bell (Ethel - Mr 1895); Bever (Mat); Best (James E); Bever (Alexander - CW; Catherine, Leo & Robert Earl); Bruner (Harold, John Lee, Joseph H); Alva; Laura Stephens; Charles; Cora Lee; Bromley (William); Dimmick (WInfield Scott); Darling (Richard, Hester); Darnell (Elfie, Elsie and Flora); Gray (Ella; Forrest; Frances Evelyn; Frank; Ella; Sarah; Lorene Swaim; Minerva Stonebraker; Aurila Bowman; Ben T; Abner S; John Harvey; Graham (James F); Groce (Flora, Harold); Gross (Arizon, Frank); Harper (Effie); Hendricks (Aveline, Chester, Howard); Hatt, John; Helbig (Amanda); Hibbs (Ira, Julia, Joseph, Simeon); Huddle (John 1892); Hutchins (Jennie Reynolds); Kennedy (Bert); Keefer (James); Keeling (Clifford, Eva, James, Jason, Richard, Robert); Long (Sarah Jones); Lowe (Mr 1895 - anyone know him?); Ludlow (Austin); Latourette (Clarence, Henry, Mary); Lang (Wilma)Shafer (Howard, Wallace, Walter); Shaffer (Mary Bruner); Shamp (Chester - WWII; Mary Kennedy); Shelley (Minnie Livengood); Shoaf (Orville, Vergie - Hunt); Short (Am, Kate, Larry); Shultz (Herley, Nonroe, Viola); Shuler (Cordelia, Frank, John, Lacey + Photo) WWI/WWII; Sarah harlow; Willard)
Fountain County, a part of the INGenWeb Project
I LOVE TO WRITE !!
Register
your
SURNAMES
of interest in Fountain County, Indiana
---- NOTICE ---
This site is dependent upon transcribing efforts by a corps of volunteers. No one person can possibly "know it all" including the site manager. If you are using this site, please be aware we try to get data up within 10 days of submission, BUT often things change our priorities, like getting food, sleep and some time for our families..., SO if it takes a bit longer, be patient, it IS coming.
PLEASE use the search engine, and compile the data on your family, be assured that there is a 99.99% possibility that every bit of data we have is UP on the website already, we try to keep caught up. IF your research in the resources available here fail to gain the information you are seeking, PLEASE do not ask us to look for it on the site. If you can't find it here, Please post a QUERY to
The Mail List
. You can join the Mail List by clicking
this link
, and just sending the email that pops up.Conversely, you may also use the
Ancestry.com Message board
for this county, That also gets sent to the list automatically. The PURPOSE of the list is two-fold, spread data, and connect people.
Thanks! to Ed Moyer, who, for ten years maintained the Fountain County site, for this Project. It is with great thanks that we have been honored by his trust in taking it over, and we will still be working closely with Ed.
Thanks Ed. We will take good care of it.
Thanks to ALL my helpers.
Fountain County Genealogy Society, Inc.
Veedersburg, Indiana 47987-0273
Note: These folks are SUPER helpers :-)
About this site: Please report any link problems to Karen Zach
Indiana State Vital Records
HELPS:

Places in Fountain County (this was here and I liked it here but it got too big & cumbersome for the opening page so enjoy). If you know of any not listed or can give me more info on one, please contact me - kz
In Memory and Honor of our past State Coordinators of INGenWeb:
1996-1998 - Betty Sellers
1998-2000 - Fred Finkbiner
2000-2002 - Patrick Hays
2003-2004 - Gene Andert
2004-2011 - Debra Behler
2011 - 2012 - Katy Hestand
2012 - 2016 - Denise Wells
2016 - 2017 -- John Peck
2017 - --Lena Harper (congrats, Lena)
NOTE:
I and many others have spent 20 plus years (from its inception) on this project --
PLEASE GIVE CREDIT
if you use our work! I've found hundreds of obituaries FROM THIS SITE on findagrave and many personal genealogy sites - I know the obituaries etc. came from here but I don't see any credit.
PLEASE GIVE CREDIT!!!!
Here is the citation you should use & thanks so much in advance :)
Citation:
The Indiana (INGenWeb Project), Copyright ©1996-2018 (and beyond), Fountain County GenWeb site http://www.ingenweb.org/infountain/
- thanks soooo much - Karen Bazzani Zach