Home Bibles Biographies Births Cemeteries Deaths Family Histories

---
About Maps Marriages Military Links What's New
War of 1812
1812-1815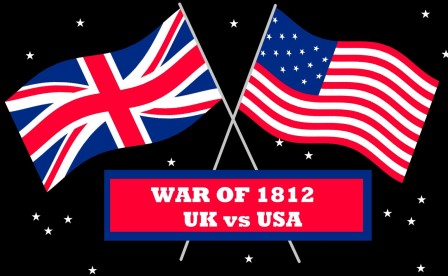 A conflict between the US and the UK (1812–14), prompted by restrictions on US trade resulting from the British blockade of French and allied ports during the Napoleonic Wars, and by British and Canadian support for North American Indians trying to resist westward expansion. It was ended by a treaty which restored all conquered territories to their owners before outbreak of war.
Information from an unpublished document entitled Veterans of Wells County Database (includes names from neighboring counties) and recently updated.
Sources: B = Biographical and Historical Record of Adams and Wells Counties, Indiana. Lewis Publishing, 1887, pp. 556-1025
FH = Wells County, Indiana Family History 1837-1992. Wells County Historical Society. Paducah, KY: Turner Publishing Co, 1991
LD = "Record of Soldier Dead: Lying in the Different Cemeteries of Wells County, Ind. as Reported to . . . L. L. Martz, Adjt."
M = Biographical Memoirs of Wells County, Indiana. Logansport, Indiana: B. F. Bowen, 1903.

Posted 5/6/2020
Last Name
First Name
Notes
Birth Date
Death Date
Cemetery
Source
Cotton
Joshua Thomas
1/3/1785
12/3/1861
Prospect
LD74; stone
Dawson
John
Maryland regiment
M225
Deem/Deam
Adam
PA Volunteers in the War of 1812, private
8/9/1871
Old Bluffton
LD4; pension ap
DeHaven
Nathaniel
Ohio Battery, War of 1812
11/14/1789
12/23/1871
Old Bluffton
LD4; stone
Dewitt
Moses
Pvt; Co H
9/20/1792
10/20/1876
Old Bluffton
LD4; A203; stone
Fairfield
Asa
Capt. US Navy
1/28/1797
10/4/1868
Lindenwood - Allen Co
Ferby
E E
may also have served in Revolutionary War
New Pittsburg- Randolph Co
stone
Ford
Edward F.
Fairview
Garton
Jonathan
Pvt, Capt James Burch's Co, NJ Mil
8/7/1796
12/5/1879
Murray
pension app
Harvey
Robert
2/29/1783
08/14/1853
Murray
LD38; B806; stone
Hatfield
Adam
3/3/1793
4/15/1848
Murray
LD38
Jackson
James Hiram
Gen. Wm. Hull's troops
3/1/1785
12/8/1853
McFarren
FH
Jones
A. J.
Capt; VA; aka Rev. A. G. Jones
5/17/1856
Bethel
LD144
Knight
Daniel
US Army Pvt
12/24/1791
10/26/1879
Old Bluffton
LD6
Krewson
Joshua V.
Thompson's PA Reg't
1/8/1784
1870
Prospect
LD78; stone
Lasselle
Hyacinth
General, Indiana MTD Riflemen
12/25/1777
1/23/1843
Ninth Street - Cass Co
stone
Marshall
Robert
1769
4/23/1853
Old Bluffton
LD8
Mossburg
Henry Wm
Reverand (Christian Church)
1777
11/2/1838
Mossburg
M374; LD58; B863
Romine
Jesse
Militia
61y 4m 6d
2/16/1855
Union Chapel- Grant Co
DAR records
Smith
Daniel
Old Bluffton
LD10
Wright/Right
Ruel/Rural
10/23/1790
1/16/1864
Mossburg
LD58
Read about the Captain Asa Fairfield
and/or General Hyacinth Lasselle

Visit our neighbors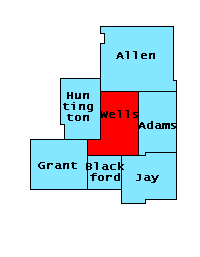 Adams County, IN
Allen County, IN
Blackford County, IN
Grant County, IN
Huntington County, IN
Jay County, IN

The Wells County INGenWeb genealogy web site is maintained by
Margie Pearce
and
Jim Cox
.
All material on this site @ 2018 - by INGenWeb and may be used for non-profit personal and educational purposes only.