Adams County
Indiana
Seach the entire Adams County website. Enter the surname that you are researching in the box below.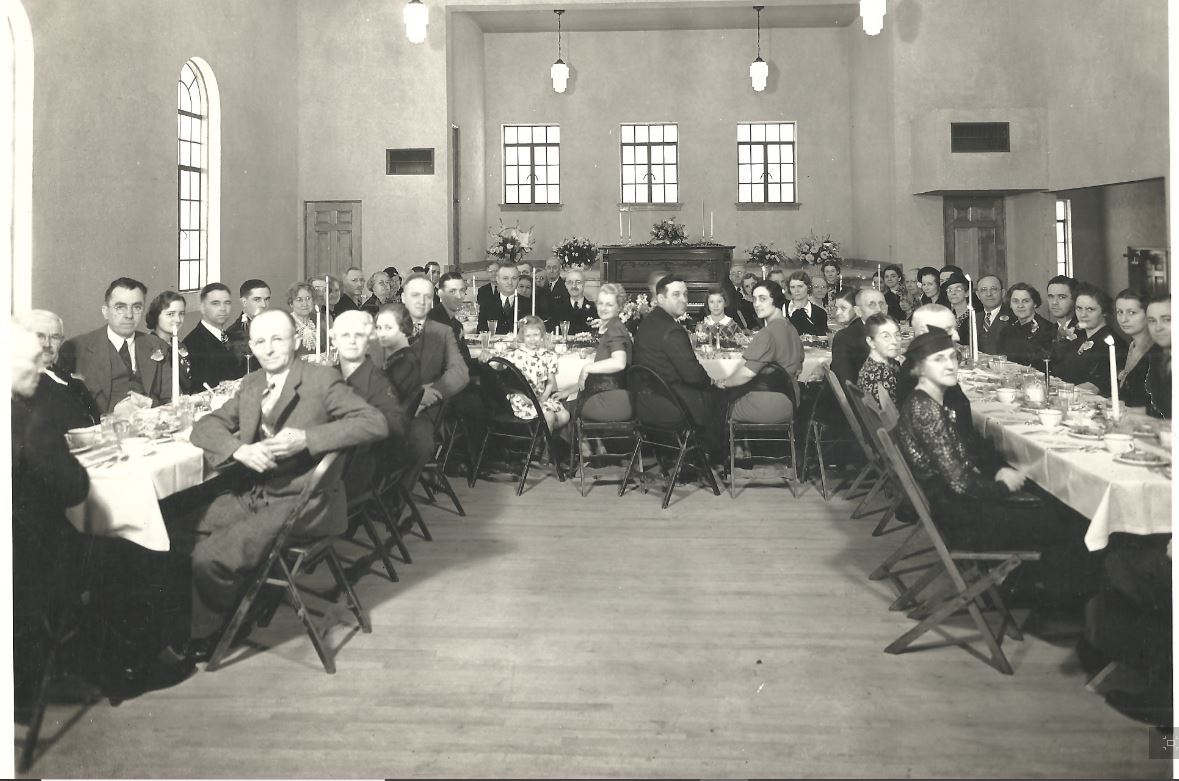 Who are these folks?

James and Elizabeth (Thompson) Hendrick's 50th Wedding Anniversary on July 23, 1938 at Monroe Methodist Church.
Mike Horn sent the photo and would like to identify the guests on the two side tables. Can you put a name to a face in this photograph?
People sitting at the center table are Pat, Louise, Howard, Clyde, James, and Mareem Hendricks, Katrhyn Diggs Hendricks, Thelma Burkhead Hendricks, Elizabeth Thompson Hendricks and Anna Smith Hendricks




March 2021
Cemetery updates: St. Joseph - updated or created 166 individual records, most with tombstone photos
Scrapbooks: added transcriptions from the 1941b (April-December) Adams County Historical Museum Scrapbook (142 images)

The Rootsweb Adams County mail-list/message board has been archived and is not be available for posting or any type of communication, so we have created a forum/mail-list/message board for Adams County genealogy. This is the place for you to post your questions, detail your brickwalls, post an obit, bio or interesting tidbit that might help someone else. It is also a place for you to give us some feedback about the site: what you like or find most useful, what you don't like, what you would like to see added, etc.
Email Jim Cox to join.
We want to hear from you!



Adding faces to the names of those who have served our country in the military during any conflict. Most families have a picture of grandpa in his military uniform while serving during World War II, Korea, or Vietnam. Some have more recent photos of men and women curently serving. A lucky few have treasured pictures of veterans of the American Revolution, the War of 1812, the Civil War, the Spanish-American War, etc. Please share those photographs of Adams County men and women who served our country in the military during times of war. Send picture with a short bio to Margie Pearce to put a face to our heroes.



We want the AdamsINGenWeb site to be as accurate and error free as possible.

Please email

Margie

if you see something that needs to be corrected.

If you would like to be a volunteer coordinator for an Indiana county, please contact

Indiana State Coordinator:

Lena Harper

Assistant State Coordinators are

Jim Cox

and

Karen Zach

The Adams Co., Indiana INGenWeb genealogy web site is maintained by

Margie Pearce

and

Jim Cox

.

Visit our neighbors

Allen County, IN Jay County, IN Wells County, IN Mercer County, OH Van Wert County, OH

---

All material on this site @ 2011 - by INGenWeb.