Home Bibles Biographies Births Cemeteries Deaths Family Histories

---
About Maps Marriages Military Useful Links What's New Log
Additional information and resources at the sites below.
County
Bluffton News-Banner (daily newspaper)
County Genealogy Society
County Historical Museum
420 W Market St., Bluffton; phone: 260 824 2363
Goodwin Memorial Chapel, Bluffton
Government of Wells County
Markle Area Histoical Society
Marriage Records, Estates & Wills, Civil and Criminal Records (1837 to present)
Public Library - Genealogy & Local History
Thoma-Rich, Chaney & Lemler Funeral Home, Bluffton
Vital Records (1883 to present birth and death records)
City of Bluffton
Town of Markle
Town of Ossian

State
Allen County Public Library Genealogy Center
Indiana Death Records & Indexes
Indiana Genealogical Society
Indiana Historical Society Library
Indiana Digital Archives
Society of Indiana Pioneers
National
American Civil War Ancestor
Billion Graves
German Roots
National Archives
Passenger Lists
Vital Records Online (birth, marriage, death)
World War II Records
Other
Elzey-Patterson-Rodak Funeral Homes, 120 W. Mill St. Ossian, IN 46777; phone (260) 622 4114
Myers Funeral Home, 415 N. Lee, Markle, IN 46770; phone (260) 758 2121

Posted 12/29/2019
Visit our neighbors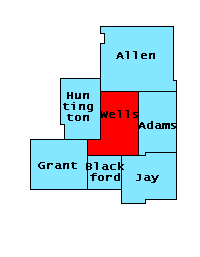 Adams County, IN
Allen County, IN
Blackford County, IN
Grant County, IN
Huntington County, IN
Jay County, IN

The Wells County INGenWeb genealogy web site is maintained by
Margie Pearce
and
Jim Cox
.
All material on this site @ 2018 - by INGenWeb and may be used for non-profit personal and educational purposes only.