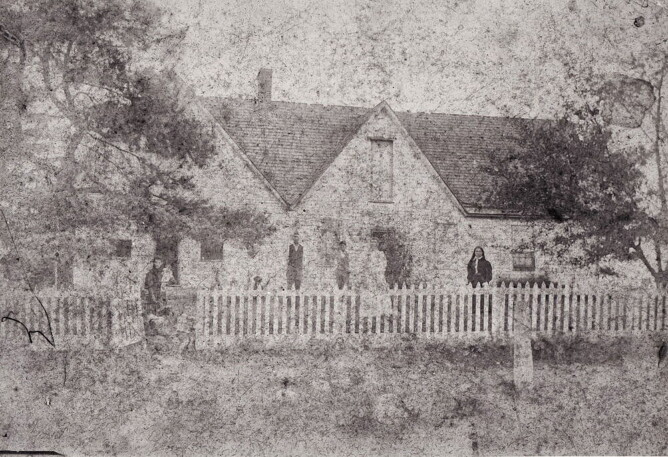 This home was on "Whites Corner" in Fountain County and was still there in 1986. It was built about 1840 probably by Alexander White, above. I loved Grant's notation -- You can see that most of the people standing in front of the house, and some of the details in the foreground, are very unclear. I don't know if this is due to the age of the photo or to the photograph itself. "You can, though, make out details like the fact that one of the young women is holding a baby, and that the family dog made it into the picture as well. :-)"
Thanks to Grant White - - his comments in May of 2020:
I've been rethinking that photo ... Rowland Johnson was born in 1866. If
one of those babies is him, I would tentatively identify the figures in
the photo as follows:
1. Woman with baby or babies: Mary Jane (born 1836)
2. Boy sitting at gate: Albert H. White (born 1854)
3. Alexander White
4. Hannah Wheeler White
5. Boy standing: George R. White (b. 1848-1849)
6. Harriet White (married James Ramey ca.1868; I'm doing this from memory)
So an alternative date for the photo would be 1860-1870.
This identification would partially account for the absence of the other
children. David married in 1858 and was living in Illinois, Nancy was
married at the time to a man who died in the Civil War; William P. could
have been away fighting in the War (he was in the 116th Indiana
Volunteers). I don't have a good explanation for the absence of either
Nancy nor Margery Ellen, if the identification with Mary Jane is
correct. Cordelia appears to have been a daughter of Hannah Wheeler born
in 1829 in Ohio. Hannah and Alexander were married in October 1833.
Cordelia married Isaac Anderson Brown and lived near Eugene. A
descendant of hers has said her father was a man named
Morrel/Morel/Morrels but I haven't found a marriage certificate in Ohio
yet. I know there are other possibilities.
Take care,
Grant