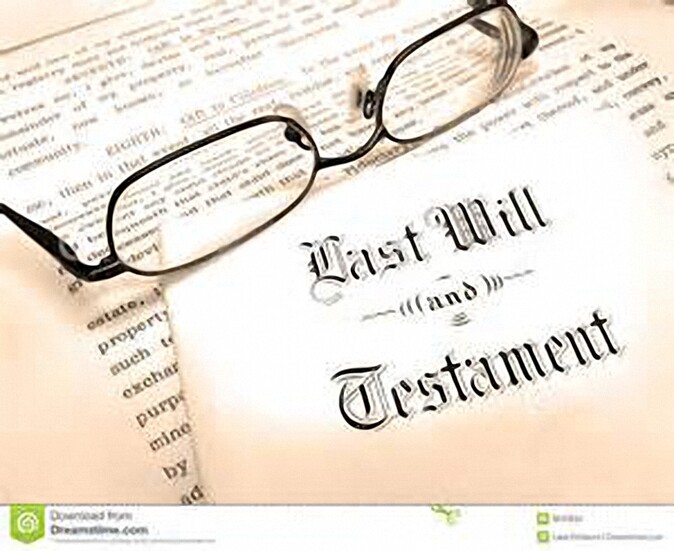 Thanks, dreamstimes for this nifty clipart :)

NOTE
:
Make sure you include me in your will - as in, please send wills of your Fountain County, Indiana wills my way - love to share them here :)
KBZ
John D. COOK
Last will and testament of John D Cook Nuncupative will The will by word of mouth of John D Cook of Fountain County, state of Indiana made and declared by him on the twenty fifth day of January in the year eighteen hundred forty four in the presence of us who have subscribed our names as witnesses hereto: My will is that my widow had the exclusive right to the occupation and use of all my farm and open lands so long as she remains my widow. In the second place she is to have two horses and the principal part of the farming utensils on my farm. My widow is to have the use of the farm and property aforesaid no longer than she remains and she is to use the same for the benefit and support of my minor children. And when my wife died or when she married (if she should marry) then the whole of any property aforesaid both real and personal is to be disposed of and divided amongst my heirs as follows. Each son receives two shared of the same and the daughters each one share. And I having given my son Eli forth acres of land worth fifty dollars and a horse saddle and bridle worth fifty dollars more which is to be accounted one hundred dollars of his share of my estate already received by him. The remainder of my personal property of the reserving of the horses and farming utensils aforesaid and provisions for my family for a year. I wish to have disposed of and after the payment of my debts out of the proceeds I wish the remainder to be appropriated to the schooling of my children. It is also my will and desire that my friend James S Hawkins should be the executor of this my last will.
The above declared by the above named John D Cook in his last sickness to be his will in our presence we being requested by him to bear witness to such his last will and committed to writing this 5th day of February A D 1841.
In witness whereof we have hereto set our hands this firth day of February 1844. Jose Silkett Michael Keller State of Indiana Fountain County Fountain probate court May term Ad 1844 May 14, 1844 Personally appeared in open court Michael Keller one of the subscribing witnesses to the fore going will who being duly sworn on his oath says that he was present at the making of said nuncupative will by the said John D Cook and that he believes he was of sound mind and memory at the time of making this same and the said will was committed to writing and attested by him on the fifth day of February AD 1844 wich was within fifteen days after the decease of the said John D Cool. Subscribed and sworn to in open court May 14, AD1844 J Ristine Recorded July 16, AD 1844 J Ristine clerk
File Created: 9 Feb 2010 (Thanks, Beth)