VanCleave, Henry 1863-1946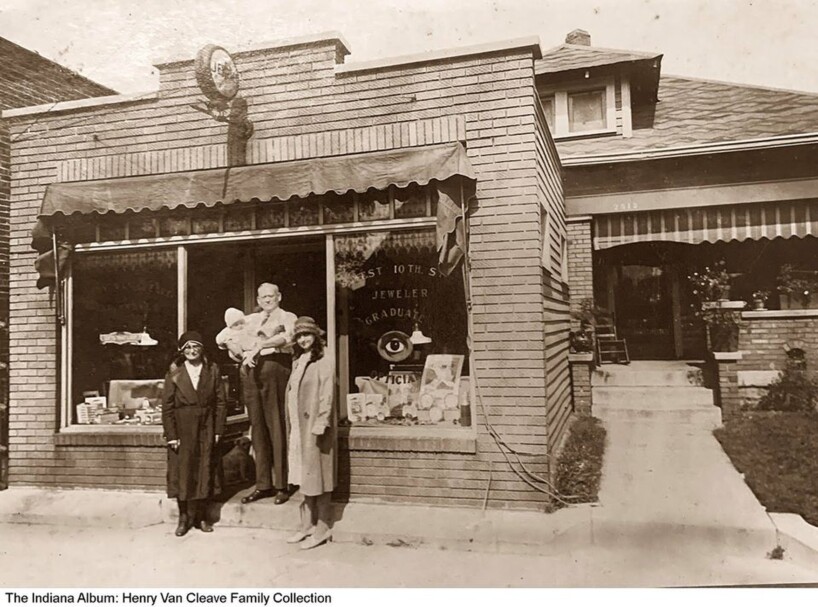 Henry VanCleave (1863-1946)
"W. Tenth Street Jewelry / Graduate Optician" on the window was at 2512 W. 10th Street, just north of Haughville. Proprietor Henry R. VanCleave holds his grandson Bobby Burkett. To the left is his wife Eva (Nicholas) VanCleave and on the right is their daughter Fern (VanCleave) Burkett. The VanCleaves lived with their daughter's family in the attached frame bungalow house on the right.
Henry VanCleave (1863-1946), a native of Tippecanoe, had a jewelry store in Lodoga for 26 years before moving to Indianapolis. He was a jeweler and watchmaker for 65 years and retired in April 1946 after about 20 years in business in this location. [
Source:
The Indianapolis Star, November 16, 1946, p. 26, obituary
].
After Henry's death, the storefront was advertised in 1947 as a space for doctors or dentists. In the 1950s and early 1960s its was advertised as a restaurant with living quarters. In 2004, the city published an order to demolish, but both buildings still stand as of 2020.
(Thanks to Sharon K. Burkett Starkey for sharing this wonderful family photo!)
Do you have memories or other photos of this business, or other businesses throughout Indiana? Share them with the Indiana Album, Indiana's community digital archive. See our growing catalog here: https://indianaalbum.pastperfectonline.com/