HOMER STONEBRAKER - basketball player extraordinaire !!
Super special thanks to Bill Boone for providing not only the pictures but the information, as well :) AWESOME Bill :) Thank
s muches!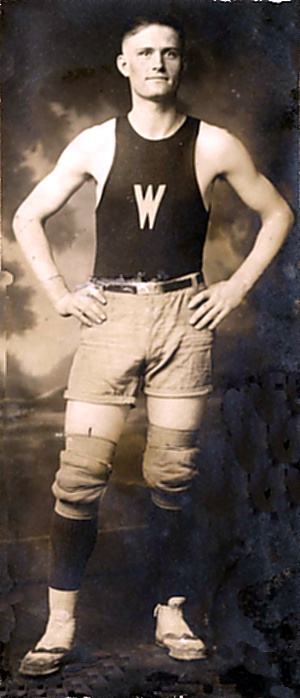 ---
Homer Stonebraker All-Around Center High School-Wingate 1914 College-Wabash 1918 Led Wingate to state championship in 1913 and 1914…in early format, Wingate played 2 games on Friday, then 4 on Saturday…in 1914, "Stoney" scored all of his teams points in the second of those Saturday contests then half of the team's 36 points in the championship game…3-time All-American at Wabash College…after serving in WWI, professional career included stints with Fort Wayne Hoosiers and Chicago Bruins…called by Abe Saperstein, founder of the Harlem Globetrotters "the best all-around center he had ever seen." Coached at Hartford City, then moved to Logansport and was twice elected Cass County sheriff.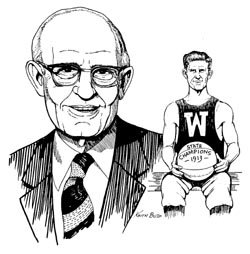 ---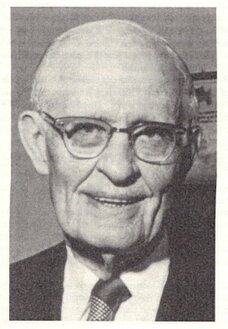 Source: Crawfordsville Journal Review 9 December 1977 p 1

Wingate - Homer "Stoney" Stonebraker, 82, a Wingate native who led the high school team here to state basketball championships in 1913-14 died at 4:15 a.m. today in Methodist Hospital at Indianapolis. He had been in the hospital suffering from a severe heart ailment. Mr. Stonebraker also received All-American honors 1915-16-17 at Wabash College, Crawfordsville. He went from the colllege tea, known as the Wabash Wonder Five, to the pro league where he played for the Ft. Wayne Hoosiers and Chicago Bruins of the old National Basketball Association. He was regarded by many as one of the best centers in this part of the country during his pro career. When he retired from professional basketball in 1928, Abe Saperstein, the founder of the Harlem Globetrotters called him, "the greatest all-around center I've ever seen." Stonebraker interrupted his professional career after his graduation from Wabash in 1918 and served in the Army in WWI. After quitting the pros, he coached at Hartford City. He later moved to Logansport where he was elected Cass County Sheriff and served two terms. After serving as sheriff, Mr. Stonebraker moved to Indianapolis where he worked for the state. He also was employed at Allison's Division of General Motors 31 years. He was one of the first inductees into the Indiana Basketball Hall of Fame in 1962 and worked for its improvement. He had been living in Speedway. Mr. Stonebraker attended Center Grade School in Wingate and was graduated from Wingate HS in 1914. He was born near here on Nov 1, 1895, a son of Edward and Martha Wainscott Stonebraker. He was last married to Jeanette Williams. She survives. Other survivors are a daughter, Martha of Chicago and two brothers, Cecil of Wingate and Robert of Thompsonville, GA. Arrangements are incomplete at Conkle Funeral Home, Speedway Chapel.

---
BELOW
you will see the 1914 Wingate State 2-time winners; the 1913 team; the 1913 team with autographed pants; 1914 champs - different view; EmRoes player; State Champs 1913; Wabash player @ 1916; Homer as Capt. probably 1914 at Wingate; Wabash football @ 1915 or 1916; Wabash @ 1916 (Stonebraker 2nd from right bottom row); Wingate 1911-1912 team outside of gym; Wingate gym (do not know artist or where it came from - sorry - please let me know if you know it - I always give credit when credit is due IF I know:); Wingate HS (tried to blow this up to see who did it but can't read the writing so let me know on this one, too :); Wingate School 1907 - Stonebraker may be one of the children in the picture; Wingate State Champs, 1914 & the Wingate State Championship sign as it is seen today -
THANKS SO MUCH TO BILL BOONE, one fab ball player and ball historian of the county :)