---
Robert Earl Lee & wife Mildred Cecil Perry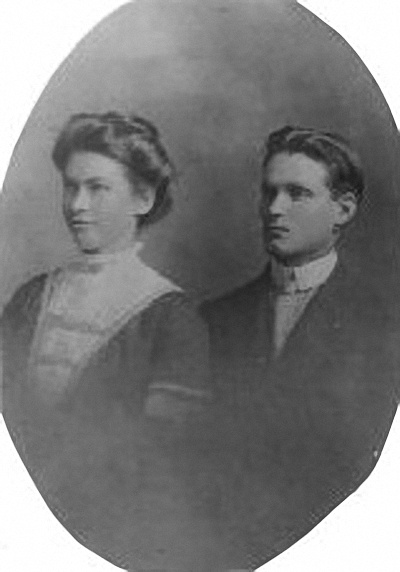 Robert Earl Lee & wife Mildred Cecil Perry Lee wedding photo.
Robert "Earl" was born in Alamo, Ind, Feb.02,1891 to James Wilson & Martha Compton Lee.
Mildred & Earl were married in Baldwin county, Al. on Dec. 05, 1911.
They raised 8 of their 9 children to maturity.
Earl Lee died March 03, 1971 & is buried at Clear Springs Cem. , Baldwin County, Alabama.
---
Wilson Thompson Lee & wife, Jane McCrea with two children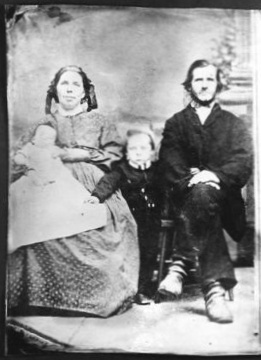 This is my great, great grandparents Jane McCrea & Wilson Thompson Lee with their two oldest children Angeline & John --
Sandra
---
James Wilson Lee & Family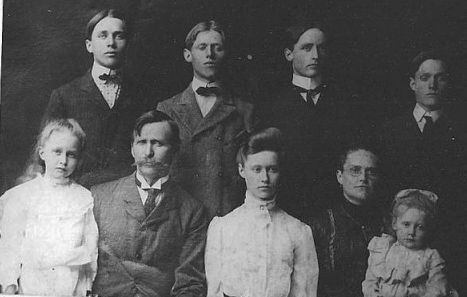 This is the last picture made before James W. Lee moved his family south in 1904. . This Lee family came from Crawfordsville, Ind. to Baldwin County, Alabama in 1904.They were my great grandparents.On left back is Ira , Verren, A.L. ( Lonnie), Robert Earl ( my grandfather),front left is Leah May, James Wilson( father), Judith Jane, Martha Compton (mother) holding baby Maude. All 7 children & the mother were born in Indiana, the father James was born in Iowa. He was the son of Wilson Thompson Lee who is buried in Union cemetery near or in Brown's Valley, Ind.Martha & James W. Lee are buried at Clear Springs Cemetery in Baldwin County, Al along with sons Robert Earl & Verren & daughters May & Maude. Judith is buried near Pensacola, Fl. & Ira is buried in Ft. Myers, Fl. Arlando Lebeau (Lonnie) is buried at New Hope Cemetery, Baldwin County, Al.
Sandra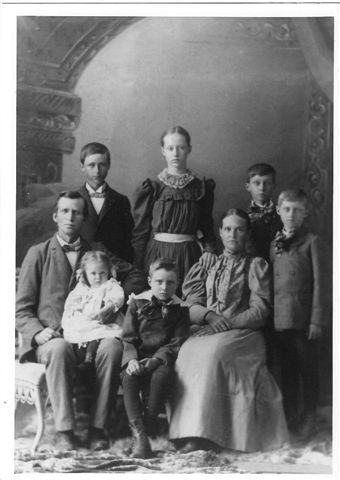 This is my great grandparents just a few years before they moved from Crawfordsville to Baldwin County, Alabama.Left to right back is Ira E. Lee, Judith Jane Lee, Alonzo Lebeau Lee, Verren Delvin Lee, front row left to right is James Wilson Lee, Leah May Lee on his lap, Robert Earl Lee ( my grandfather) & Martha Compton Lee.
Sandra
---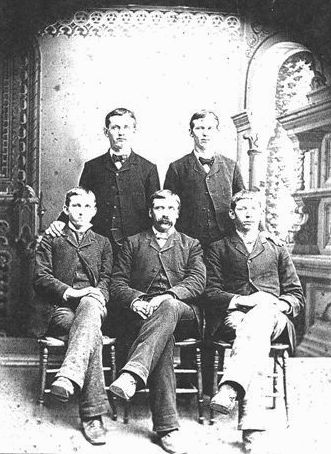 Karen, This is the four younger sons of Wilson Thompson Lee & wife Jame McCrea.
Left to right back row is John Lee , James Wilson Lee ( my great grandfather)
Front row left is Flint Lee, William Lee & Lonzo Lee. These boys were raised by Jemima Denman ( their father's older sister after their mom Jane McCrea Lee died).
Sandra
---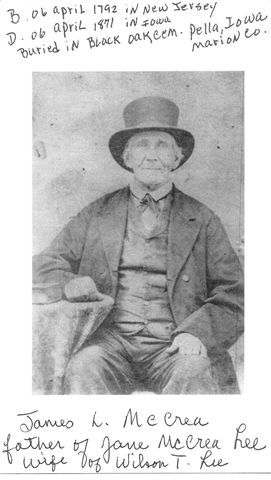 Karen, I forgot to tell you James L. McCrea was married to Elizabeth Lebeau (Labaw) & she is buried in the Darlington Cemetery & was the mother of Jane McCrea. Her tombstone is gone I believe.
Sandra
---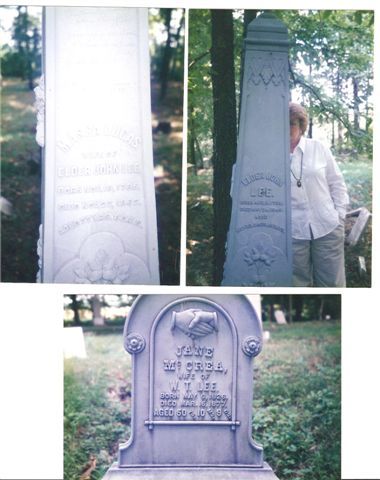 These are located in the Lee cemetery near Smartzburg, Ind. Jane McCrea Lee was my great, great grandmother, her in laws were Elder John & Massa Lucas Lee & are buried close to her. They were my third great grandparents.
Sandra
---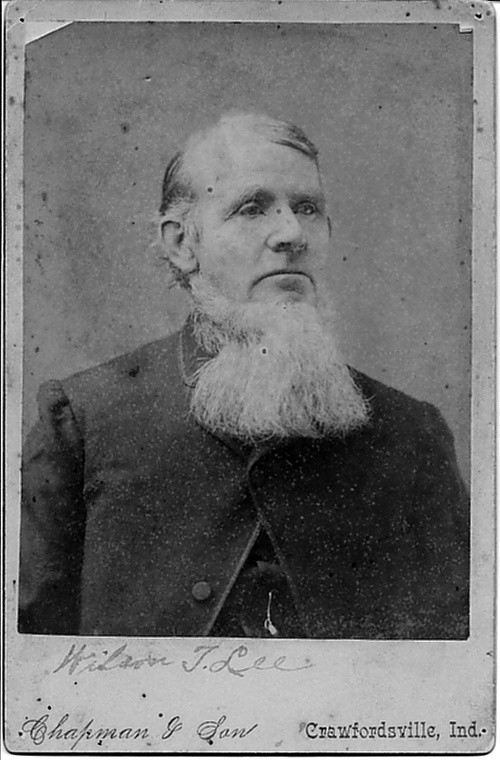 11-30-2013 -- Hey Karen I just saw your photographers on the website & thought I would send you this one of my Great, Great grandfather Wilson Thompson Lee born Nov14,1820 Vigo County, Ind. to John & Massy Lucas Lee & died Oct 28, 1899 in Montgomery County, Ind. of lip cancer. Wilson Lee was married to Jane McCrea on 24 July 1842 in Parke County, Ind. She (Jane) is buried in the Lee family cemetery at Smartsburg, Ind. & Wilson Lee is buried in Union cemetery in County. I love how your site is growing by leaps. I do believe it is the best I'v seen on ANY County! Thank You,
Sandra