Copner, Joseph_and_Susannah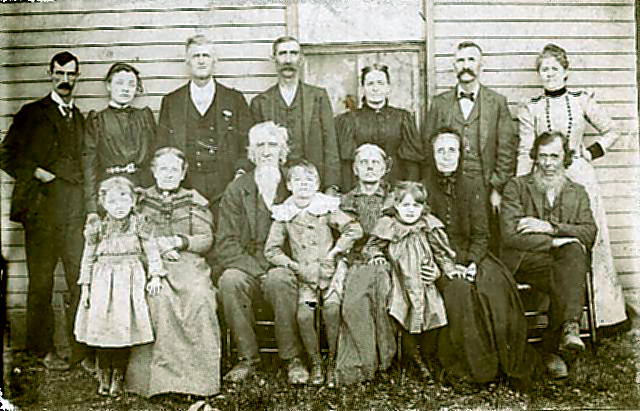 Joseph Tinley Copner (7 Sept 1828 - 8 APril 1913) and his wife, Susannah Coombs.
Are the only ones known for sure - couple far right side (looking at picture)
[Update]
Regarding the group COPNER photo I sent you - the older couple in the bottom row center, we are pretty sure this is Joseph's sister Hannah Copner Stonebraker and her husband Sebastian Stonebraker. The little girl on the right hand side between Susannah and Hannah just might be our great grandmother
Sarah Alice Copner
. All the other people in the photo are unknown. They could possible be Joseph's older children or more of his siblings.
Others unknown - anyone know who they are?
Photo provided by

Linda Bakos
20200908 Linda wrote:
Here is some info on Joseph Tinley Copner (1828-1913) and Susannah Coombs Copner (1829-1899). Originally from Ohio, they first showed up in Montgomery County on the 1860 census. The 1870 census shows them in Salt River, Missouri but in 1874 they are back in Montgomery County as he appears in the 1874 Landowner's Guide. 1880 census shows him still in Ripley Township. After Susannah dies in 1899, he lives with his daughters until he passes in 1913. Joseph and Susannah are buried in Bloomingdale cemetery. Their children were:
John Garland Copner (1851-1925) married Eleanor White
Calvin Copner (1853-1938) married Elizabeth Davis- later divorced
Flora Belle Copner (1855-1937) married James Fugate
Dorcus Copner (1857-1872)
Grant Copner (1864-1937) married Eva Petty
Sarah Alice Copner (1867-1953) married Jeremiah G. Albert (my great grandmother)
Joseph's parents, Joseph Thomas Copner (1803-1867) and Elizabeth Harris Copner (1804-1855) came to Alamo around 1846 from Ohio. In 1850 census he is a carder. Elizabeth dies in 1855 and he remarries Mary Montgomery. In 1860 census Joseph is a grocer. He passes in 1867 and is buried, along with his wives in Sparks Cemetery. The children were all with his Elizabeth.
Mary Jane Copner (1826-1881) married George Bolser
Mahala Jannett Copner (1827-1926) married Philip Sparks (she is the one mentioned in the article I sent you awhile back)
Joseph Tinley Copner (1828-1913) married Elizabeth Harris and Mary Montgomery
Hannah Marie Copner (1830-1922) married Sebastian Stonebraker
John W. Copner (1836-1883) married Sarah Wineland
Caroline Copner (1838-1913) married George Clark
James E. Copner (1840-1862) was killed at the battle of Mill Springs, KY in civil war
Elizabeth H. Copner (1844-1870) married Elnathan Wert
I am on Ancestry, so I have picked up some great info there. John W. Copner was a local political figure and lawyer and I found stuff on him. I am attaching a pic of tintype of a younger Hannah and Sebastian Stonebraker. Also, a copy of a photo of my great grandmother Sarah, along with the info from on back of the photo. I have no idea of the time frames.