Compton Family Photos
Great thanks go to
Sandra R
for these wonderful family photos :) Thanks, kiddo :)
---
Viola Compton
- 1st picture on left age 5 with older sister, Lizzie
2nd Viola age 12 & 3rd Viola age 19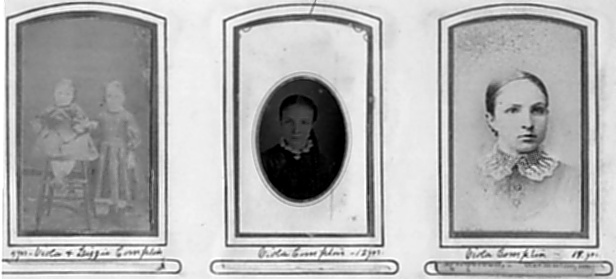 Below is Viola, about age 19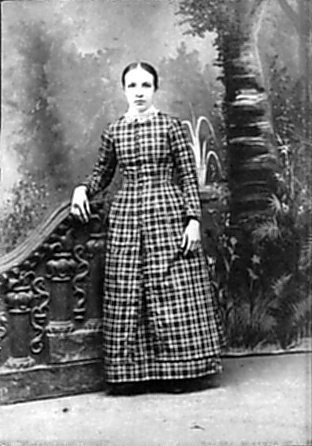 All these pictures were labeled by cousin Viola Compton in her album. This lady was something else. She was born in 1860's & LOVED geneaology! She left a wonderful amount of literature & pictures too. She was the daughter of John H. Compton & his last wife Sarah Jane Compton. Viola never married, inherited her fathers estate in Alamo & attended college in Chicago, became a missionary in the Applachian Mts of Tennesse where she founded a school, orphanage & church. She was born before her time! She traveled extensively on the railroads & visited sites to complete her family history. I loved her. Sandra

---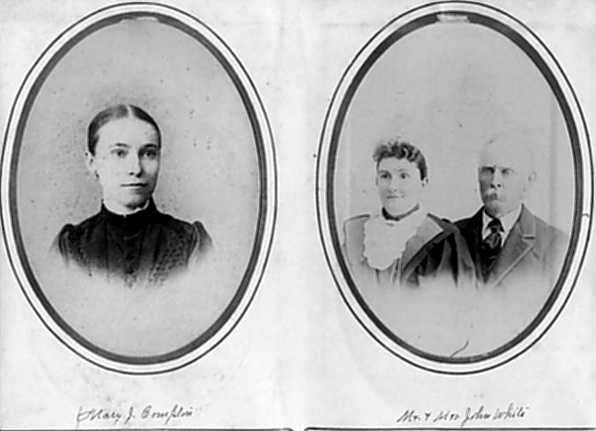 Mary J. Compton
(sister to Viola above - she was born 7 Nov 1869 and died 23 Feb 1912 buried Alamo Cemetery)
John Marshall White, with wife either 2nd wife, Emma Hatt (my guess) or 1st wife, Irena B. Wert
---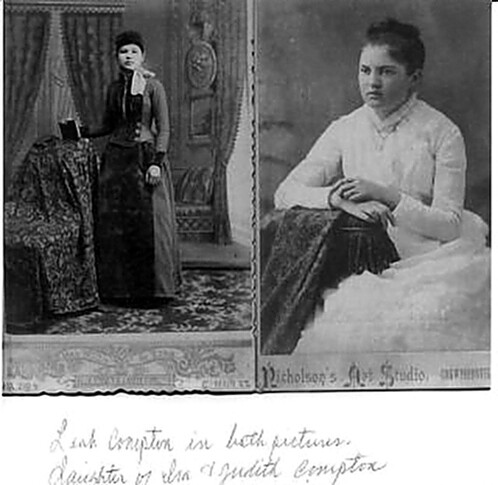 Leah Compton
, youngest sister of Martha Compton Lee
---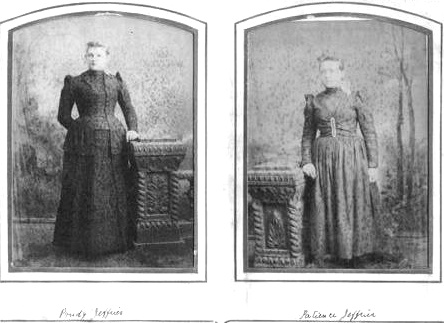 Prudence & Patience Jeffries
, daughters of Robert & Harriet Ballard Jeffries
---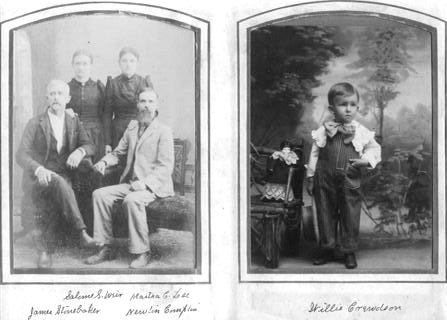 Salome
Weir
; James
Stonebraker
, Martha
Lee
, Newton
Compton
& Willie -- anyone know his last name - Crewelson? Crewdson? We were thrilled to find Willie in the 1900 Verm Co IL Census with his parents, Ada Compton & Samuel B. Crewdson. This was due to the name being MUCH easier to read on the photo below
NOW the question is -- who is Gula Parrett??
YES - found her -- 1900 Ripley Twp Mont co IN Census #107 Martin Parrot Aug 1860 age 39 marr 14 years IN IN PA Farmer -- Mary J May 1861 2 ch 1 living IN OH OH & Gula M. dau March 1896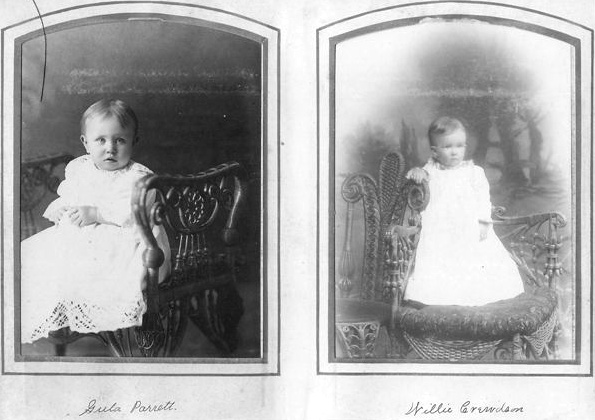 ---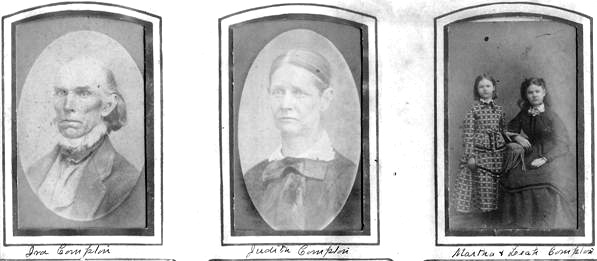 Ira & Judith Compton were my great, great grandparents & their daughter Martha was my great grandmother.-- Sandra

---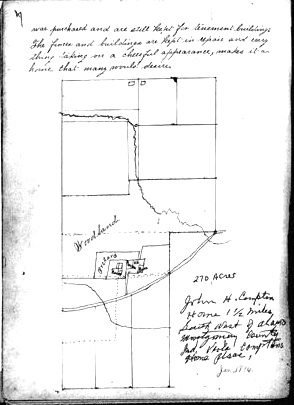 Sketch
of area where
Viola Compton's
home was
---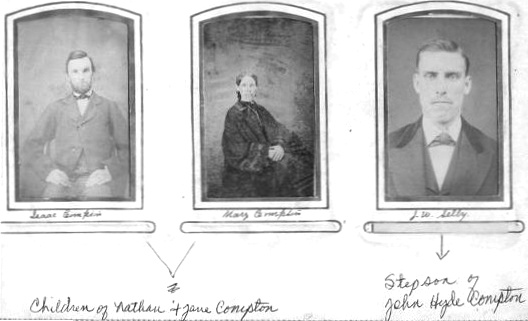 From Sandra:
The Comptons are brother & sister & children of Nathan Compton. They were both born in Hamilton County, Ohio. Mary ( Polly) Compton Wellshear lived with the John H. Compton family in Alamo for about 15 years till her death.She is buried in Hamilton County, Ohio beside her Civil War veteran husband. Sandra
---
ELLIS -- SELBY FAMILIES

Note from Sandra:
I'm not sure who the Joe Ellis family are. J.W. Selby was the son of Mary Compton Selby Compton wife of John H. Compton. The husband & wife were cousins so that makes his stepson also a cousin!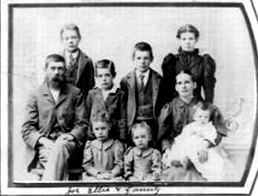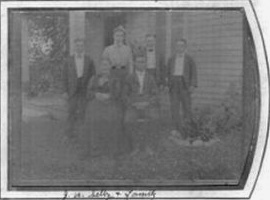 ---
HENRY HATT -----------------MINNIE STONEBRAKER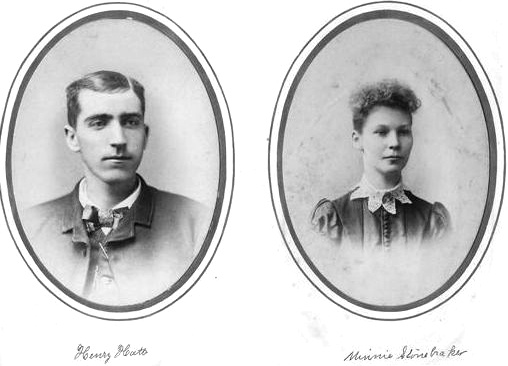 ---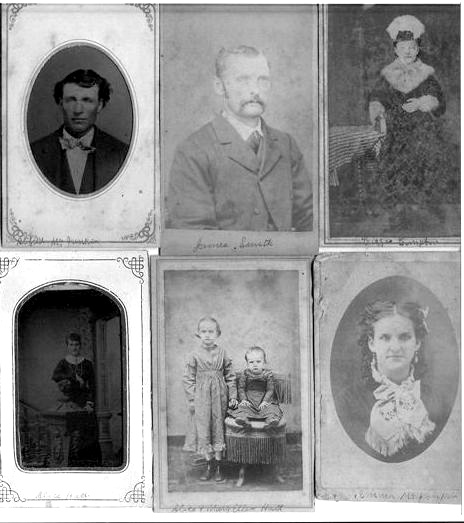 ---
WILLIAM H. COMPTON --------- UNKNOWN Children - HELP :)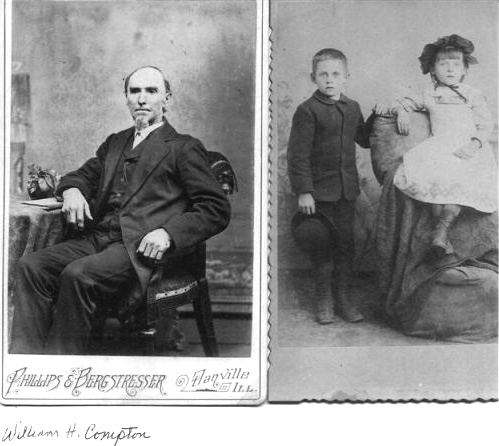 Note from Sandra:
YES! William Hankins Compton was the brother to my g,g, grandfather Ira Stout Compton! They were the children of Nathan & Jane Hankins Compton of Hamilton County, Ohio. So little Willie is MY family after all! So exciting to identify him. Another brother to William & Ira was John Hyde Compton of Alamo, Viola's father . This family moved into Indiana & migrated to Illinois, Iowa, Nebraska & Oklahoma along with mine coming to Alabama& others went to California & Washington state.I DO HAVE A PICTURE OF WILLIAM HANKINS COMPTON! I will send it in a minute