Welcome to Switzerland County, Indiana!

Switzerland County is located in southeastern Indiana on the Ohio River and was first opened to settlement by terms of the Greenville Treaty of 1795. Heathcoat Pickett was in Jefferson Township as early as 1790 and built a cabin near the mouth of Plum Creek in 1795.

George Ash had been a captive of the Shawnee Indians until his release in 1795. Under the terms of the Greenville Treaty, the Indians granted Ash land in Indiana opposite the mouth of the Kentucky River, which was the southern end of the treaty line. The grant was not recognized by the government, but George was eventually allowed to purchase as much of the designated land as he could afford, and he built the first brick house there in 1798. Ash later operated a ferry across the river to Kentucky and he and his family continued to do so for 103 years.

The Cotton and Dickason families settled on Indian Creek in 1798. Robert Gullion settled on the Ohio River bottom, above the mouth of Log Lick Creek in 1799; and in 1800, Louis Jones settled on Bryant's Creek.

The first sizeable settlement in the area was the "Swiss Colony" established by the arrival of the Dufour families in 1803. The Dufours were vine dressers by trade and in 1796, John James Dufour traveled from Switzerland to Philadelphia on a mission to find suitable land for a vineyard.. He journeyed as far west as the Mississippi River before choosing the fertile bottom land on the big bend of the Kentucky River as ideal. His first batch of vines planted in 1799 grew rapidly, and when they received this report, his extended family emigrated in 1801.

For some time, Congress had been eager to establish a native wine industry and upon his petition, in 1802 they granted John James Dufour and his associates (the Vineyard Association) the privilege of selecting four sections of land on the Ohio River, on a credit of twelve years, in order "to plant the vine and make their principal business its cultivation." New Switzerland was the first commercial winery in the United States, producing 1200 gallons of "good quality" wine in 1809.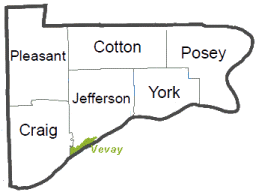 Formally organized from Dearborn and Jefferson Counties (Indiana Territory) on October 1, 1814, Switzerland County is now divided into 6 Civil Townships: Cotton, Craig, Jefferson, Pleasant, Posey and York.

Vevay is the County Seat. It was laid out in 1813 by the Dufour brothers, John James, John. F., and Daniel, on the land sold to them in 1802. It was named for a town close to their Swiss home.



---
"The Chosen"

We are the chosen. In each family there is one who seems called to find the ancestors. To put flesh on their bones and make them live again. To tell the family story and to feel that somehow they know and approve. Doing genealogy is not a cold gathering of facts but, instead, breathing life into all who have gone before. We are the story tellers of the tribe. All tribes have one. We have been called, as it were, by our genes. Those who have gone before cry out to us: Tell our story. So, we do. In finding them, we somehow find ourselves. How many graves have I stood before now and cried? I have lost count. How many times have I told the ancestors, "You have a wonderful family; you would be proud of us.". How many times have I walked up to a grave and felt somehow there was love there for me? I cannot say. It goes beyond just documenting facts. It goes to who I am, and why I do the things I do. It goes to seeing a cemetery about to be lost forever to weeds and indifference and saying - I can't let this happen. The bones here are bones of my bone and flesh of my flesh. It goes to doing something about it. It goes to pride in what our ancestors were able to accomplish. How they contributed to what we are today. It goes to respecting their hardships and losses, their never giving in or giving up, their resoluteness to go on and build a life for their family. It goes to deep pride that the fathers fought and some died to make and keep us a nation. It goes to a deep and immense understanding that they were doing it for us. It is of equal pride and love that our mothers struggled to give us birth, without them we could not exist, and so we love each one, as far back as we can reach. That we might be born who we are. That we might remember them. So we do. With love and caring and scribing each fact of their existence, because we are they and they are the sum of who we are. So, as a scribe called, I tell the story of my family. It is up to that one called in the next generation to answer the call and take my place in the long line of family storytellers. That is why I do my family genealogy, and that is what calls those young and old to step up and restore the memory or greet those who we had never known before.

by Della M. Cummings Wright; Rewritten by her granddaughter Dell Jo Ann McGinnis Johnson; Edited and Reworded by Tom Dunn, 1943.