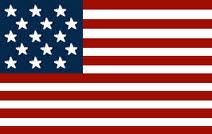 FREDERICK & GEORGE REDENBAUGH
- War of 1812
Thanks so much to Sharon Mills for this one - good job for getting 'ol Fred where he belongs :) - See George's notes under Fredericks, also from Sharon
"Bounty Land Claim, Form of Declaration for Surviving Officer or Soldier. State of Indiana, County of Montgomery On this 31st day of March A D one thousand eight hundred and fifty five, personally appeared before me, Samuel W Austin, a Notary Public, duly authorized to administer oaths within and for the County and State aforesaid, Fredrick Redinbough aged Eighty Two years, a resident of Montgomery County in the State of Indiana who being duly sworn according to law, declares that he is the identical Fredrick Redinbough who was a Private in the Company commanded by Captain Acy Hinkle in the ______ Regiment of Ohio Volunteers commanded by Major Jenkins in the war declared by the United States against Great Brittain June 18 1812 that he Enlisted at Cincinnati Ohio about he 15th of September A D 1811 for the term of Six Months and continued in actual service in said war for the term of Six Months and was honorably discharged at St Mary, Pickway County the 23rd day of February A D 1812 on account of being mustered out of service as will appear by the muster rolls of said Company. He makes this declaration for the purpose of obtaining the bounty land to which he may be entitled under the "act granting additional bounty land to certain officers and soldiers who have been engaged in the military service of the United States", approved March 3, 1855. And refers to his former declaration made under act of September 28t h 1850 upon which he obtained a Land Warrant No. (not remembered) for Eighty Acres, which he having legally transferred and disposed of, is not within his power not to return. He further decl ares that he has not received a warrant for bounty land under any other act of Congress, nor made an application therefor, than the one above referred to, under act of September 25th, 1850 upon which he obtained the said Land WArrant No. (not remembered, for Eighty acres, and the one now presented. Attest Samuel Austin Frederick (his mark) X Redinbaugh Sworn to and subscribed before me the day and year above written; and I hereby certify that I believe the said Fredrick Redinbaugh who signed and executed the above declaration, and is now present, to be the identical man who served as aforesaid, and that he is of the age above stated, and that I have no interest in said claim. Samuel Austin, Notary Public State of Indiana County of Montgomery ss. Personally appeared Jeremiah Douglas and John Lee, citizens of the said County and State aforesaid, who being duly sworn, depose and say that they are personally acquainted with Frederick Redenbaugh and that he is the person now present who signs and executes the within declaration. Jeremiah Douglas John Lee Sworn to and subscribed before me this 31st day of March A D 1855; and I certify that the said Jeremiah Douglas and John Lee are credible and respectable citizens. Samuel Austin, Notary Public" So that's what I have. The dates on the warrant above appear to be incorrect, as his muster rolls run into 1813.
????? If I recall, Frederick deeded the 80 acres evenly between his son Henry and his son-in-law, the above-mentioned Jeremiah Douglas. Maybe the fact that no number can be read on the pension file is a factor in its not being included on the Allen Co site. Or maybe the fact that a researcher would need to look in records availabe in the Ohio state archives rather than the Indiana. But how many would really have served from Indiana in that early day? I think just a few along the Ohio River and the Wabash, but I could be wrong. This bounty land claim was at the recorder's office in a book. I doubt if the originals have survived or where they would be found. If they were sent to the State Archives, they could have been lost in the floods when the records were stored in the State Library or, more recently, in the rickety, leaky warehouse that currently "temporarily" stores our state documents. For more information on that deplorable situation, check out the Friends of the Indiana State Archives, and the recent address of their president, Steve Towne. Thanks again, Karen. Sharon Mills
---
served in 1 Regiment, (Sutton's), OH Militia, War of 1822.
This was Capt. Asa Hinkle's Co of Riflemen.
He was present on muster roll of Aug 11, 1812 to feb 11, 1813.
He was present on Company Pay Roll of January to Feb 11, 1813.
Rec'v'd $10.51 3/4.
He was absent --on extra duty--on Company muster roll from Aug 11 to Dec 31, 1812.
He was on extra duty for the Company Pay Roll of Dec 1812.
He was paid $12.77.
He was present on Muster Roll for Camp Comfort from Aug 11 to Nov 30, 1812.
He was at the Cincinnati Encampment on the Company Pay Roll dated Aug 11, 1812.
Paid $10
He was present at the Company Muster Roll of Feb 11, 1813.
He was paid from Aug 11 to Nov 30, 1812 $8 and 33 1/3 cents.