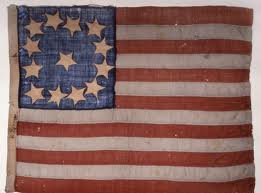 - Revolutionary War Soldier --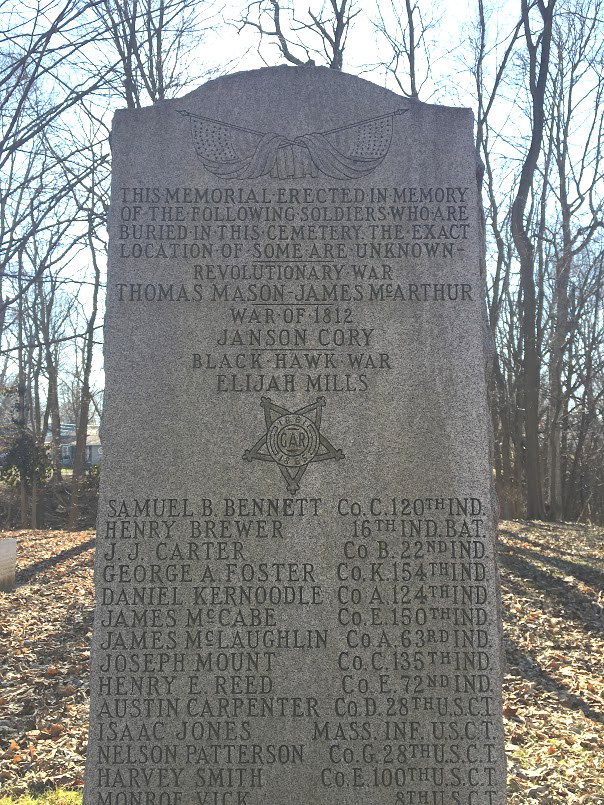 Special thanks to his descendant, Steve Mason for the photo above as well as much information on the family and other pictures - you rock, Steve !!

---
Thomas was likely born in Delaware since he enlisted with the Delaware Line for four years. It is known that his birthdate was nine days before Christmas in the year 1760. His death was in Montgomery County, Indiana 4 October 1846. His last pension payment was 8 September 1846, about a month before he died.
In March of 1818 (18th day) the government made it possible for those who fought in the Revolution to obtain a pension if proof be presented. Thomas Mason living in Adams County, Ohio applied in April of of 1823 on the 16th.
In his affidavit, he told that he was about destitute and had a wife and 10 children (four on their own). His son, Jefferson was 13; Malin Jackson about 7 and Wilson Campbell about two. Three daughters were at home - Elizabeth five Patty eight and Margaret about five years.
His total property consisted of:
1 cow and 1 calf ... 16
2 mares and a colt ...... 60
1 cow and 3 pigs .......... 2
8 Sheep and 2 lambs .... 10
2 hoes & 1 mattock ..... 2
2 candle sticks, 1 pair of snuffers and 1 coffee mill .... 75
1 crock; 1 pair candle molds and 1 Iron stand ........ 25
Amount brought up .... 122.50
2 coffee pots and 3 tin cups ..... 37 1/2
2 axes 1 iron wedge and 1 spade .... 2
2 bridles and 1 saddle .... 1.25
1 saw 1 drawing knife; 2 augers 3 chissels ... 2.25
2 stacks of wheat ..... 8
2 bucketts (sic) 8 chairs ....... 2.25
1 Looking glass .............. 25
1 big wheel and 1 small wheel ....... 2.50
2 tables and 1 stand ......... 4.50
1 Reid ? 2 smoothing irons .... 1
Trunk and 2 baskets ............ 25
1 fire shovel and 1 pair fire irons ....... 3
1 umbrella and 1 des .... 7
1 pot and 2 lid kittles (sic) ..... 75
1 wind mill .......... 5
1 gun and led ........... 1
1 pr double trees ....... 75
1 razor shaving box soap etc...... ?
2 pr pot bales ......... 50
1 meat tub ....... 2.36
10 knives & 7 forks ....... 50
11 barrels and 1 wooden bowl ... 75
9 spoons and 12 plates ..... 75
4 clevixes (?) and old sieve .... 1
8 cups and sausers (sic) .... 50
1 half bushel ........ 37 1/2
3 dishes 1 ovel pitcher .......... 1
1 leg chain .. old... 75
1 teapot 3 bowls 1 tumber .... 1
1 box of sugar ..............6
.... Under execution ... $154
Amt of judgments now on the docket of John Kincaid Esq agains me are .....100
Amt due to Armstrong ........ 50
No of original - amt due to Bradford ...... 30
Certificate 8918 do to J Housh ..... 70
do to Lockhart ..... 40
$290.00
Amount that is owing to me at this time are in costs about $150 -- Thos Mason
His Revolutionary War period information was "transcribed and annotated" by C. Leon Harris (Pension Application S 3669) State of Ohio, Adams County. .. I do hereby certify that this day Thomas Mason a citizen of the US and this state in which he has resided many years personally appeared before me the undersigned a Judge of the Court of Common Please in and for the County aforesaid and being duly sworn according to law made the following declaration under oath.
1st) that he served 4 years in the Army of the US in the Revolutionary War against the common enemy in the Delaware lines on continental establishment
2. That he enlisted under Captain John Rhoades (Rhodes) but was afterwards transferred to another Company - that he served in a Regiment commanded by Colonel David Hall or Vaugh (Joseph Vaughn) a regiment belonging to the Delaware line
3rd - That he enlisted as a private Solder 16 July 1778 as well as he now recollects for three years or during the war and continued in the service of the US until the conclusion of the Peace in 1782.
4th - That he never had or received any pension from the US and therefore thinks it not necessary to make any form at relinquishment of a pension. Signed Thomas Mason
---
In Adams County, Ohio Mason aged 62 on his oath declares:
He served in the Revolutionary War enlisting some time in the summer of 1779 in a company commanded by Capt. John RHodes called Delaware Blues, the following fall he joined the Regiment at Sussex Courthouse, New Jersey and March to winter quarters near Morristown. Sometime after he was sent with the baggage of Brigadier General M. Gess (Mordecai Gist) to SC. He was in the engagement called the Battle of Camden (General Horatio Gates' defeat 16 Aug 1780 wher ehe was taken prisoner, shortly after he was retaken by Gen'l Francis Marion (skirmish near Nelson's Ferry SC 25 Aug 1780) - marched to Wilmington NC then Hillsborough NC where he joined the Regiment commanded by Gen'l Gates and aftewards Gen;l Nathanael Greene he continued in the regular service and was in the Battle of Guilford Court House (15 March 1781) and battle at Camden (Hobkirk Hill 25 April 1781). Also the battle of the Eutaw Springs (8 Spet 1781) and other engagements not necessary to mention finally was sent to New Castle wher ehe received a furlow without date instead of regular discharge after having been 4 years and some months in the service of the US. The papers were lost in the buring of his house and property in West Union shortly after it became a town.
On the 27th of December 1837, Mason applied to have his pension transferred to Montgomery County, Indiana awhere he had moved because "a son who resided in that place wished me and my wife come there and reside with or near him and my wife was anxious to go to that county to be near her son and I went to that County as much to gratify my wife as anything else."
Differing information have his wife as Mary Pawson and Mary Dawson - she was born August 17, 1778 and passed May 8, 1837. They were married on April 17, 1794. Both are buried in Old Town Cemetery in the heart of Crawfordsville, Montgomery County, Indiana. A monument was set to honor Mason on Memorial Day in 1939.
---
Children:
1) William D. Mason born 10 June 1801 died 15 June 1875 married Nancy Lambert - they had 12 children
2) John born about 1805
3) Eliza born 27 July 1804 died 15 January 1848 - never marr
4) Sally Alice about 1807 m. Robert McGovney died 1845 (he died 15 May 1879)
5) Jefferson b. about 1810
6) Polly (Patty) b. 1815
7) Mahlon Jackson b. 1816 d. 23 Feb 1884 (Mexican War Veteran bur New Richmond)
8) Margaret b. 1818
9) Wilson Campbell b. 18 January 1821 Adams County, Ohio died 18 Dec 1879 (New Richmond, Montgomery County, Indiana
10) Priscilla