Source:
Hillsboro Times July 1947
One of the historic spots in Hillsboro, an old flour mill which has stood almost a century and a quarter, was sold a few days ago. Harold Frazier, who operates a feed and farm supply store in Hillsboro purchased the mill site including the old mill, 8 acres of land and the water dam across Coal Creek, of Clarence Weaver, of near Kingman, heir to his father;'s William Weaver, estate.
William Weaver purchased the mill of George Sterns in 1920 and kept it in operation until a few years ago when his health failed. The new owner took possession at once, but had not completed his plans as to how he will use the mill.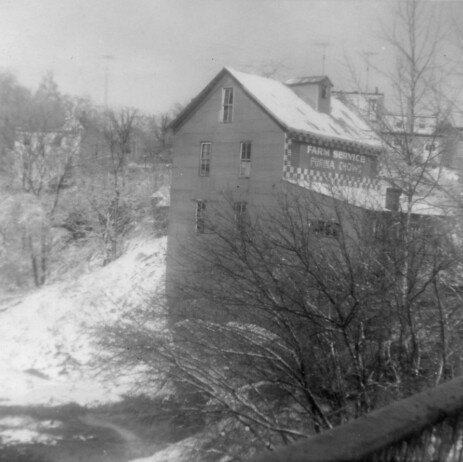 The mill was built by Jesse Kester in 1824, one of the first buildings erected in Hillsboro. It is said to be one of the oldest mills in Fountain County. It was erected on a 15-acre tract including land on both sides of Coal Creek at the south edge of Hillsboro. The main framework of the building is the original timbers held together with wooden pegs.
In 1853, two brothers, Andrew J. and Pleasant Williams and their brother-in-law, Abijah Bever, bought the mill and 42 acres of land of Thomas W. Fry for $2,500. Bever sold his interest in 1855 and Pleasant Williams sold to his brother, Andrew in 1868, leaving him the soul owner. He continued to operate the mill until 1891 when he sold to his eldest son, Peter M. Williams. After being continuously operated by the Williams family for 60 years, Peter Williams sold to George Sterns in 1913.
Water from Coal Creek furnished power for both the flour and saw mills. The first dam was a wooden structure 84 feet long and 10 feet high, , which has been replaced twice. The present dam is 140 feet long.
A dynamo installed by Peter Williams in the mill furnished a few business houses of Hillsboro their first electric lights and also a large light in the center of town, which was Hillsboro's first street lights.