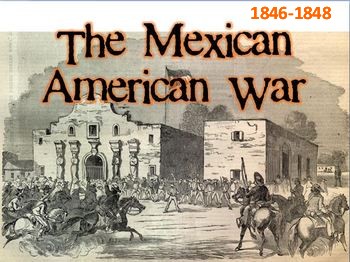 Between 1846 and 1848, two neighbors, the United States and Mexico, went to war. It was a defining event for both nations, transforming a continent and forging a new identity for its peoples. By the war's end, Mexico lost nearly half of its territory, the present American Southwest from Texas to California, and the United States became a continental power.
Source - http://www.pbs.org/kera/usmexicanwar/war/ (accessed 3/30/2016)
The Mexican-American War (1846-1848) marked the first U.S. armed conflict chiefly fought on foreign soil. It pitted a politically divided and militarily unprepared Mexico against the expansionist-minded administration of U.S. President James K. Polk, who believed the United States had a "manifest destiny" to spread across the continent to the Pacific Ocean. A border skirmish along the Rio Grande started off the fighting and was followed by a series of U.S. victories. When the dust cleared, Mexico had lost about one-third of its territory, including nearly all of present-day California, Utah, Nevada, Arizona and New Mexico.
Source: http://www.history.com/topics/mexican-american-war (accessed 3/30/2016)
Adams Mexican-American War Veterans

Russell P. Enos

Nuss C. Largent

Elisha Leasure

James M. Luckey

Isaac H. Rose

Conrad Reinking

Lewis Vine

B. B. Winans


If you have information about any of these veterans or their service, please get in touch with
Margie Pearce
.
Posted 9/2/2016; updated 8/11/2019