Adams County Veterans Memorial
524 Berne Street, Berne IN
Many thanks to Jim Cox for the photos!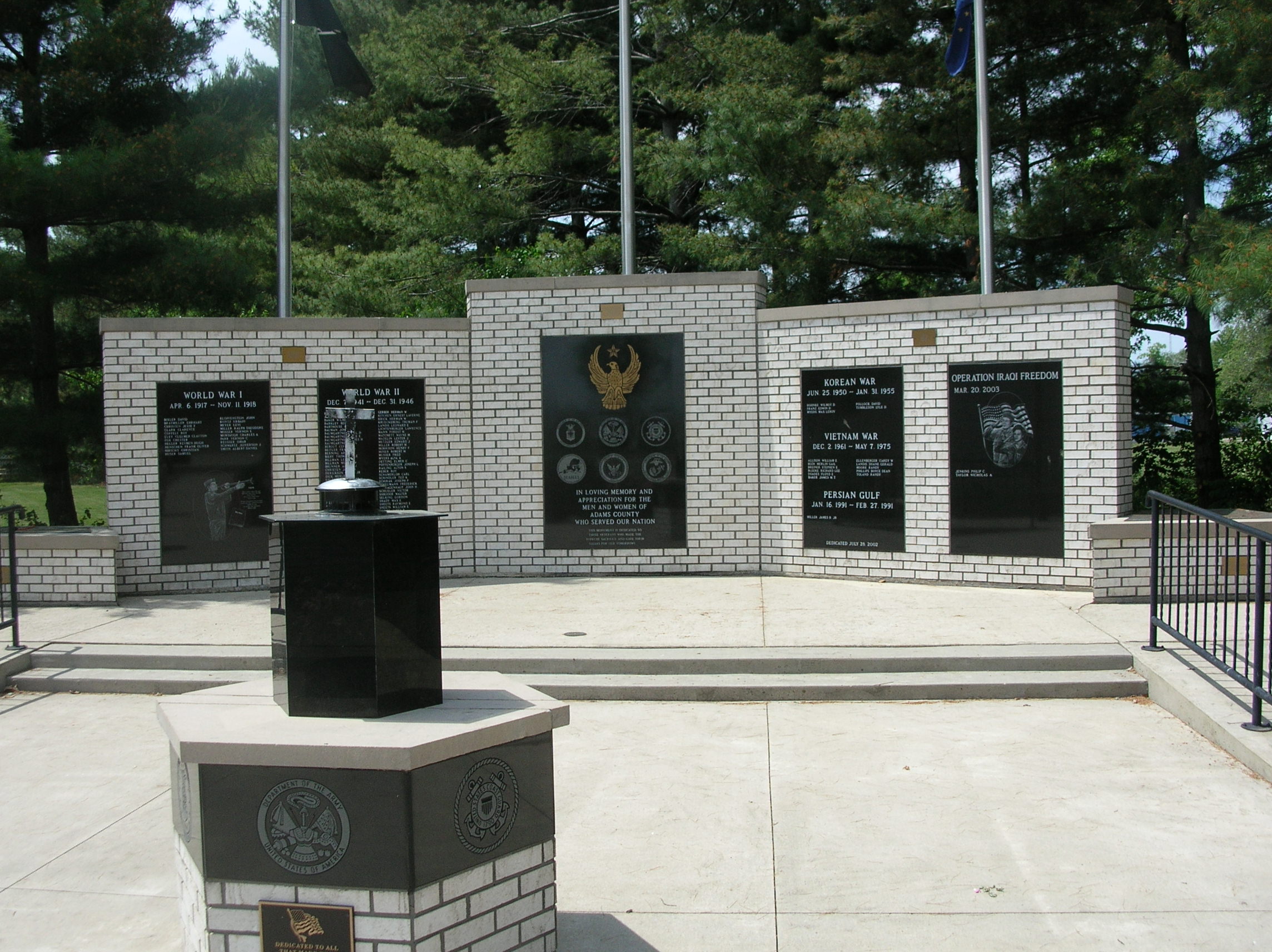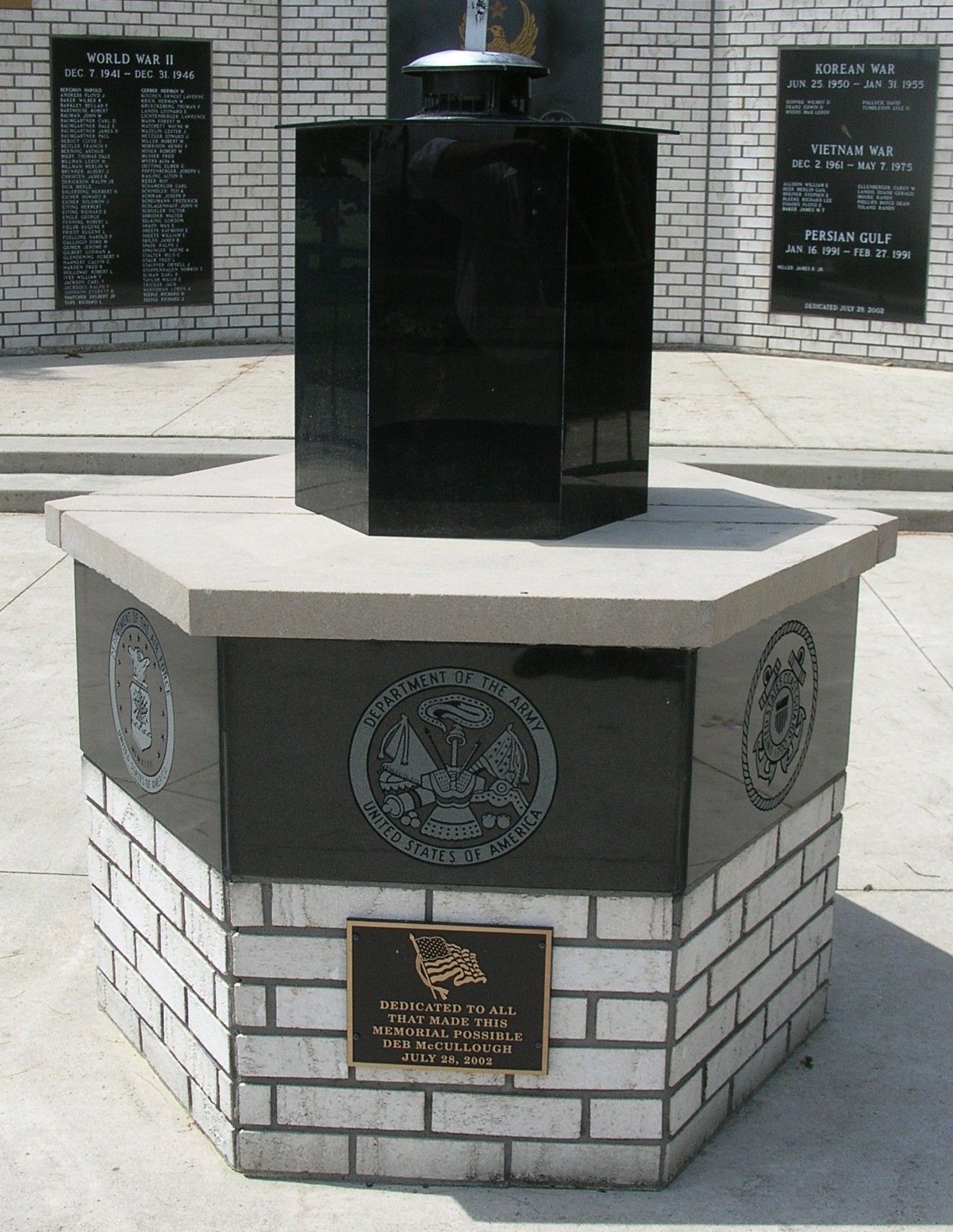 Each side contains the official symbol of the one of the six military branches: Air Force, Army, Coast Guard, Marine Corps, Navy, Seabees
Dedicated to all that made this memorial possible
Deb McCullough
July 28, 2002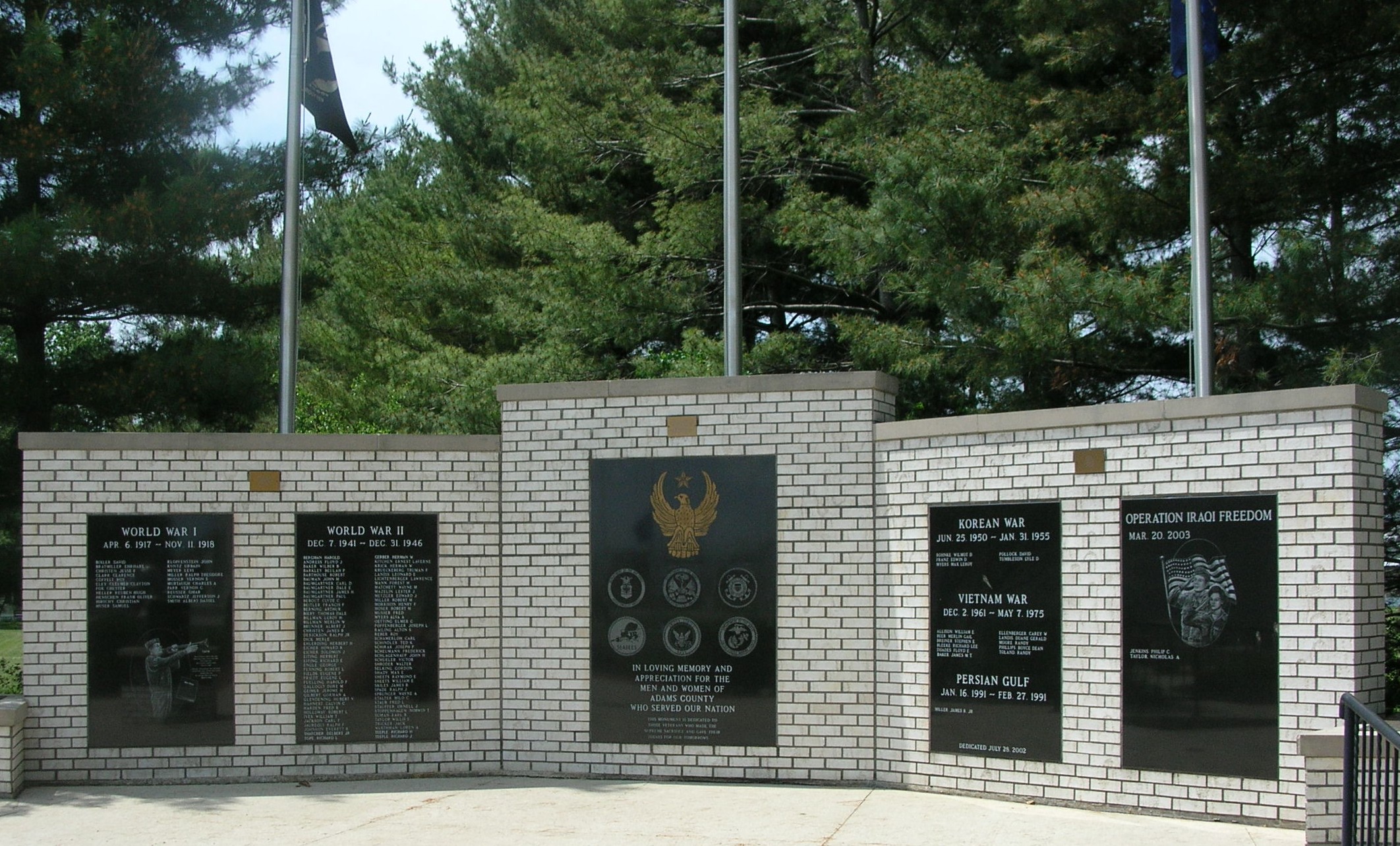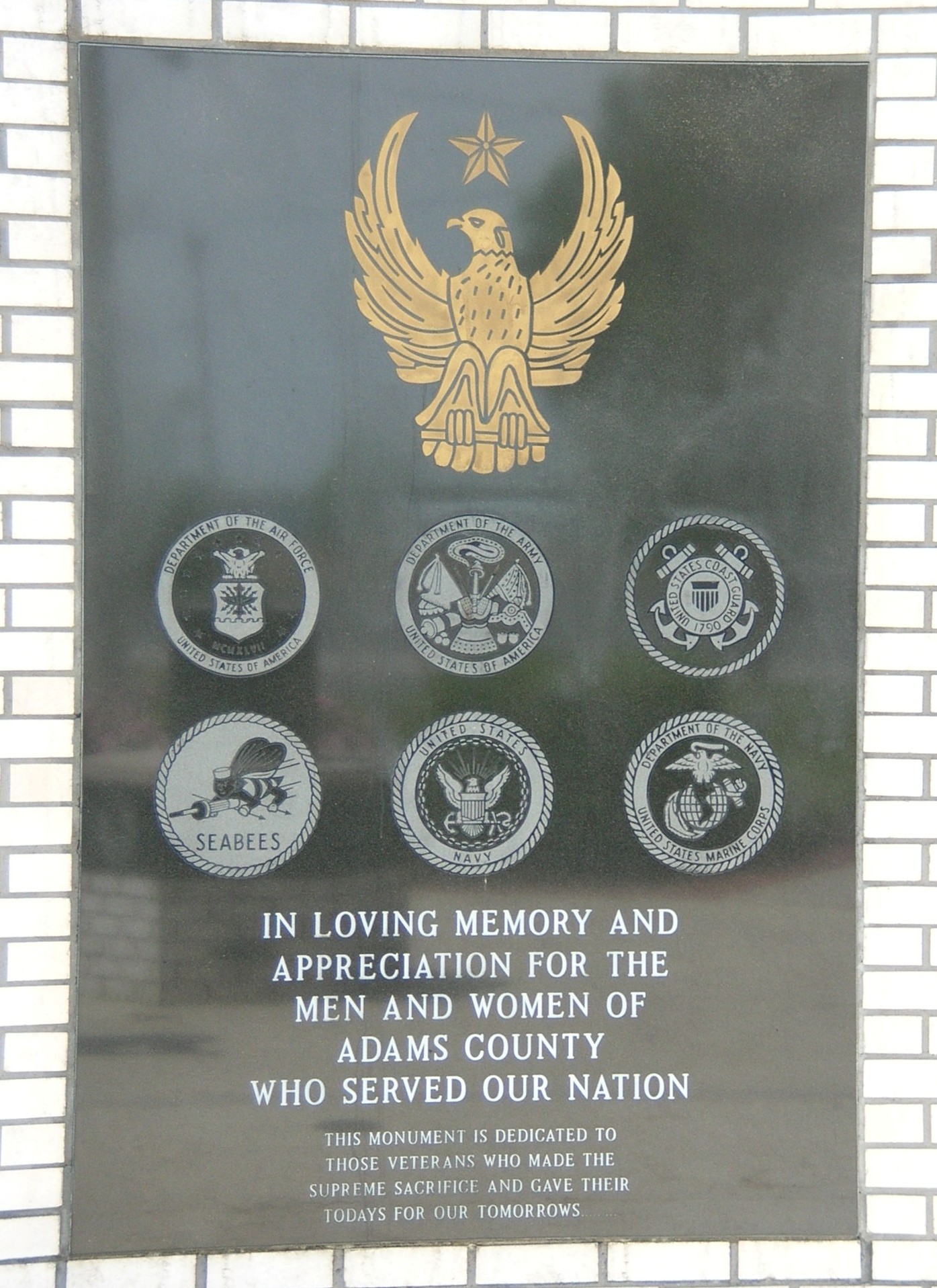 In loving memory and appreciation for the men and women of Adams County who served our nation.
This monument is dedicated to those veterans who made the supreme sacrifice and gave their todays for our tomorrow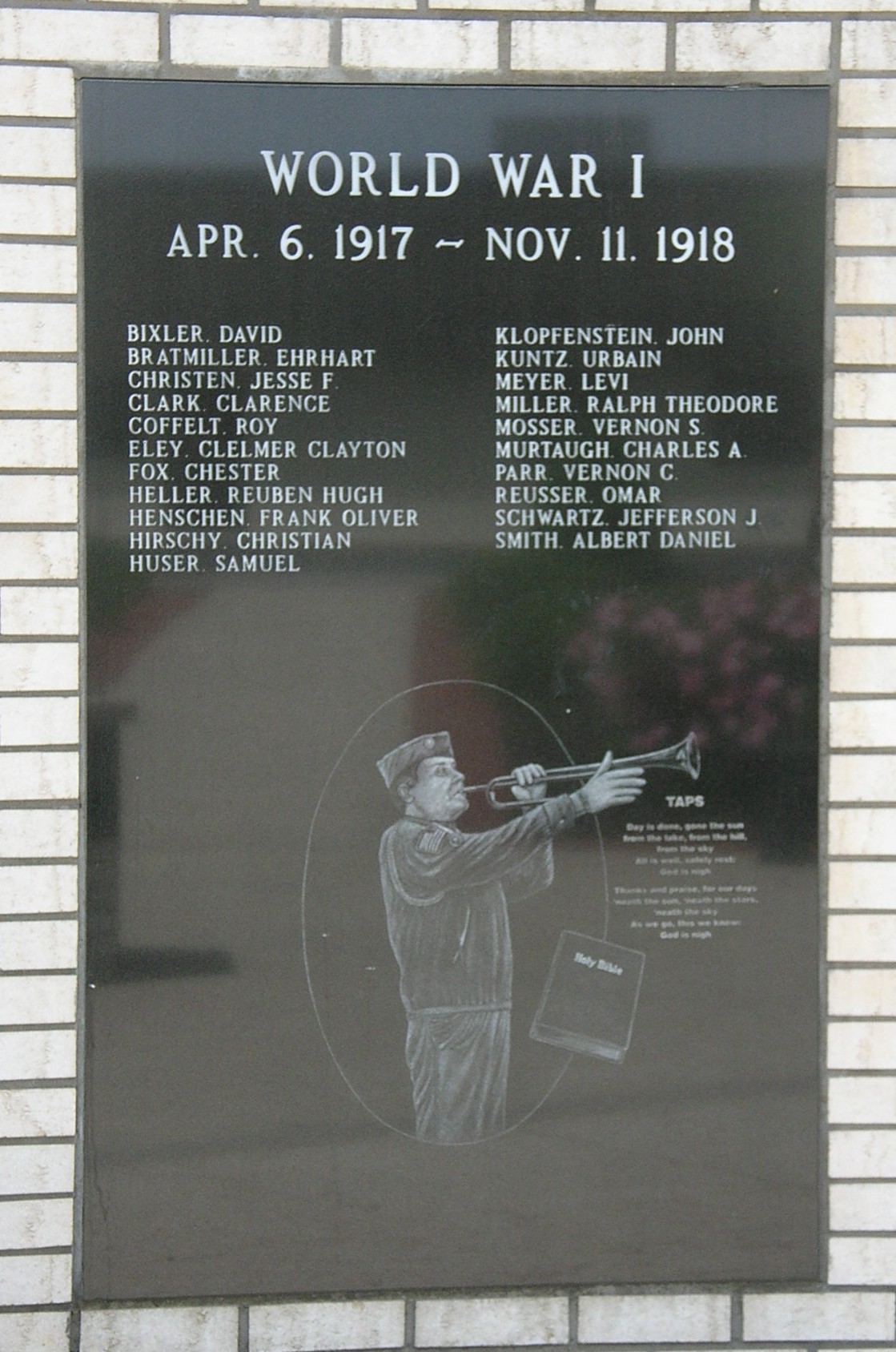 World War I
April 6, 1917 - November 11, 1918
Bixler, David * Bradtmueller, Erhardt
Christen, Jesse F. * Clark, Clarence
Coffelt, Roy * Eley, Clelmer Clayton
Fox, Chester * Heller, Reuben Hugh
Henschen, Frank Oliver * Hirschy, Christian
Huser, Samuel * Klopfenstein, John
Kuntz, Urbain * Meyer, Levi
Miller, Ralph Theodore * Mosser, Vernon S
Murtaugh, Charles A * Parr, Vernon C
Reusser, Omar * Schwartz, Jefferson J
Smith, Albert Daniel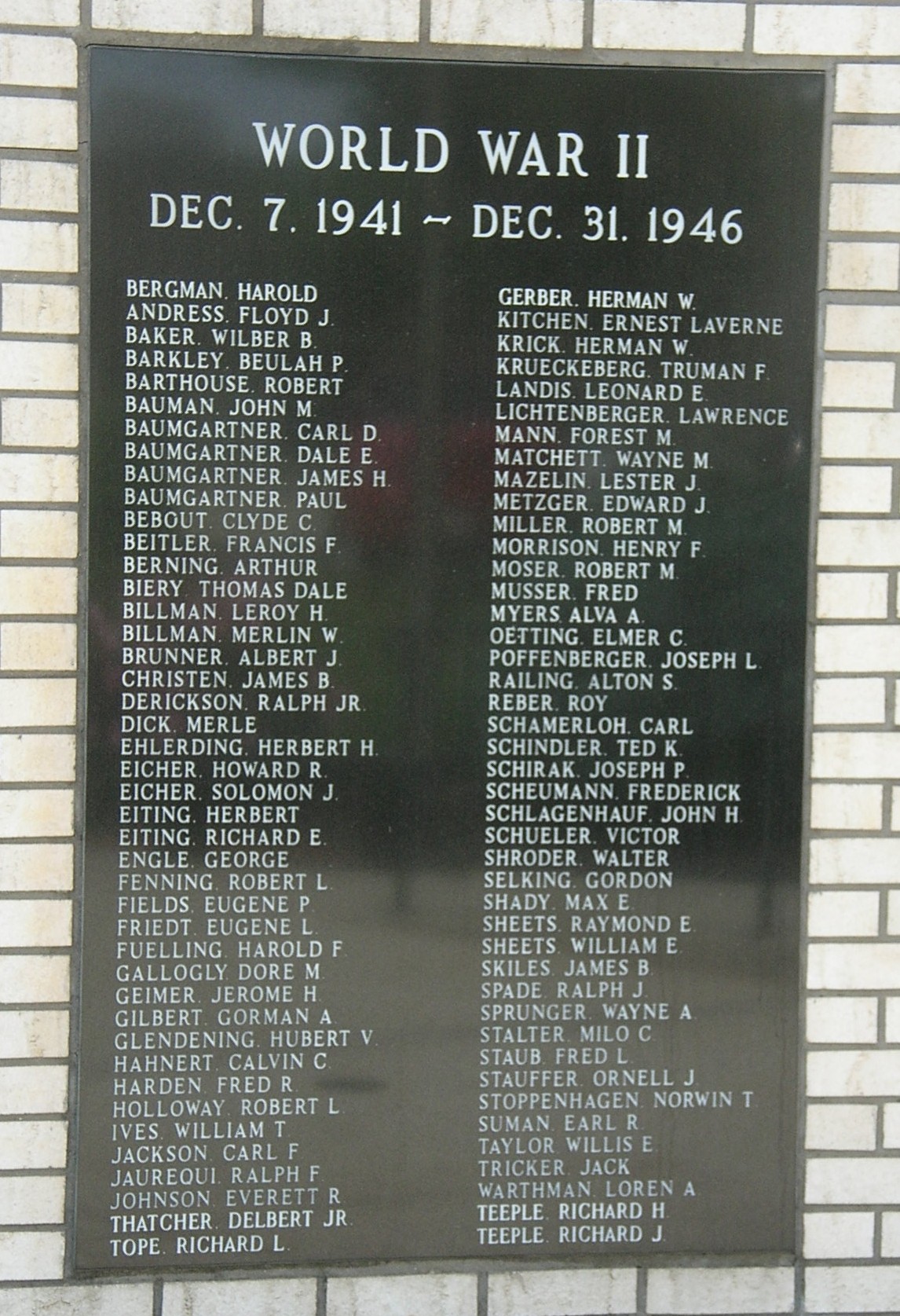 World War II
December 7, 1941 - December 31, 1946
Bergman, Harold • Andress, Floyd J. * Baker, Wilber B. • Barkley, Beulah P.
Barthouse, Robert • Bauman, John M. * Baumgartner, Carl D. • Baumgartner, Dale E.
Baumgartner, James H. • Baumgartner, Paul * Bebout, Clyde C. • Beitler, Francis F.
Berning, Arthur • Biery, Thomas Dale * Billman, Leroy H. • Billman, Merlin W.
Brunner, Albert J. • Christen, James B. * Derickson, Ralph Jr. • Dick, Merle
Ehlerding, Herbert H. • Eicher, Howard R. * Eicher, Solomon J. • Eiting, Herbert
Eiting, Richard E. • Engle, George * Fenning, Robert L. • Fields, Eugene P.
Friedt, Eugene L. • Fuelling, Harold F. * Gallogly, Dore M. • Geimer, Jerome H.
Gilbert, Gorman A. • Glendening, Hubert V. * Hahnert, Calvin C. • Harden, Fred R.
Holloway, Robert L. • Ives, William T. * Jackson, Carl F. • Jaurequi, Ralph F.
Johnson, Everett R. • Gerber, Herman W. * Kitchen, Ernest LaVerne • Krick, Herman W.
Krueckeberg, Truman F. • Landis, Leonard E. * Lichtenberger, Lawrence • Mann, Forest M.
Matchett, Wayne M. • Mazelin, Lester J. * Metzger, Edward J. • Miller, Robert M.
Morrison, Henry F. • Moser, Robert M. * Musser, Fred • Myers, Alva A.
Oetting, Elmer C. • Poffenberger, Joseph L. * Railing, Alton S. • Reber, Roy
Schamerloh, Carl • Schindler, Ted K. * Schirak, Joseph P. • Scheumann, Frederick
Schlagenhauf, John H. • Schueler, Victor * Shroder, Walter • Selking, Gordon
Shady, Max E. • Sheets, Raymond E. * Skiles, James B. • Spade, Ralph J.
Sprunger, Wayne A. • Stalter, Milo C. * Staub, Fred L. • Stauffer, Ornell J.
Stoppenhagen, Norwin T. • Suman, Earl R. * Taylor, Willis E. * Thatcher, Delbert Jr.
Tope, Richard L. • Tricker, Jack * Warthman, Loren A. • Teeple, Richard H
Teeple, Richard J.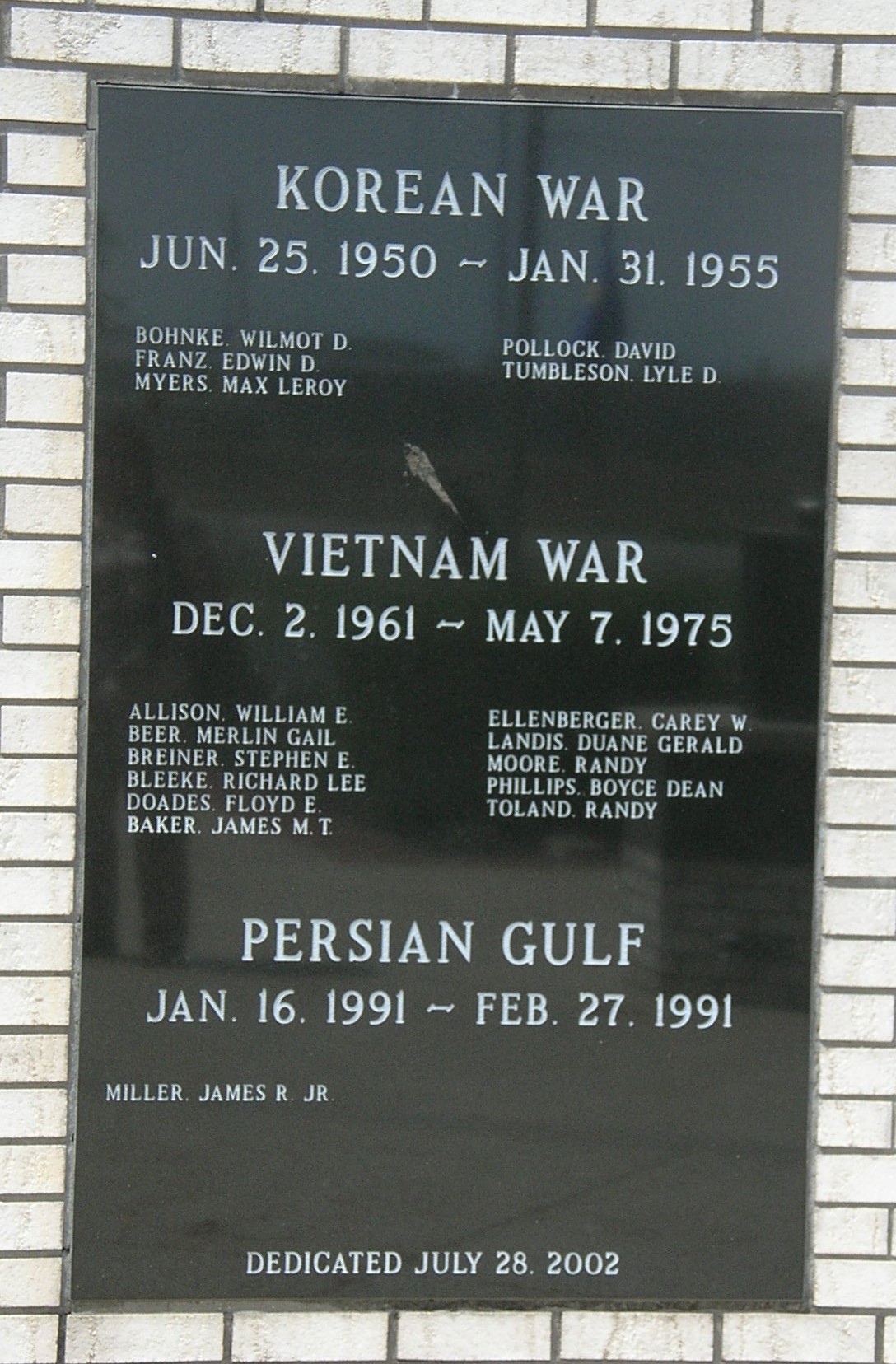 Korean War
June 25, 1950 - January 31, 1955
Bohnke, Wilmot D * Franz, Edwin D
Myers, Max Leroy * Pollock, David
Tumbleson, Lyle D
Vietnam War
December 2, 1961 - May 7, 1975
Allison, William E. • Beer, Merlin Gail
Breiner, Stephen E. • Bleeke, Richard Lee
Doades, Floyd E. • Baker, James M. T.
Ellenberger, Carey W. • Landis, Duane Gerald
Moore, Randy • Phillips, Boyce Dean
Toland, Randy
Persian Gulf
January 16, 1991 - February 27, 1991
Miller, James R. Jr
Dedicated July 28, 2002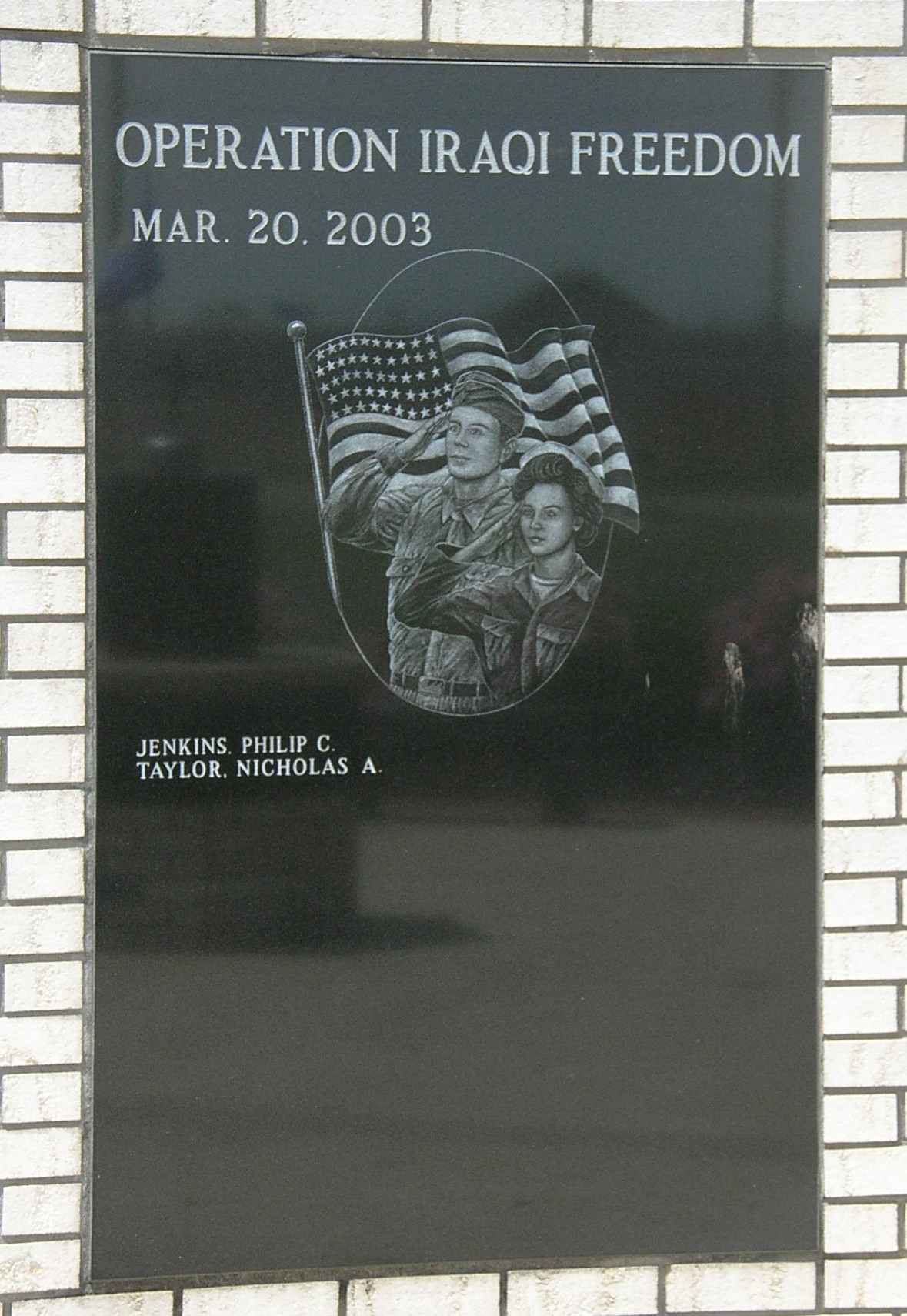 Operation Iraqi Freedom
March 20, 2003 -
Jenkins, Philip C * Taylor, Nicholas A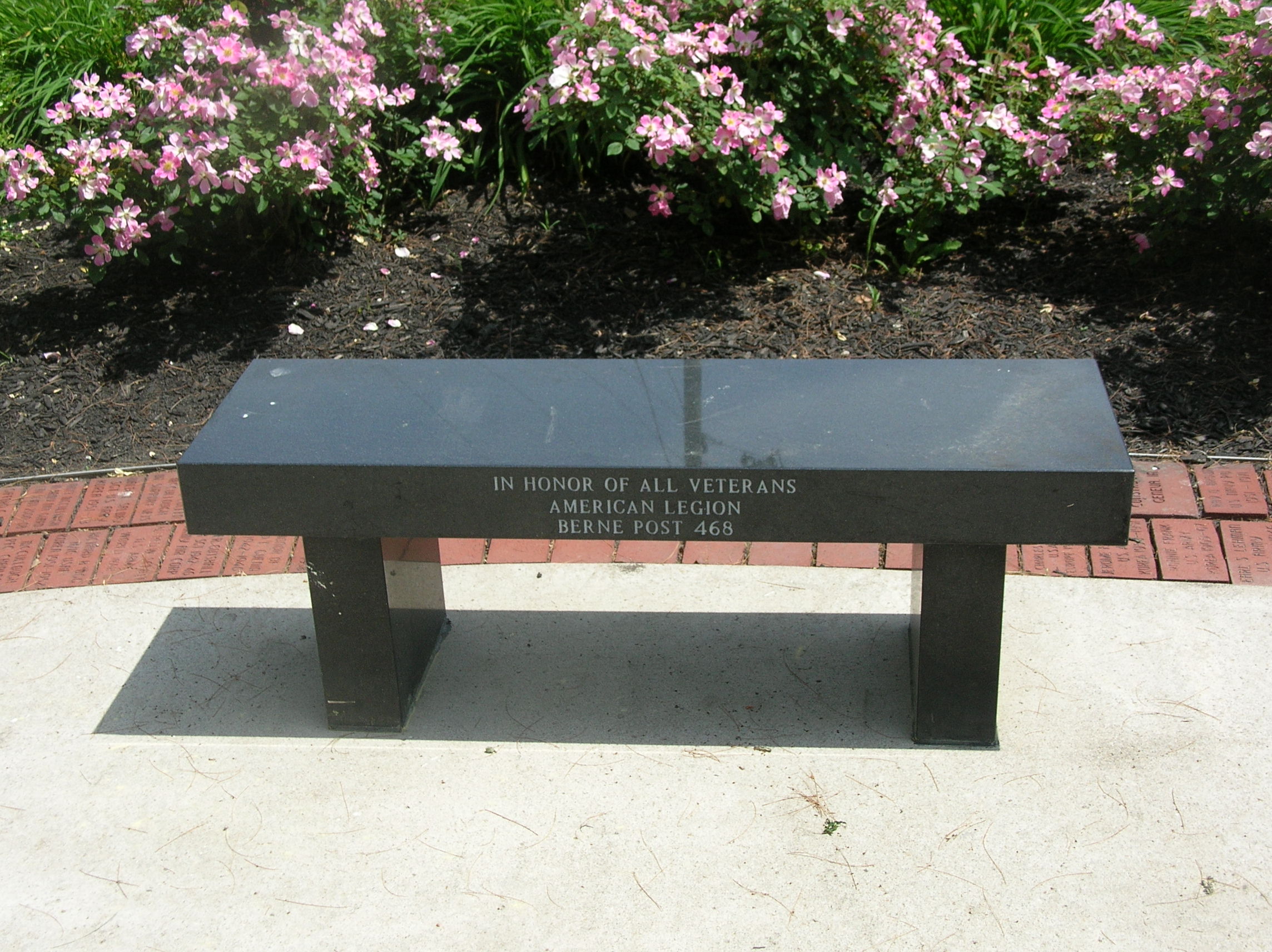 In honor of all veterans
American Legion
Berne Post 468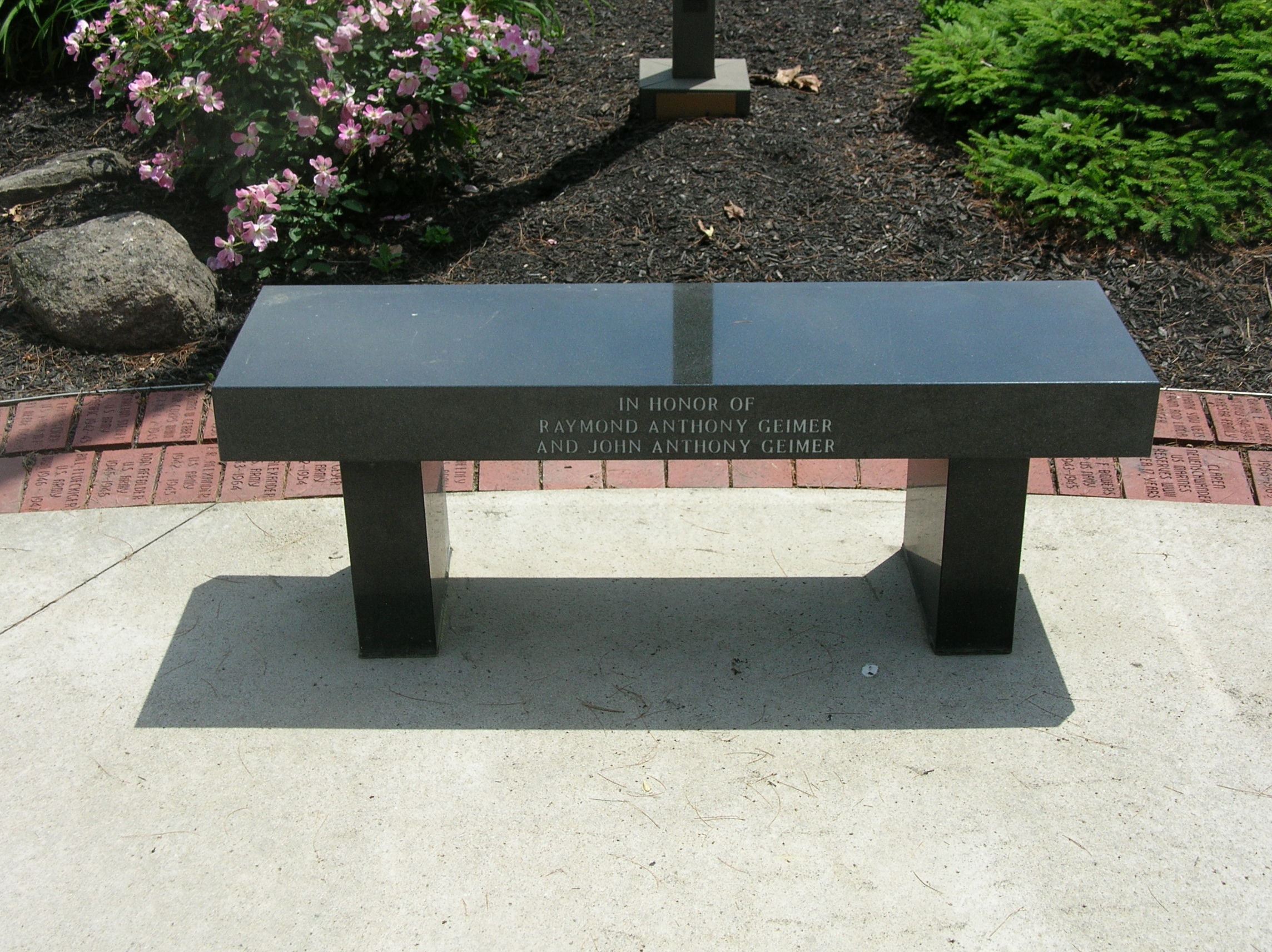 In honor of
Raymond Anthony Geimer
and John Anthony Geimer
Erected by the City of Berne, American Legion Post 468 and Concerned Citizens of Adams County.
One of the flag poles was donated by Adams County Memorial Hospital
Dedicated to the people of Adams County, Indiana who participated in World War I, World War II, Korea, Vietnam, and Desert Storm
Another flag pole was donated by Berne Tube Products
Dedicated to the valiant people who have and continue to keep our nation free.
The third flag pole was donated by Central Soya
In memory of our employees loved ones
Posted 6/1/2016; updated 8/11/2019