Adams County
Indiana
"Science is a cemetery of dead ideas"
~ Miguel de Unamuno
Location: This abandoned cemetery is located in St. Mary's Township, Adams Co, IN, southeast of Decatur on the Piqua Road near the Indiana-Ohio line. It is in a field in a clump of trees.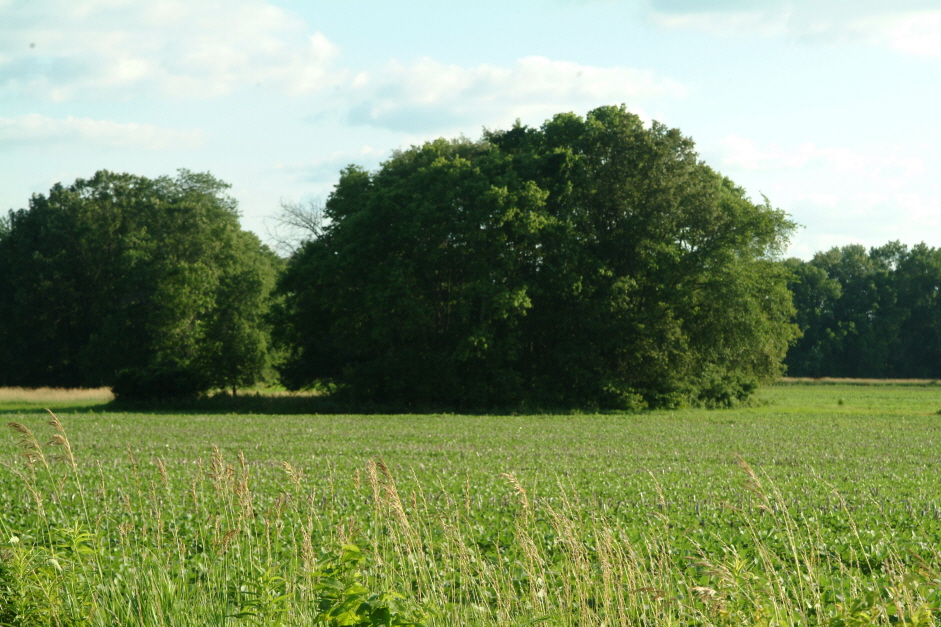 According to some, there are no stones left in the burial grounds.
In 1980, Florence Gause's map of the cemetery stated there were once 25 stones, with a note that Williamson used the stones as disk weights.
In 1994, Ian Miller, who was working on his Eagle Scout award, took pictures and there were still stones standing.
In 2004, Mike Roop took pictures of the the abandoned cemetery.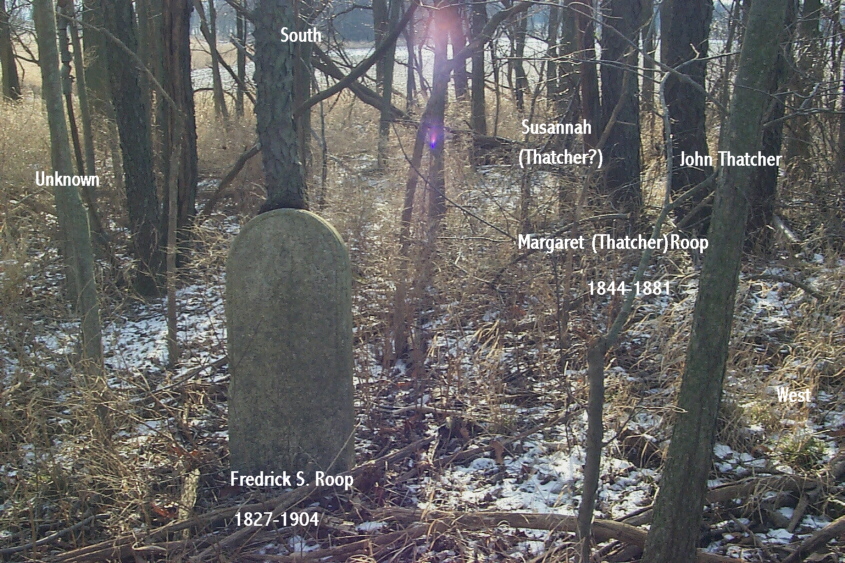 In June 2010, a group of researchers were allowed access to the cemetery and found several stones, including little Johnny Troutner, whose stone had never been reported. Most of the photos are from 2010.
updated 7/1/2018
Roop or Carroll Cemetery
Last Name
First Name
Born
Died
Spouse
Marriage Date
Parents
Military
Obit
Stone
Carroll
Dorothy (Turner)
5/27/1921
11/14/2009
John - 7/12/1943
obit
Carroll
John, Dr
4/25/1917
4/8/1981
Dorothy Turner - 7/12/1943
Clayson J & Leah Miller Carroll
US Army
abstract
photo
Dickey
William
2/1/1795
4/12/1871
Susannah Roop
obit
photo
Lewis
Nathaniel
1803
4/21/1882
brother of Nancy Lewis Roop
obit
photo
Roop
Elizabeth (Thatcher)
12/11/1830
12/7/1853 or 1855
Frederick S - 10/13/1853
John & Margaret P Troutner Thatcher
photo
Roop
Frederick S
6/15/1817
3/10/1904
Elizabeth Thatcher - 1853; Margaret Ann Thatcher - 1859; Louise Allen - 1891
Jacob & Nancy Lewis Roop
obit
2004 photo
Roop
Harriet B (Troutner) "Hattie"
9/8/1845
3/5/1877
Jacob C - 10/2/1864
Joseph & Sarah Weimer Troutner
obit
photo
Roop
Margaret A (Thatcher)
4/4/1842
5/27/1881
Frederick S - 9/29/1859
John & Margaret P Troutner Thatcher
died of typhoid fever
photo
Thatcher
John
abt 1802
no dates
Margaret Troutner - 1823; Nancy Lewis Roop - 1853
Civil War Co F, 46th Ohio Inf
photo; GAR
Thatcher
Margaret (Troutner)
abt 1804
7/7/1853
John - 5/5/1823
photo
Troutner
Johnny
1/4/1868
9/24/1868
George W & Catherine Avery Troutner
photo
Unknown
no dates
4 months, 11 days
White
Susannah (Thatcher)
2/22/1801
7/27/1854
Otho - 12/25/1819
photo
The following small stones only contain initials; they are probably foot stones.
| | | |
| --- | --- | --- |
| M F or T | | |
| E R | | photo |
| J R | | |
| L R | | |
| N R | | photo |
| H R | small stone near Hattie Roop | |
| J T | | photo |
| T T | stone, no dates | |
| S W | | |
| | 2 bases with no stones | |
---