Adams County
Indiana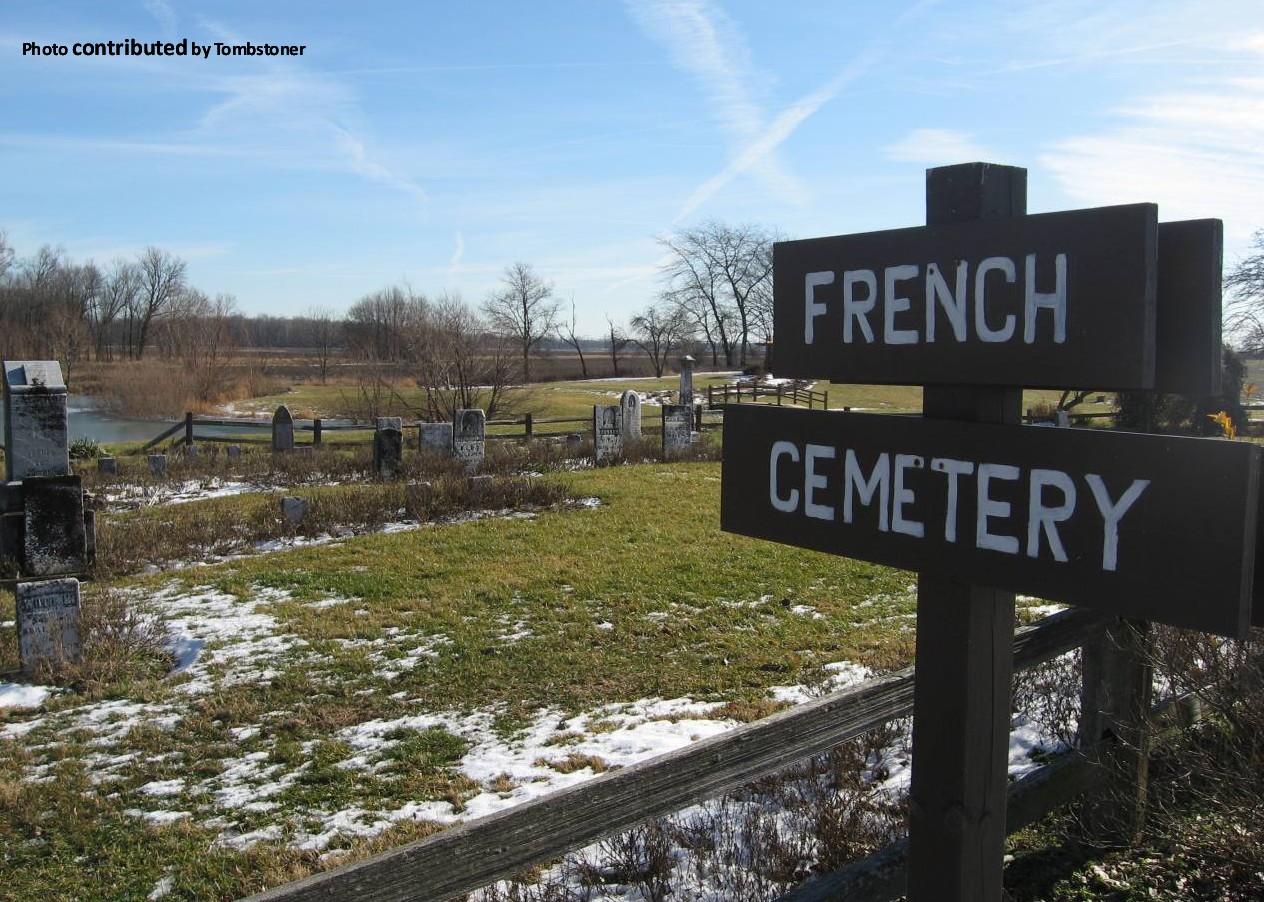 French ~ Reynolds Cemetery
Running a cemetery is just like being President: you got a lot of people under you and nobody's listening.
~ Anonymous, quoted by Bill Clinton,10 Jan 1995.
French Family or Reynolds Cemetery is on private land located on NW corner of CR 300 West and CR 600 South in French Township, Adams County, IN. (5095 SW State Road 116)
Information from DAR Cemetery Books
Pictures by Robert C. Egly in 1999, courtesy of the
Heritage Room
, Berne Library.
updated 10/3/2021
French ~ Reynolds Cemetery
Surname
First Name (Maiden)
Birth Date
Death Date
Spouse
Marriage Date
Parents
Military
Obit
Stone
Bolton
Mary
Coffelt
Elijah
10/13/1842
3/18/1875
photo
Dunbar
Chester
1885
1885
Dunbar
Ida May
1879
7/1/1887
L G (or C) and D
photo
Dunbar
Lucien
6/8/1817
8/14/1901
photo
Dunbar
Oliver
1881
1882
Dunbar
Philena (French)
3/22/1814
12/2/1889
photo
Fouts
son
1/3/1855
S W & E
French
Elizabeth (Houghton)
4/11/1816
10/9/1868
George
French
George
1816
7/8/1852
Elizabeth Houghton
Joseph & Sally Smith French
photo
French
Joseph
6/3/1776
3/20/1845
Sally Smith
photo
French
Joseph Jr
3/19/1794
10/7/1842
photo
French
Mary Ann (Heller)
1826
12/25/1849
John
photo
French
Sally (Smith)
11/5/1776
10/7/1843
Joseph
French
Willis
1/31/1850
2/8/1855
S D & E
photo
Haughton
Franklin
10/22/1845
7/22/1852
Roswell & Sabra
photo
Haughton
Leon
12/0/1864
3/0/1865
Roswell & Sabra
Haughton
Roswell
8/19/1810
11/1/1854
Sabra
photo
Haughton
Sabra (Sheldon)
3/21/1818
7/21/1861
Roswell
photo
Herman
Alvin W
11/16/1938
8/6/2002
Dianna
obit
Johns
Ellen
1874
1875
Trissa Johns
photo
Johns
Mary
1872
1887
Trissa Johns
photo
Johns
Mason
1875
1876
Trissa Johns
photo
Johns
Trissa (Haughton)
1841
1878
photo
Nussbaum
Benjamin Eric
5/8/1980
12/21/2001
Randall & Tammy Herman Nussbaum
abstract
Passon
Arthur W
4/17/1852
3/17/1855
J A
Reynolds
Alice
Reynolds
George
Reynolds
Infant Twins
James & Sarah
Reynolds
James Walker
8/11/1820
1/22/1881
photo
Reynolds
Jennie
James & Elizabeth
Reynolds
Katie
James & Elizabeth
Reynolds
Sarah (Sheldon)
11/19/1828
1/22/1855
James W
photo
Reynolds
William
Sheldon
Alonzo
4/14/1828
1/2/1877
Civil War Veteran
photo
Sheldon
Eli Hugh
1/14/1821
10/0/1881
photo
Sheldon
Elosia (Morrow)
1832
1871
Alonzo
stone: Shelden
photo
Sheldon
Hannah (French)
12/1/1798
7/1/1851
photo
Sheldon
Joseph
9/7/1792
6/1/1857
photo
Sheldon
Leon
1865
1865
R & S
photo
Sheldon
Phoebe (Bolton)
9/7/1827
4/0/1887
photo
Sheldon
William
Eli & Phoebe
Wood
Jane (Elzey)
1845
8/27/1872