Welcome!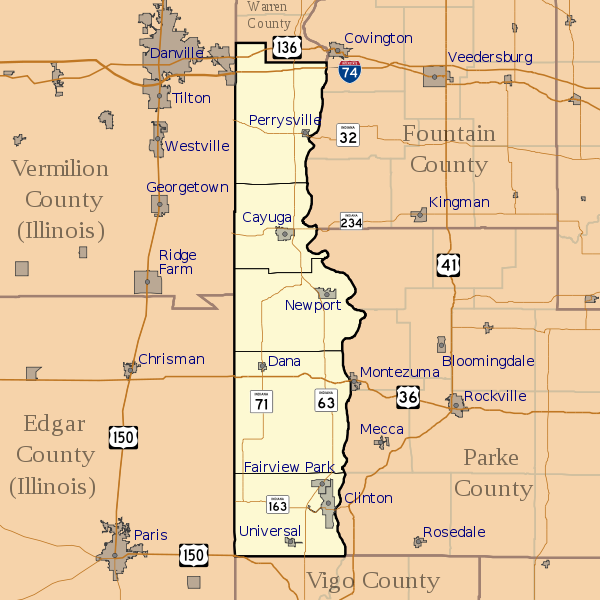 Vermillion County was formed February 1, 1824.
37 miles long and averaging only seven miles wide, it is nicknamed "the shoe string county."
The county seat is Newport.
Major cities and towns are Cayuga, Dana, Fairvew Park, Newport, Perrysville, Universal, and Clinton.
Townships are Highland, Eugene, Vermillion, Helt, and Clinton.
There are two school Districts, North Vermillion and South Vermillion..
Seven libraries based on current records.
Sixty-eight cemeteries based on current records.
The county was named for the southbound Vermilion River, which flows nearby. The extra "L" in the name of this Indiana County distinguishes it from the adjacent Vermilion County, Illinois. This is one of few cases in the United States in which a county borders a county with the same name in an adjacent state.
Neighboring counties in Indiana are Warren, Fountain, Parke, and Vigo. In Illinois, it shares a border with Edgar, and the county with (almost) the same name, Vermilion.
The Wabash Valley Remembers 1787-1938
Historical Outline of Vermillion County by Ora A. Doyle, Historian Brouillet Chapter, DAR
Before the white man came to settle in what is now Vermillion County the Indians were living in peace. The French and a few English traders came to trade with the Indians. Two Frenchmen Brouillet's came to trade--one Michael was a spy for Harrison. The Indians tried to kill him, but he escaped In a boat on a creek which is now called Brouillet Creek. He was a wonderful man--kind and handsome. He nursed Joseph Collett, Sr., a surveyor with Harrison and saved his life. The DAR Chapter in Vermillion County is named Brouillet in honor of him.
Clinton Township was first settled. It was the home of Ex-governor Matthews whose beautiful residence is 3 1/2 miles west of town.
The first white resident of this Township was John Vannest. John Vannest, Jr., son of this first settler was the first white child born in the county
In 1817 John Beard built the first house in the now city of Clinton.
Benjamin R. Whitcomb and his cousin John W. came in 1828 and became the first merchants and pork packers. They built flat boats and shipped hogs and produce to New Orleans.
Steam boats began to go up and down the Wabash and on to New Orleans. People came over a hundred miles to trade.
John Groendyke of Eugene has a number of the old bill of ladings from New Orleans in his possession now. The Grandmother of former Vice-President Charles Curtis was the manager of the Eugene landing for a number of years. Her grandson would visit her and she would duck him in the Big Vermillion for a bath.
The first steamer came in 1820 and the writer remembers going from Terre Haute to Clinton in 1884 on a double decker steamer.
A covered bridge was built in 1852--and wrecked in 1899.
In 1821 Vigo County was divided from what is now Parke and Vermillion and in 1823 Parke was taken from Vermillion - the part west of the Wabash River was called Vermillion after the rivers in the County.
Vermillion County was organized in 1824 - the Townships were Clinton and Helt - the same as they are today and Vermillion and Highland. Several years after a part was taken from Vermillion and Highland making Eugene - being five as we have them today.
The Organization was held at the home of James Blair about half way between Eugene and Newport. One of the first laws granted was the right to vote for a county library.
The County Seat was located in Newport, a wilderness in 1824. It was selected because it was central - was near a good spring - a grist mill and a saw mill and the owners were more liberal.
Vermillion County showed great patriotism during the Civil War. P. R. Owens was the first captain to go and the W. R. C. is named in his honor.
John Helt, a revolutionary soldier and his 3 sons, Daniel, George and Michael, ancestors of Frank R. Miller, member of this Northwest Celebration came in 1817-18 and built a cabin on Helt's Prairie - hence the name Helt Township. Daniel served under General Harrison in the War of 1812. Wm. Skidmore was the first white child born in Helt Township.
Vermillion Township was named after the river. Richard and Susan Haworth came to where Newport now stands - Joshua Nixon Asbury, Samuel Davis and O. P. Davis followed.
The Hoosier State appeared under the name, Olive Branch in 1853, but in 1855 it was named Hoosier State. It is still being printed.
Eugene Township is more noted for its Indian villages, Indian battlefields and its first trading post.
The Groendykes, Tompsons, Porters, Colletts, Hepburns, Colemans and Malones came to the Big Vermillion. John Groendyke was a Revolutionary soldier and he is buried in the old Groendyke Cemetery by his wife Lucretia, who was a daughter and a granddaughter of a Revolutionary soldier. The graves have been marked by Brouillet Chapter DAR. His son James built the first big grist mill.
John Porter was President Judge of Western Indiana. Eugene was laid out by S. S. Collett.
Perrysville was named by James Blair a soldier under General Perry on Lake Erie in honor of Perry. The Hansickers, Hicks, Solomon Jones of the Black Hawk War, Jonas Metzger, soldier of 1812, Richard Shute and the Comingores are some of the first settlers of High Township.
An old Indian Battle ground is located there.
The City of Clinton was laid out in 1824 by Wm. Harris and named Clinton after De Witt Clinton. It was incorporated in 1848 by a special act of the Legislature and became a city in 1893. William Merrill was first mayor; D. C. Johnson was City Attorney. Councilmen were Andrew Rhoads, Sim Scratcher, G. W. Wells, N. C. Anderson, James Roberts, G. P. Tillotson and Seymore Nebeker. Marshal, Melvin Batchellor; Clerk, J. W. Brookbank.
The Presbyterians built the first church in Clinton in 1831 on South Main Street. The Methodists were organized in 1830.
The first school in Clinton Township was a log school on Davidson Hill, now Compton Hill.
The Towsley's Military Institute or the Farmer's Institute enrolled a lot of our fine boys and girls, but it too went with the war. The first brick school was built in 1852 just east of the gymnasium. We have come a long way since.
---
Contact Us:
Do you have records you can contribute, or a problem with this site?
Contact: Pat Asher
For questions about the INGenWeb Project, contact:
Lena Harper, State Coordinator
Jim Cox, Asst. State Coordinator
Karen Zach, Asst. State Coordinator
Search this site:
Search this entire site AND the USGenWeb Archives for Vermillion County