SHERRY CEMETERY
also called Peter Weaver Cemetery
Wayne Township
Tippecanoe County, Indiana
---
This transcription was done by Adina Dyer from photographs taken of the tombstones, May 2002.
Information in ( ) is from my personal research and does not appear on the tombstones.
This is a partial list, a full list of burials at the cemetery can be found at
Find-A-Grave
.
The initials s.s. = same stone
---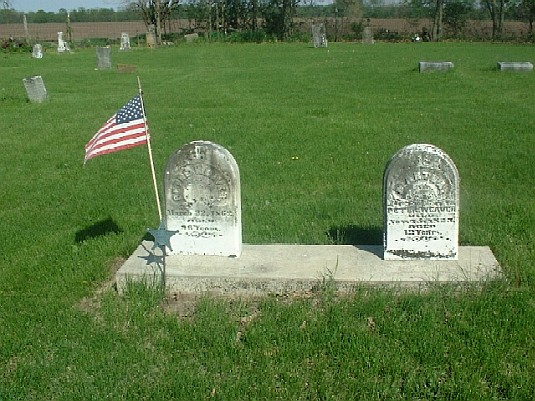 Peter Weaver ~ Martha, wife of Peter Weaver
NAME

BIRTH

DEATH

AGE AT DEATH

OTHER INSCRIPTION
REMARKS

BLANTON, Edward

1885

1959

CUMMINGS, Mary E.



Feb 13, 1878

23y, 21d

dau. of V.W. and M.E. Cummings

DOYLE, Charlie M.

Sept. 19, 1872

Sept. 25, 1885

DOYLE, William

Feb. 1, 1882

51y, 1m

EARL, Agustus

Nov. 17, 1832

Feb. 27, 1881

EARL, Asa [Bio and Portrait]

Aug. 28, 1804

Oct. 31, 1890

EARL, Augustus

Nov 19 1832

Feb 27 1881





EARL, Erastus

Jan. 9, 1837

Jan. 29, 1839

EARL, Harriet

Aug. 14, 1834

Sept. 19, 1854

EARL, Isabelle

Feb. 3, 1839

Apr. 28, 1839

EARL, Isabelle J.

Dec. 1, 1805

Feb. 27, 1839

wife of Asa Earl
EARL, Rebecca Danforth

Jan. 3, 1777

Nov. 2, 1842

wife of Nehemiah Earl
GAY, Eliza Reed

July 1, 1820

Mar. 12, 1910

wife of Samuel Gay; s.s.
GAY, Emeline

Dec. 18, 1849

Feb. 3, 1922

s.s. Samuel and Eliza
GAY, John W. [Bio and Portrait]

Oct. 14, 1840

June 19, 1921

s.s. Samuel and Eliza
GAY, Samuel

Oct. 11, 1812

Sept. 13, 1902

s.s. Eliza Reed Gay
HERBERT, Thomas

Oct. 25, 1844

90y, 10m, 22d

Revolutionary War marker: 1754-1844
HERBERT, Zelpha

May 16, 1845

92y, 8m, 21d

wife of Thomas Herbert
JOHNSON, Fredrick

1885

JOHNSTON, Annie Sherry

Oct. 24, 1851

Mar. 12, 1896

"Sister"
JOHNSTON, Margaret

1853

1932

KISER, Alison

Dec. 25, 1862

26y, 8m, 6d

s.s. Lenon and Harriette
KISER, Harriette

May 27, 1886

75y, 1m?, 20d

wife of Lenon Kiser; s.s.
KISER, Lenon

Feb. 28, 1816

May 7, 1895

s.s. Harriette
KISER, Marshall

Sept. 29, 1855

7y, 11m, 8d

s.s. Lenon and Harriette
MILLS, Silence Sherry

Oct. 9, 1802

Apr. 4, 1879

"Aunt" ; (2nd wife of James F. Mills of Fountain Co., Ind.; they married Oct. 25, 1843 in Tippecanoe Co.)
REED, Eliza

Jan. 9, 1875

59y, ?m, 22d

wife of William Reed; s.s.
REED, Mary Ellen Doyle

Nov. 6, 1853

Jan. 20, 1925

wife of William Reed; s.s. "In Memoriam"
REED, William

Sept. 11, 1843

28y, 5m, 23d

s.s. Eliza
REED, William D.

Feb. 29, 1844

Aug. 11, 1907

s.s. Mary Ellen; "In Memoriam"
SHERRY, Emmeline Earl

Feb. 4, 1817

Nov. 8, 1862

wife of Jacob Sherry
SHERRY, Jemima

Sept. 21, 1824

Mar. 21, 1893

"Mother"
SHERRY, Jennie

Feb. 17, 1857

Mar. 17, 1872

"Sister"
SHERRY, Therresa

July 20, 1804

June 7, 1882

"Aunt"
STUCKER, Mary E.



Feb 7, 1877

82 y, 1m, 7d

wife of Samuel Stucker, s.s. Mary E. Cummings

WAINSCOTT, Golda May

May 23, 1892

Oct. 27, 1893

dau. of L. C. and R. A. J. Wainscott
WAINSCOTT, Lee C.

1859

1926

s.s. Rosa A. J. Wainscott
WAINSCOTT, Leroy

Mar. 8, 1897

Dec. 23, 1917

WAINSCOTT, Rosa A.J.

1861

1928

s.s. Lee C. Wainscott
WEAVER, Martha

Nov. 13, 1825

42y

wife of Peter Weaver
WEAVER, Peter

Mar. 22, 1863

96y

War of 1812 marker
WESTERHOUSE, Ella

Sept 9, 1863

Apr 7 1914



wife of Peter Westerhouse

Biography of Montgomery E. Sherry
---
Cemeteries | Tippecanoe County INGenWeb Project
---

Photos ©2001-2016 Adina Watkins Dyer
All rights reserved