Naturalization Record
John Martin Schneckenberger
Tippecanoe County, Indiana
12 October 1852
You are this page's visitor since April 25, 1998
---
To the Judge of the Tippecanoe Circuit Court in State of Indiana:
John Martin Schneckenburger being an alien and a free white person, makes the following report of himself;
upon his solemn oath declares, that he is aged 24 years; that he was born in the State of Baden in Germany that
he emigrated from Havre DeGrace in the year one thousand eight hundred and forty eight, that he arrived in the
United States, at the City of New York in the State of New York on the Eleventh day of May eighteen hundred
and forty eight, that he owes allegiance to John Napoleon, King of Baden in Germany and that it is bonafide his
intention to become a citizen of the United States of America, and to renounce forever, allegiance and fidelity to
any foreign prince, potentates state or sovereignty whatever; and particularly to John Napoleon King as aforesaid
of whom he is a subject.

Signed: John Martin Schnekenburger
Sworn to and subscribed before me on the 12th day of October A.D. 1852.
Mark Jones, Clerk, T.C.C.

Source: Tippecanoe County, Indiana Circuit Court Book 14, page 222
Submitted by: Leigh Ann Hofferth
---
---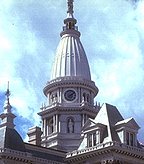 Return to Tippecanoe County, Indiana GenWeb Home Page
---

If you have questions or comments please contact Adina Dyer
©Adina Dyer, 1998
Copying is permitted for noncommercial, educational use by individual scholars
and libraries. This message must appear on all copied material. All commercial use requires
permission of the author.