The founders of Farmer's Institute were a group of families by the names of Hawkins and Hollingsworth, all of whom were interrelated. These families
are both of old Quaker stock, having come to America in the time of William Penn, the Hawkins family having sailed on "The Welcome" with Penn on his second voyage in 1682. They and the Hollingsworths settled in the area of the "Lower Three Counties" - otherwise known today as the State of Delaware. The Hollingsworths were descendants of Valentine Hollingsworth, founder of the family in the United States. He came to America in 1682 and occupied a high position in William Penn's government of Pennsylvania.
In the 1700's, some members of the two families and some of their children moved on into Maryland, Pennsylvania, Virginia, and down the Valley of Virginia to the Carolinas, more specifically, the Union Co. area. of South Carolina.
The founders have lived on farms in Butler Co., Ohio, in the vicinity of Hamilton. They had all been members of the Elk Monthly Meeting of Friends, at West Elkton, just over the line in what is now Preble Co., Ohio.
These pioneers reached Tippecanoe County about 1828. They had to travel the wilderness roads of their day, called traces. This group of Friends consisted of three Hawkins brothers, Joseph, James and Levi and their sister Hannah Hawkins Hollingsworth and the two Hollingsworth brothers, Joseph and William, together with their families.
In 1831 the founders next task was to "lay off" a cemetery and the spot behind the church (no longer standing) was chosen. Levi Hawkins was the first of the adult founders to be placed in the new burying ground. He died only six years after moving from Ohio. His modest little gravestone is still legible and the inscription reads as follows: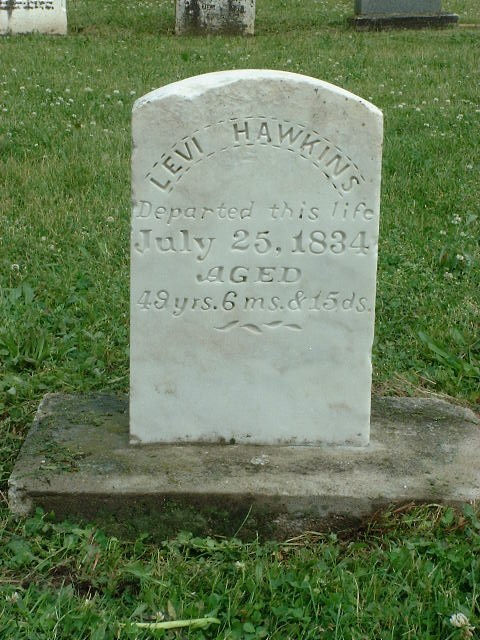 LEVI HAWKINS
Departed this life
July 25, 1834
Aged 49 ys. 6 ms. 15 ds.
Levi's wife, Mary Evans, died in Ohio, in 1827, and was buried at Elk Monthly Meeting at West Elkton. Source: A History of Farmers Institute Monthly Meeting of Friends and Its Community by Nellie Taylor Raub