1862 MILITIA ENROLLMENT
Lauramie Township
Tippecanoe County, Indiana

The following list contains all the males, ages 18-45, who resided in Lauramie Township in 1862. It should be noted that this list consists of those men eligible to serve and not those who actually did serve. Some of the words were difficult to read, and I have placed an [?] by the ones that were questionable.
---
State of Indiana, Tippecanoe County, Lauramie Township,
Roll of able-bodied white male citizens resident in Lauramie Township, Tippecanoe County, Indiana, over 18 years of age,
subject to military duty.
Enrolled in pursuance of orders from the Secretary of War, by Smith Lee, Commissioner for said Township.

NAMES
AGE
OCCUPATION
EXEMPT, WHY / REMARKS
****man, John A.
44?
Farmer
--
A***MON, Edward
18
Farmer
Exempt, has fits
ADAMS, Wm.
27
Farmer
--
AMMERMAN, John
25
Farmer
Mute and exempt
ANDERSON, Warren D.
20
Farmer
--
ANDERSON, Wm.
35
Farmer
--
ARNOLD, Wm.
23
Farmer
--
ATHEY?, Michael
22
Farmer
--
BAIRD, John H.
44
Farmer
--
BAKER, Frank
43
Farmer
BAKER, Harvey
35
Carpenter
--
BAKER, Moses
40
Physician
--
BAKER, Seth
35
Farmer
--
BANKSON, John
44
Farmer
--
BARMUME?, Benj. F.
30
Cabinet Maker
--
BARNS, David J. C.
26
Farmer
--
BARTHOLOMEW, Edward
33
Farmer
--
BARTHOLOMEW, John C.
18
Farmer
--
BARTHOLOMEW, John H.
37
Tanner
--
BARTHOLOMEW, Wm. C.
25
Farmer
--
BENNET, Patrick
32
Laborer
--
BLACKER, Samuel
24
Farmer
--
BOLES, Robert
43
Farmer
--
BONE, Charles W.
34
Farmer
--
BONE, George W.
32
Farmer
--
BRAD, Sylvester
30
Farmer
--
BRIGLAND, James W.
38
Farmer
Asthma
BRIGLAND, Silas
30
Carpenter
--
BROWN, Samuel
40
Blacksmith
--
BROWN, Wm. P.
38
Merchant
--
BRYANT, Samuel G.
28
Farmer
--
BRYANT, Sylvester
35
Farmer
--
BRYANT, Wm. S.
27
Farmer
--
BUCKLEY, James
28
Farmer
--
CALIHAN, Daniel
24
Blacksmith
--
CAMPBELL, Elijah
35
Farmer
--
CAMPBELL, Samuel
38
Farmer
--
CAMPBELL, William
44
Farmer
--
CARTMILL, John
29
Farmer
--
CARTMILL, William
22
Farmer
--
CLARK, Wm.
27
Farmer
--
CLOYD, William
20
Farmer
--
COLE, James M.
38
Merchant
--
COLE, John F.
32
Farmer
Exempt, defective sight
COLE, Wm. M.
27
Clerk
--
CON?, Charles
36
Farmer
--
CONROD, Isaac
34
Farmer
Exempt, rheumatism
CONROE, Wm.
24
Farmer
--
COOLY, Edward
38
Farmer
--
COOLY, Moses
?
Farmer
--
COOPER, Eli N.
40
Farmer
--
CORKINS, Perry D.
--
--
Exempt, heart affliction
(age given in 1860 census was 23)
CROSBY, Francis M.
19
Farmer
--
CROSBY, H. D.
24
Farmer
--
CROSBY, John N.
22
Farmer
--
CROSBY, Oliver C.
34
Farmer
CROSE, George W.
35
Farmer
Exempt, general debility
CROUCH, Andrew
44
Farmer
Exempt, hydrosia?
CUNNINGHAM, Samuel A.
30
Farmer
--
DAUGHERTY, Israel
34
Farmer
--
DAVIS, Edgar C.
26
Farmer
--
DAVIS, Isaac
25
Farmer
--
DAVIS, Isaac
32
Farmer
--
DENNIS, John
29
Farmer
--
DENTON, Richard A.
28
Clerk
--
DICKS, James B.
27
Farmer
--
DOLLARHIDE, Ira?
25
Postmaster
Exempt
DONOHUE, Con
35
Laborer
--
DRISKILL, Ebenezer
35
Farmer
--
DRISKILL, John
33
Farmer
--
DRISKILL, Michael
38
Farmer
--
DRISKILL, Thomas
38
Farmer
--
DRISKILL, William, Jr.
28
Farmer
--
EDERS, Henry
40
Farmer
--
ELLIS, Joseph
35
Farmer
--
EVERHEART, Charles
22
Farmer
--
EVERHEART, Lewis
23
Farmer
--
FERGASON, John S.
39
Physician
--
FERNALD, Holmes
42
Carpenter
--
FITZGERALD, John
37
Laborer
--
FUGATE, Adam
18
Farmer
Exempt, defective hearing
GINDER, Peter
35
Farmer
--
GLADDEN, James E.
30
Farmer
--
GLADDEN, William
41
Farmer
--
GLANCY, Daniel
25
Farmer
--
GLOUGHLIN, Dennis
30
Laborer
--
GREEN, James W.
33
Minister
--
GRIMES, James
35
Farmer
--
GRIMES, Johnson
20
Farmer
Exempt, tubular disease of lungs
GUINN, Wm. H.
44
Farmer
Exempt, over 45 yr age
GUINN?, Sam. G.?
30
Farmer
Exempt, ruptured veins in legs
HAGINS, Michael
30
Farmer
--
HALLET, Edward
20
Farmer
Exempt, impaired vision
HANGER, Peter
24
Farmer
--
HANNA, John
35
Farmer
--
HARBAUGH, Richard W.
36
Saddler
Exempt, chronic aff. brain
HARMON, Henry
33
Stone cutter
--
HARPER, David
28
Farmer
--
HARPER, Saml.
24
Farmer
--
HARRIS, John
38
Farmer
--
HARRISON, John
25
Farmer
--
HARRISON, Nathaniel P.
35
Farmer
--
HARWICK, Lyons
28
Farmer
--
HEARTLY, John
20
Farmer
--
HELEIN? HELEM?, Samuel
22
Farmer
--
HINELINE, George
35
Farmer
--
HOLMES, Arch
30
Farmer
--
HOOVER, Jacob
44
Miller
--
HORNEY? HARNEY?, Peter
25
Farmer
--
HOWARD, Martin W.
30
Farmer
--
HUDSON, John W.
30
Farmer
--
HUTCHINS, James
35
Farmer
--
HYNES, John
32
Farmer
--
JACKSON, Scott
23
Farmer
--
JACKSON, Wm.
20
Farmer
--
JACOBS, Samuel
30
Farmer
--
JESSOP, Comleg (1860 census says Clauly)
33
Physician
--
JOHNSON, Abram
31
Farmer
--
JOHNSON, August
25
Farmer
--
JOHNSON, John
40
Farmer
Tubular disease of lungs
JOHNSON, Joseph
29
Farmer
--
JOHNSON, Robert
33
Farmer
--
JONES, Thomas
36
Farmer
--
JONES, Thomas
37
Farmer
--
KESLER, Andrew
28
Farmer
--
KESLER, John
38
Farmer
--
KILGORE, Daniel H.
33
Waggon maker
--
KILLGORE, Augustus W.
43
Farmer
--
LA FEVER, Henry
27
Plaster
--
LABAREE, Wm.
40
Physician
--
LAKE, Erastus
21
Farmer
--
LAKE, Granden
24
Farmer
--
LAKE, James
20
Farmer
--
LANE, Abram C.
44
Farmer
--
LEE, Clark W.
30
Farmer
--
LEE, Smith
44
Mason
--
LEONARD, Abram B.
26
Blacksmith
--
LEONARD, Nathaniel
30
Farmer
--
LEONARD, William S.
44
Farmer
Exempt, general prostration
LEWIS, James W.
27
Shoemaker
--
LINDSAY, Henry
38
Farmer
Exempt, defective foot
LINDSAY, William
34
Farmer
--
LONG, Andrew
25
Farmer
--
LOVELESS, Edwin J.
37
Merchant
--
LOVELESS, James
28
Carpenter
--
LOWERY, Saul
23
Farmer
--
LUCAS, Levi
28
Farmer
Exempt, withered leg
MARK?, Jacob
35
Farmer
--
MARTIN, Daniel
30
Farmer
--
MARTIN, Joseph
28
Farmer
--
MATHIAS, Alexander
19
Farmer
--
MAUL?, Wm. H.
28
Carpenter
--
McBRIDE, Andrew
19
Farmer
--
McBRIDE, Samuel
28
Farmer
--
McBRIDE, Thomas
26
Farmer
--
McBRIDE, Wm. F.
24
Farmer
--
McCARTNEY, Joseph
28
Farmer
McCARTNEY, Westley
29
Farmer
--
McCAY, Francis
23
Farmer
--
McCLURE, Michael
30
Farmer
--
McCOMBS, George
23
Farmer
--
McCOMBS, John
36
Farmer
Exempt, pulmonary
McCOMBS, William
27
Farmer
Exempt, rheumatism
McCUE, Thomas
43
Laborer
--
McDONALD, David
38
Blacksmith
--
McDONNALD, David
36
Blacksmith
--
McDOWELL, John
25
Farmer
--
McDOWELL, John E.
24
Farmer
--
McINTIRE, Francis
40
Farmer
--
McINTIRE, George
38
Farmer
Exempt, opthalmia
McINTIRE, Hyram
35
Farmer
Exempt, opthamalia
McKEE, Ennis
30
Farmer
--
McKEE, Samuel
24
Farmer
--
McKEE, Thomas
32
Farmer
--
McVICKER, John
19
Farmer
--
MELAHAN, Jasper
30
Merchant
(this could be Jasper McCahan who is in the 1860 census, same age and occupation)
MICHAELS, Asbury S.
21
Farmer
Exempt, has fits
MILES, Robert
25
Farmer
--
MILIGAN, Wm.
25
Farmer
Exempt, lame in the arm
MILLER, John
42
Carpenter
--
MISENHELDER, Peter
38
Farmer
--
MONK, Henry
35
Farmer
--
MULLEN, Wm.
38
Farmer
--
ODOWD?, Abner
23
Farmer
--
OSBURN, Ely
18
Farmer
Exempt, volunteered since enrollement
OSBURN, Lewis
27
Farmer
--
PALMER, John
30
Farmer
--
PARISH, Girard
22
Carpenter
--
PARKS, Thompson
30
Farmer
--
PARVIS, David F.
26
Farmer
--
PARVIS, James G.
34
Farmer
--
PARVIS, Sanford C.
22
Farmer
--
PARVIS, Wm. J.
30
Farmer
--
PATTERSON, Lawrence
31
Farmer
Exempt, general prostration
PAULEY, Ezekiel
40
Farmer
Eruption
PEAK, Morris
38
Farmer
--
PEAK, Morris
35
Farmer
--
PEIRCE, Martin
21
Farmer
--
PETERS, Elihu
35
Farmer
--
PETERSON, John P.
28
Farmer
--
PIERCE, Lewis
25
Farmer
--
PIERCE, Lewis C.
24
Farmer
--
PLATT, Jacob R.
40
Butcher
--
POTWIN, Joseph N.
40
Clerk
--
PRETTYMAN, John T.
25
Physician
--
RADIGAN, Thomas
42
Mason
--
RAKESTRAW, Henry
33
Farmer
--
RAKESTRAW, John
33
Farmer
--
RAKESTRAW, Wm. K.
30
Farmer
--
RANEY, James C.
35
Farmer
--
RASH, George
38
Postmaster
Exempt
RICHARDS, Francis A.
31
Farmer
--
RICHARDS, Samuel K.
36
Engineer
--
ROBERTS, Wm.
28
Farmer
--
RODGERS, John E.
32
Farmer
--
RONEY, Bryan
28
Laborer
--
ROSS, James
38
Farmer
--
ROSS, James
33
Farmer
--
ROUDYBUSH, Henry
34
Farmer
--
ROUDYBUSH, Josiah
28
Farmer
--
RUSSELL, Samuel
28
Farmer
--
RUTH, Benjamin
23
Farmer
--
SAGER, George
24
Blacksmith
Exempt, defective ankle
SAYLORS, John
34
Farmer
--
SCOTT, James J.
30
Farmer
--
SCOTT, William
42
Carpenter
--
SHAFER, John
43
Farmer
--
SHILL, Joseph
25
Farmer
--
SHOBE?, Otho
38
Farmer
--
SHOEMAKER, Daniel
34
Farmer
--
SHOEMAKER, John
23
Farmer
--
SIDELY, Adam
40
Farmer
--
SKINER, James
33
Farmer
Exempt, defective leg
SKINNER, John
41?
Farmer
--
SMITH, C. Daniel
18
Farmer
--
SMITH, Jasper
19
Farmer
--
SMITH, Wm. H.
38
Cooper
Exempt, defective leg
SPARGER, Ruben
26
Farmer
--
STINGLY, Gilbert B.
20
Farmer
--
STINGLY, Moses P.
18
Farmer
--
STOKEY, Daniel
28
Farmer
--
STONE, William
21
Farmer
--
STONE, Wm.
20
Laborer
--
STORM, Abner
35
Farmer
--
STORMS, Levi
37
Farmer
--
SUMMER, Michael, Jr.
20
Farmer
--
SUMMERS, Abner
20
Farmer
--
SUMMERS, Andrew
43
Farmer
--
SUMMERS, James
24
Farmer
--
SUMMERS, Michael
35
Farmer
--
SWEDENBURGH, Magnus
35
Farmer
--
SWEET, Wm. H.
25
Harness maker
--
SWIGGET, Peter
35
Farmer
--
TAR, Levi
26
Minister
Exempt, general debility
WADDLE, Alexander
30
Farmer
Exempt, rheumatism
WADDLE, William
42
Farmer
--
WALKER, James R.
30
Carpenter
--
WALL, Isaac
18
Farmer
--
WALL, John W.
24
Farmer
--
WALL, John Z. (1860 census has middle initial as F.)
19
Farmer
--
WALL, Simon
28
Farmer
--
WALLACE, John
35
Farmer
--
WALLS, Calvin
26
Farmer
Mute and exempt
WALLS, Luther
28
Farmer
Mute and exempt
WARREN, Lorenzo D.
25
Blacksmith
--
WELLS, David
30
Laborer
--
WESTLAKE, John W.
18
Farmer
--
WHITESILL, Henry
40
Farmer
--
WHITTEBURY, George
30
Farmer
--
WHITTLEBURY, Rice
24
Farmer
--
WILLIAMS, James
28
Carpenter
Exempt, general prostration
WILLIAMS, Stephen
35
Miller
--
WILSON, Darid
43
Farmer
--
WILSON, James
27
Farmer
--
WRIGHT, Charles C.
41
Farmer
--
WRIGHT, James W.
32
Blacksmith
--
YAW, Theodore C.
39
Carpenter
--
YEAMAN, Samuel
35
Tanner
--
YOUNG, Jesse
38
Farmer
--
YOUNG, Wm.
30
Farmer
--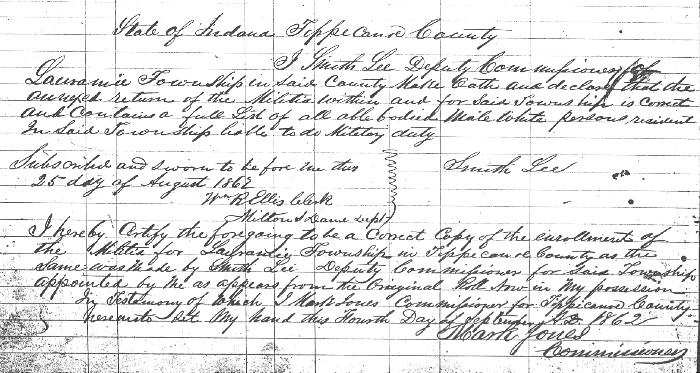 ---
Lauramie Twp. Volunteers | Military Links | Home
---
© 2001 Adina Dyer
All rights reserved