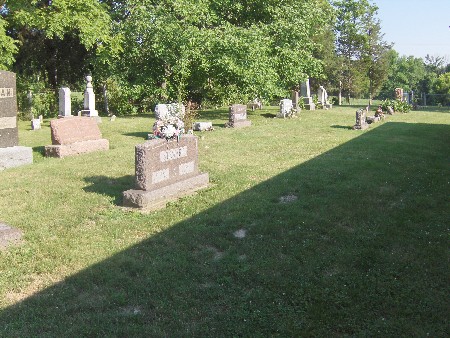 Two infants of W D and E A Monnett
D/o of Ira & M A Monnet d 19 May 1879 age 6y 6m 25d
William L. Millman b 4 Jan 185 d 17 Mar 1895
Sue, w/o Wm L. Millman d 28 May 1891 age 37y 1m 2d
Infant of W L & Sue Millman, no dates
Barbara J. d/o Jacob and Theresa Millman b 20 Nov 1856 d 20 Nov 1865
Jessie Huber d 4 Mar 1944 age 66y 3m 8d
John W. Millman b 6 Nov 1859 d 24 Aug 1862
Spire C. Millman b 7 Oct 1862 d 23 Oct 1899
Bette M. , w/o Spire C Millman b 19 Sep 1852 d 12 Dec 1916
Freddie Glenn no dates
J & M Huber d 3 Dec 1860 age 1y 1m 18 d
John S. Millman Co. C 93 Reg Ind Vol. Born in Harrison Co. , OH 27 Apr 1920 1820?
Gertrude A. Wilson b 1883 d 1925
Evans Simpon b 1840 d 1915
Barbara his wife b 1844 d 1927
James T. Brown of Co. G 99th Reg IND Vol b 7 Dec 1799 d at Fort Fowler Tenn 4 Feb 1863
Harriet Allen, wife of James Brown b 17 Dec 1831 d 23 Aug 1918
Frances Forcum, b 22 Jan 1811 d 9 Jan 1887
Stephen Brown, b 30 Nov 1804 d 25 Sep 1897
Harmon Brown (father) b 26 Apr 1827 d 11 Apr 1900
Lawson Monnet d 13 Arp 1878 age 71y 10m 29d
About 12 graves w/o markers
11 Jul 1950 (date found)
Additions to Canaan Cemetery
Gertrude Amelia Wilson nee Wiseman d/o Theodore Wiseman and Mary Elizabeth Tiffany Wiseman b 16 Oct 1883 in North Vernon, IN d 12 Oct 1925 in Indianapolis, IN w/o James Francis Wilson, s/o of James William and Mary Elizabeth (Middleton) Wilson
Hazel Corinne Wilson d/o James William and Mary Elizabeth Middleton Wilson b 8 Mar 1890 Carbon, IN d 17 Apr 1910 Indianapolis, IN
James William Wilson, s/o Alexander Wilson Jr and Jarusha Minter Wilson b 15 Jan 1847 Fillmore, IN d 1 Feb 1914 in Indianapolis, IN
Lone grave on the old Randolph Place owned by Mrs. Armenta Sibbitt 1950
Levi, son of Levi & S Owen d 18 Oct 1846 age 17y 3d (was supposed to have been bitten by a mad dog while at Ladoga to pick up a load of salt. Was first buried in garden next week moved by branch where marker now stands.