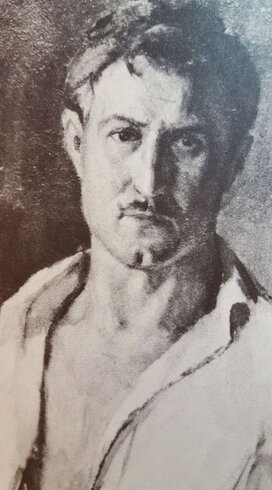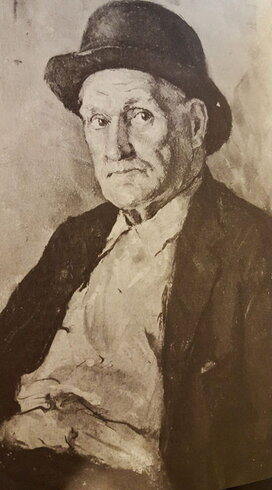 Written by kbz
-- Sources include: "Fritz Schlemmer: " by Mary Early Johnson. Montgomery County Remembers. Crawfordsville: MCHS 1976. findagrave; Civil War pension papers;
Otto Schlemmer came to America from Aachen, Germany just in time for the Civil War. He saw his duty though and served in Capt. Bard's Independent Company of Ohio Volunteers in 1862. He was definitely married three times (possibly another in Germany 11 April 1863 to Susana Louisa Goebels) first to a Bertha. At his death, his wife, Louise (Miller) received a pension for his service in the Civil War. They were married in Senaca County Ohio on the 21st of January 1891 by Rev. Rust. This was Ottos was also definitely married to Carrie Kraus (born May 29, 1845) who passed away December 13, 1889. He and Caroline had also married in Senaca County 3 November 1868.
Otto Phillip Julius was born March 8, 1842 in Waldmoor, Bayern, Germany, the son of Philip Christian and Maria Charlotte (Bernhard) Schlemmer. He came to America in April of 1860 and lived in Cincinati and Crawfordsville, having been naturalized 7 October 1867 in Hamilton County, Ohio. Otto made at least one trip back to the old country. First, he went to Ohio, then later to Crawfordsville. When he returned back to Germany, he was listed as a "Liquor Dealer," and was accompanied by his daughter for several weeks before their return. On his passport, he was described as 5'11" tall, having a prominent forehead, brown eyes, an "ordinary" nose, firm mouth, prominent chin, dark hair, dark complexion and an "open face." In Crawfordsville, he owned a saloon and passed away April 29, 1910 (20 Dec 1915) in Crawfordsville.
His son, Ferdinand Louis, "Fritz" was born in Crawfordsville September 26, 1892. World reknowned as an Artist, Fritz had so many other talents. A graduate of CHS he also spent a year at Wabash where he played basketball on a team that lost but one game, that one nothing to do with Fritz. He was on the floor ready to play when his Chem professor jerked him off the floor because his Chem work was not up to date. His athletic career was broken, so off Fritz went to Art school in Chicago where he won a scholarship. Four years as a student and two as an instructor was spent at the Chicago Art Institute. To keep his body sharp, he swam on the Illinois Athletic Club team.
Fritz had only two full siblings, sisters, Hildegard and Emily but there were also Caroline; Lottie; Albert Carl; Bill and George, possibly more but all I could find (these all by his father with three wives).
As a commissioned 1st Lt. in the US Army, he served with the 89th Division in France. He was division Camouflage Officer during the Argonne Campaign. After service, he stayed in France where he studied, returning to the USA in 1919 where he served a tutleage under Charles W. Hawthorne a portrait artist in the Cape Cod area. During this time he spent winters in Florida painting portraits of some high-society folks. During this time, he supposedly married a promising actress but it was a marriage short-lived and very bitter.
In 1925, he returned to his hometown, embitterened by "Rich people who treat you like a servant." His first business was to establish a studio, and he found a sweet-smelling one over Ecker's Bakery on East Main. While here, he met his future wife, Bernice Deane who worked at Bischof's Department store. Fritz taught classes and began painting Crawfordsville scenes. The one below of the court house is my person (kbz) favorite rendition of all those of our beautiful central government office.
He and Bernice would have one daughter, Beverly. Bernice later co-owned the famous dress shop downtown Crawfordsville called Fanny-Bees. Several local artists were students of Fritz (Helen Collar, Lee Detchon, Peg Shearer). His career was a good one, landing him local commissions for murals for the new Culver Hospital, the City Building and he also judged at art competitions. He won the WPA mural contest for the new Post Office which helped him financially as the 30s were hard tgimes. In 1939, he became Wabash College's first Artist-in-Residence. His studio was at Peck Hall and he continued giving classes, even having women as students which raised some eyebrows. Sometime in the 40s, Fritz moved in to Yandes Hall, upstairs giving such wonderful light.
Tom Cooksey in 1944 sent a V-mail to Fritz, noting that he was wonderful carefree days spent in Fritz's studio. As Fritz "loafed with the boys or men of the community, he tied flys so he made a bit of extra money selling the flies, which by the way, were beautifully made. His painting suffered when he developed a disease of the adrenal glands. He was working on a portrait, complete except for the background of Bill Collar and had just completed one of Ann Collar when he was forced to cease work.
Fritz passed away at 8:15 a.m. in Culver Hospital of Addison's Disease which he had suffered from for a total of 16 years. He was "typified as honest, stubborn, curious and reflective." He requested his ashes be scaterred over the streams where he had fished. God Rest your Soul, Fritz Schlemmer, one of C'ville's most impressive sons !