Steele - Theodore Clements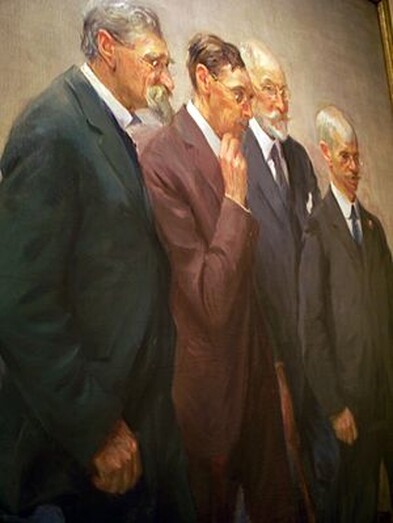 This is "The Art Jury," a painting done in
1921 by Wayman Elbridge Adam. Steele
is the one on the left, tall with the bushy beard.
===================================
Source
: Waveland Independent Waveland, Montgomery County, Indiana July 30, 1926
Theodore Clements Steele died at his home, "Singing Winds" in Brown County on Saturday. The body was cremated and the ashes buried near the home. Mr. Steele was born in Owen County Sept 22, 1847. When he was five years old his parents moved to Waveland, where he grew up and attended the old Academy. After studying in Chicago and Indianapolis he went to Munich in 1880 and remained 5 years. His early work was in portraits but latterly he devoted himself to landscape work. The library here is fortunate to have one of his most notable works, a Brown County harvest scene. Some of the older people recall him when he lived here and was a student and teacher in the academy. There are some of his early portraits in the community.
---
Source:
Waveland Independent Waveland, Montgomery County, Indiana June 4, 1926
The following concerning Theodore C. Steele, the noted Indiana artist is of special interest to our home folks, as he made his home here when he was a young man. He lived in a house that stood where Milford Milligan lives. He taught in the old Waveland Academy and gave lessons in painting. The picture from his brush in the Waveland library is one of the more important pictures from his hand. It may easily come to be of more value than the building in which it is housed. Mr. Steele married a Miss Lincoln whose parents lived in the house now occupied by Sant Moody. A homesick art student, studying the old masters at the Royal Academy in Munich, vowed he would leave the paining of portraits of haughty faced society leaders and paunchy financiers to others and devote his time to immortalizing in oil the beauties of his native Hoosierland. Theodore Clement Steele, dean of Indiana artists and famous because of his landscapes carried out his vow. After 5 years at Munich, Steele returned to Indiana and devoted the next 25 years to painting the natural beauty of his native state. Steele began his art career as a crayon and pencil sketcher, graduating to portrait painting and finally centered on sketching the sweep on the Dunes country and the rolling beauty Brown County where the artist maintains a summer home, "The House of the Singing Winds." The Hoosier painter, now 79 years old, is an undefatiguable worker. He frequently works long hours - much longer than the usual painter - that he may complete a painting while the lighting is satisfactory. When he returned from Munich Steele built a country home at Brookville, where he could be close to the nature he desired to transfer to canvas. Later he built the Brown County home and because of his success in landscape painting there others were attracted to brown County. Many artists built cottages near Nashville where a painters' colony has grown up. Steele became honorary professor of painting at Indiana University in 1922. During the school year he lives in Indianapolis always going to Brown County in summer. --typed by kbz
---
Source:
Waveland Independent Waveland, Montgomery County, Indiana Oct 30, 1952
Our Outdoor Indiana mentions the fact that T. E. Steele (sic - should be T. C. Steele), artist who established the Brown County Art Colony was a graduate of the Waveland Academy, after which he studied in Chicago and later in Europe. He had won many State Fair prizes in art by the time he was 13. -- typed by kbz
---
Source:
Waveland Independent newspaper, Waveland, Montgomery County, Indiana March 16, 1900
T.C. Steele of Indianapolis has completed a life-size painting of Ex-President Harrison for the University Club. It is said to be a fine likeness and is now on exhibition at Lieber's. Mr. Steele honored Waveland by selecting it for his birthplace and consequently her citizens take a warm interest in his artistic career. (sic - pretty sure he was born in Owen County, Indiana since the family is in Owen in 1850 and TC was born in 1847) - typed by: kbz
_______________________________________________________________________________
Source:
Crawfordsville Weekly Journal 15 April 1893 p 1

It will be a matter of pride to all Indianian's to know that that T.C. Steele, of Indianapolis, had two of his pictures selected by the World's Fair jury in Chicago to be placed on exhibition in the Art Department. One of them, entitled, "On the Muscatatuck," received a place in the first class, being the only one out of 900 pictures examined chosen for this class. Mr. Steele, it will be remembered spent his boyhood from the age of 4 to 23, at Waveland. He has since become the leading artist of Indiana and holds a high place among artists all over the world. He is a cousin to Mrs. Capt. H. H. Talbott and has visited her several times. Among his paintings are several taken from scenes in this county at Pine Hills, Yountsville, Troutman's and Meharry's Grove. - kbz

---
Other sites with information on TC but bet this one is the most unique with the old Waveland newspapers - at least I hope it is -- kbz