JOHN A. & ELIZABETH (WINDSOR) WILSON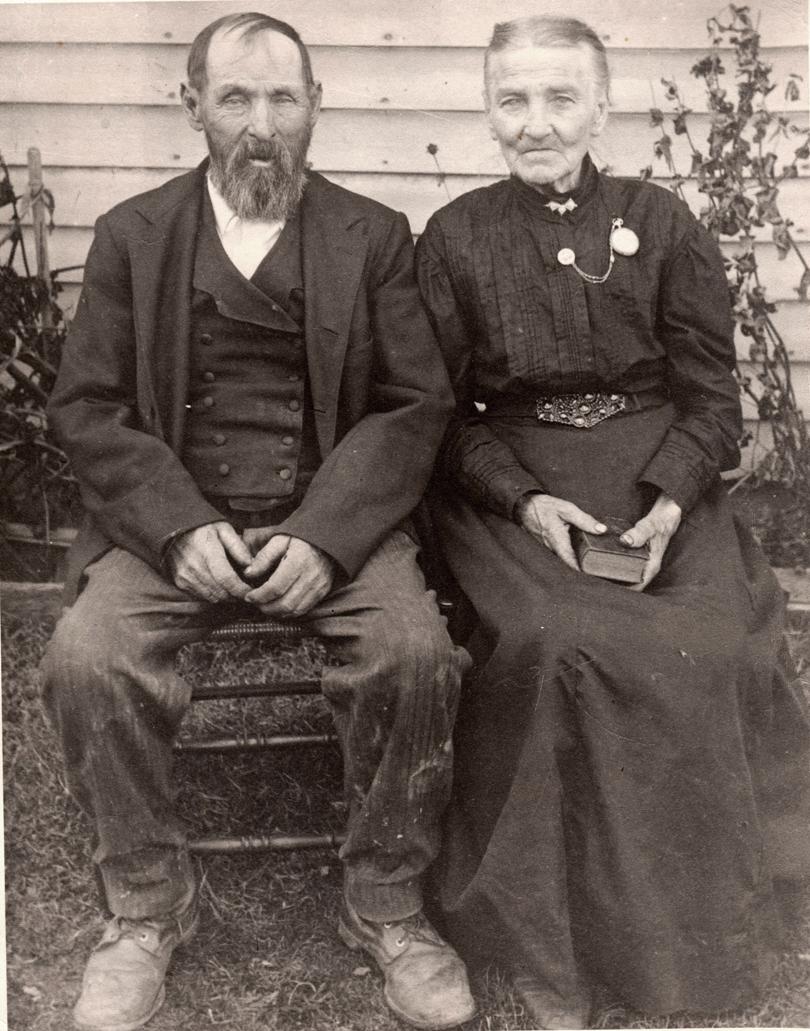 Picture from Archives - Jennings County Public Library
---
North Vernon Plain Dealer & Republican - August 30, 1917
DEATHS
WILSON-John Wilson aged 87 years, died at the home of his son, John E. Wilson, at Indianapolis, Sunday, August 25th, his death being the result of injuries sustained when knocked down by an automobile at the corner of Washington and Missouri Streets in that city, Sunday morning. The body was taken to Ebenezer Church south of Vernon, where funeral services were conducted, Tuesday, and the burial took place in the Ebenezer Cemetery. The deceased was a member of the Butlerville Lodge of Masons, which organization had charge of the funeral. Mr. Wilson was a Jennings County man having resided east of Butlerville, where he had charge of Wilson's Mill for thirty or forty years. Rev. Haas, of the M. E. Church of this city, conducted the funeral services.
North Vernon Sun - August 30, 1917
Death Comes To John Wilson
The remains of John Wilson, age 86, who died in Indianapolis from injuries received when struck by an auto driven by Thomas Mills were brought to this city Tuesday and taken to the Ebenezer cemetery for interment. Until recently the deceased resided in Vernon township. He is well known in this county having several years operated a threshing machine and at one time operated the old grist mill at Wilson ford.
Mills was arrested on a charge of assault and battering following the accident. His case was set for hearing in Indianapolis, September 10. Now that the victim died, Mill will probably be tried on a manslaughter charge.
---
North Vernon Plain Plain Dealer - February 19, 1914
Mrs. Elizabeth Wilson, wife of John A. Wilson, died at her home south of here, on Wednesday Feb. 11th, aged 80 1/2 years. The funeral was conducted by Rev. Cash at Ebenezer on Saturday following. Three sons Lewis, John and Roll, and her seven grandchildren were all present at the funeral. Her aged husband also survives her. A brother Benjamin Windsor and son, of Versailles also attended the funeral.
(From the same paper Midway Column) Mrs. John Wilson, an aged and very highly respected lady died at her home east of this place, on Thursday last.
---
You may use this material for your own personal research, however it may not be used for commercial publications without express written consent of the contributor, INGenWeb, and