DEATH OF MR. SMITH W. STORY
Vernon Journal, Friday, October 16, 1903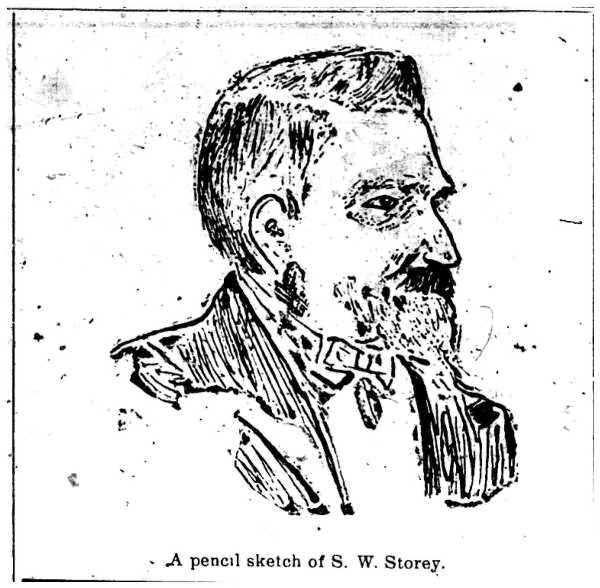 ---
This newspaper was filled with articles on Mr. Story's death.
Another Has Answered the Roll Call
Another one of Vernon's substantial and honored citizens has passed away and a gap has been left in our business and social sphere that can hardly be filled Smith William Story, president of the bank, president of a B & L association: the leading druggest of the county; superintendent of a Sunday school and elder in the Presbyterian church, died Wednesday morning at twenty minutes to eleven o'clock of cerebral hemorrhage after a short illness dating only from Sunday night. He attended to business at his store all day Saturday and conducted the Sunday school Sunday morning but in the evening began feeling ill and a little later was seized with neuralgia which settled in his right side. He did not seem to improve and on Wednesday morning grew alarmingly worse. Drs. Mitchel and Stemn were called and did everything know to them to stay the hand of death but it was apparent to those at his bedside that the end was only a few moments away. The The sad news of his illness was flashed over the city and everyone was awaiting the fatal moment. Soon Rev. Goodloe came out of the Story home with tear dimmed eyes and the people gathered about then knew the worst had come and during the remainder of the day and on Friday a stillness seemed to hang over the city that was almost unbearable.
The funeral was set for one o'clock Friday and as the hour arrived a choir composed of Mesdames: Fetter, Holmes and Wagner and Messrs. Fetter and Holmes arose and sang Mr. Storey's favorite hymn; "Jesus Lover of My Soul" The commodous home was filled to overflowing by the time the song was concluded and then Rev. Goodloe with much feeling made an oration that was very fitting. At the conclusion of his address he read the following biography and obituary prepared by Hon. T.C. Batchelor.
Smith William Story, whom we all mourn today, was born in Vernon, Jennings county, Indiana on the 23rd day of December 1833. He died on the 7th day of October 1903, aged 69 years 9 months and 14 days. His grandfather, John Storey was a revolutionary soldier and his grandfather John Vawter entered the land and laid out the town of Vernon. He was the second son of Thomas J. Story, a soldier of the war of 1812, and Jane Vawter Story, and was of a family of ten children. He was educated in the common schools and the Vernon Academy. While a mere youth he made the overland trip to the Pacific, driving an ox wagon, and for several years endured the hardship and underwent the privations and dangers of a frontiersman and miner in California and Oregon. Returning to the states he engaged in the drug business in 1855 at Vernon and continued it to the day of his death at the same stand.
May 17th 1880, he was married to Mattie E. Wise with whom he lived until her death, August 28th 1889. There was one child of this marriage, Mrs. Lincoln Dixon. He was married December 11, 1890 to Miss Lena Carlisle, who with two children, Blanche and Will survive him. He united with the Vernon Presbyterian church in 1870 and was an elder in that church at the time of his death. For 25 years he was superintendent of the Sunday school. He was an organizer and promoter of the first bank in Vernon has ever since been a director and since 1895 has been the President of the First National Bank of Vernon. He served most acceptably as trustee of this township and for some years has been a member of the school board. He was adjutant of the 9th Regiment Indiana Legion in the Civil War and died a member of Baldwin Post No. 340 of the Grand Army of the Republic.
In business he was attentive, honest and obliging, and so conducted his private affairs that he never found it necessary to sue a customer. Although he did a credit business, and never, to the knowledge of the write was he sued during the 47 years he carried on business in this place. Rather to suffer loss than to permit a customer to mistakingly believe himself wronged, was his motto: As a citizen of the county and town he was always an enterprising and public-spirited citizen and one of the foremost men to encourage and assist any business he believed would be beneficial to the community or bring prosperity to the town.
He had strong political convictions and was ever true to them, but not obtrusive. A congenial friend always, he was quiet and retiring and void of offense. Those who were associated with him in the church bear witness how faithful he was in attendance, how conscientiously he discharged his duties in that connection, how earnestly he labored for the welfare of church and Sabbath school and how liberally he contributed of his means to their support. His benefactions were not confined to his church. Many recipients of his charity were unknown to any but himself.
To his family he was most kind and generous. He loved his companions and children and they all loved him, and so his home was always happy, a place to which he gladly retired for rest and pleasure when the business of the day had closed.
A wise counselor will be missed by his business associates. An earnest worker for the welfare of the community in which he lived, has ceased from his labors. One of the best citizens of the county has departed. A kind and charitable friend is mourned. A dear devoted husband and father is of earth no more. A good man has died.
The choir again sang, "Will There Be Any Star In My Crown--a song Mrs. Story had given the Sunday school on the Sunday morning preceeding his death. The funeral cortege then started for the cemetery. In front were the bank officers who carried many beautiful flowers that had been sent. The pall bearers were: T.B. Reed, Finley Semon, Fred Fetter, C.A. Wiggam, A.F. Leavitt and F.F. Frecking.
The remains were followed to the cemetery by relatives and a host of friends.
The following from a distance attended the funeral. Mr. and Mrs. J.V. Storey and daughter of Columbus; Mr. and Mrs. J.M. Storey of Franklin; Mrs. Will Smith and Mrs. Carrie Marshal of Madison; Mr. and Mrs. M.R. Montgomery of Shelbyville; Mr. and Mrs. Chapin Wagner, Irby Wagner and Chas A. Weathers, Indianapolis; Mr.and Mrs. Chas. Lenninger of Elkhart; Will Reynolds and Charles, of Seymour and Mrs. James Gilchrist of Indianapolis.
Besides a wife and three children, three brothers and one sister survive him.
Findagrave link
---
TRIBUTE OF RESPECT
By the sudden death of S.W. Storey on October 7th 1903, the Board of Directors of The First National Bank of Vernon, in common with the entire community, were greatly shocked and feel that our town and the county loses one of its best citizens. Yet in view of our long and intimate business relations with him in this bank, he having been one of its promoters and from its organization a liberal stock-holder and director and of more recent years president, which position he occupied until his death, makes us feel more deeply the great loss we have sustained.
In justice to our feeling we are thus prompted to express our high appreciation of his business ability, his faithful and discharge of all duties and responsibilities devolving upon his officially, as well as a friend and counsellor for what he deemed the best interest of our bank, and all other relations to it.
Therefore:--Resolved; that the above as a token of appreciation and kindly remembrance be placed on our bank record, further, as a token of sympathy with his family, in their bereavement, a copy to be furnished them.
Board of Directors 1st National Bank of Vernon.
---
S.W. Story - Another Article from Vernon Journal - October 16, 1903
Not much can be added to the tribute paid S.W. Story by Rev. Goodloe and Judge T.C. Batchelor, but the Journal wants to add a word from the young man's standpoint. Mr. Storey was the young man's friend from the bottom of his big heart. Many times has he given the word that lifted the drooping spitit and carried his employes on to better and higher things. Those who enjoyed his confidence can testify to the deep interest he took in the young man's welfare. Always ready to help; here giving a cheerful work; there offering well seasoned advice and thus he grew to be loved by all. It is safe to say that no worthy young man ever asked that he did not receive. Mr. Storey is sorely missed. Rev. Goodloe said: "the church feels like an orphan" and it might be added that the town feels like an orphan.
---
Resolutions of Respect
Resolutions passed by the Vernon Presbyterian Sunday school on the death of its late superintendent. S.W. Storey.
Whereas: The Vernon Presbyterian Sunday school has sustained an irreparable loss in the death of its faithful and efficient superintendent. S.W. Storey, and Whereas: By his patient continuance in service--extending over a period of 26 years, and by his constant and devoted efforts to promote the highest interest of the school he has endeared himself not only to every member in it, but to the many who have gone out from it to seek homes in other localities. Whereas; By his oft repeated prayers, his earnest personal pleading and his abundant labors, he constantly manifested his ardent desire for the conversion and the salvation of the children under his care.
Therefore: Resolved: That we as pupils and teachers, cherish his memory; and treasure up in our hearts those vital truths which he from Sabbath to Sabbath so earnestly urged upon our attention, and that we, as teachers, strive to emulate his example in urging upon the children a decision for Christ; and tht we labor to deepen the impressions made upon their young hearts by his teaching and his example; and that his last message to us as a school, be made more impressive and more effectual by the memory of our great loss.
Resolved: That although our hearts are overburdened with sorrow, we desire to bow in submission to the Devine will-- knowing that His will is best, and--in the language of one of our teachers, "Let us find comfort in the inspired words recorded in Psalms 9, 8-9-10."
Resolved: that a copy of these resolutions be furnished our county papers and be recorded on the minutes of our school and that a copy be sent to the bereaved family of our beloved Superintendent.
Mr. Clarence Wiggam
Mrs. Eva DeVersy
Mrs. M.A. Leavitt
Committee.
---
This picture of The Smith Story home is from a home tour guide of Vernon done some years ago.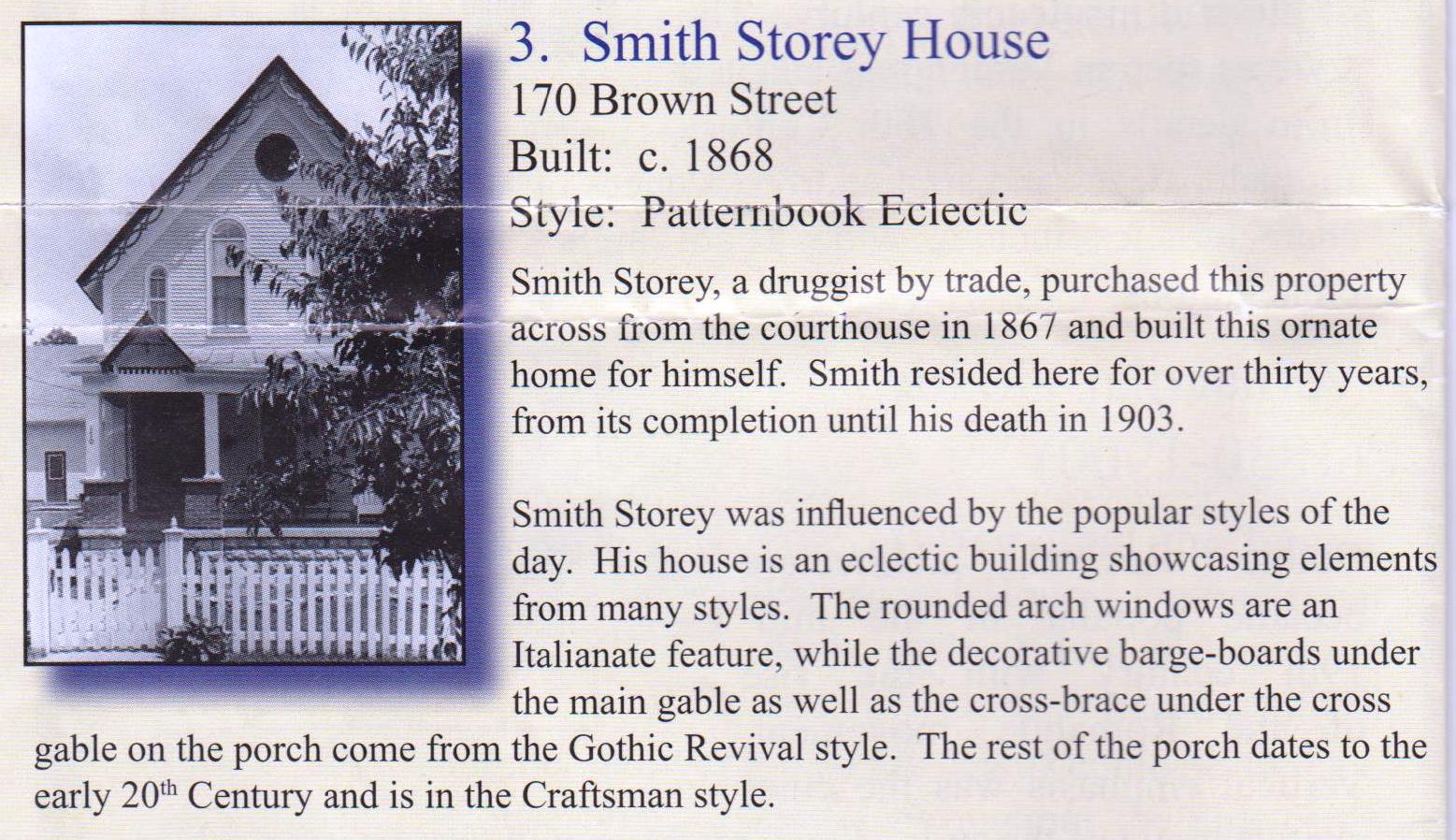 ---
You may use this material for your own personal research, however it may not be used for commercial publications without express written consent of the contributor, INGenWeb, and