SABRINA G. BAUGHN & PATRICK D. BAUGHN
Sabrina G. McCaulou
was born in Albermarl County, Virginia, February 6, 1831. In 1833 came with her parents to Jennings County Ind., located near Butlerville. Early in life she recognized her duty to the Savior, and upon a profession of faith in him she united with the Brush Creek Captist Church. In 1851 she was united with Patrick D. Baughn in the holy bonds of wedlock; and in 1857 she with her husband united with the Baptist Church in Vernon, of which she lived a consistant, faithful and examplary member until the time of her death. To this union were born unto them six children, four of whom preceeded the mother into the home beyond. Two sons, still survive the mother, and are left behind to comfort and care for the father who is infirm with age, and who is only camping on the borders of the river which divides him and those who have gone before, waiting for the summons "Child come home."
The subject of this sketch was a woman of rare traits of character. She was modest even to diffidence, and therefore her life was quiet and undemonstrative, and was always free from fluctuation. While she was modest, she was blessed with firm convictions, and always had the moral courage of her convictions. Her convictions were executed with discretion in the fear of God. She always exercised great defference for the rights and opinions of others, and seldom, if ever made enemies. Her Christian life was lived in this quiet but even way, but of that positive character which gave forth no uncertain impression. Those who knew her best loved and admired her the most. Her friendship grew with acquaintance.
As a wife she was devoted to her husband, making his interest and happiness her own; as a mother she was indulgent, patient and affectionate, giving her best services and counsel to her children, realizing her responsibility; as a neighbor, she was courteous and friendly, thinking nothing she was able to do for the poor and the sick too much, to relieve their wants or their suffering. She took great delight to render such services, and many a saint will welcome her in the other world for kindly ministration to them while on earth; and the Savior will say to her "In as much as you did it unto one of the least of these my brethern, ye did it unto me."
During Mrs. Baughn's last illness, which was protracted more than three months she endured her affliction with the same submissive trust in God with which she had served him in health, and frequently gave expression to her unfaultering trust in her Savior. And after giving directions concerning her funeral and burial, on Wednesday just at the noon hour, of Feb. 22, 1893, she fell "asleep in Jesus" and closed her active services on earth to renew them in Heaven.
She had a strong natural desire to live to comfort and care for her husband during his natural life, but for "her it was far better to depart and be with Christ."
One of earths nobelest women has passed away, mourned not only by her family and immediate friends, but by a vast number of acquaintences. Her funeral services where largely attended by the citizens of Vernon, attesting their esteem for and love of her many lovely and womanly virtues.
Earth is poorer but heaven is richer.
"Yet again we hope to meet,
When the day of life is fled,
Then in Heaven with joy to greet thee,
Where no farewell tear is shed."

"I never stand abount a beir and see,
The seal of death set on some well loved face,
But that I think, one more to welcome me
When I shall cross the interveining space
Between this land and that one over there-
One more to make the strange beyond seem fair."

Death is but crossing, with abated breath.
And WHITE, SET FACE. a little trip of sea,
To find the loved ones waiting on the shore,
More beautiful, more precious than before."

---
OBITUARY
VERNON JOURNAL, MARCH 15, 1899
Patrick D. Baughn
was born near Richmond, Virginia, December 8th, 1810. With his parents he moved to Shelby County, Kentucky in 1816. At about the age of 25 years he married Nancy Groom, August 25, 1833, and the following year himself and wife moved from Kentucky to Jennings County, Indiana where he passed the remaining 65 years of his long and useful life. By his first wife he had 8 children (2 sons and 6 daughters)but one of whom, the eldest daughter Mrs. Mary Davis, survives. A few years after the decease of his first wife he chose another companion and on June 25th, 1851 was married to Sabrina G. McCaulou, 4 sons and 2 daughters resulted from this union, of whom but 2 sons are now living. After the loss of so many members of his family he was still further bereaved by the death of his second wife, who fell "Asleep in Jesus," Feb. 22nd, 1893. The loss of this devoted companion who had kindly and faithfully cared for him for over 40 years seemed to necessitate the giving up of his home in Vernon, and so the last few years of his life were passed at the house on his farm, occupied by his only surviving daughter and her family, a short distance from Butlerville. It was at this home March 1st, 1899, the summons came "Child come home." During his active life his natural and acquired abilities combined as they were with sterling honest and integrity were recognized by his fellow citizens and by them he was called to take upon himself the responsible duties of County office-serving as Treasurer two terms, then as Auditor, and for a time as recorder discharging all official duties in such an upright and efficient manner as to meet with the approval of all good citizens.
But more important than all this was his humble, devoted christian life. He became a member of Bucks Creek Baptist Church, Ky., in 1833. He thus early in life recognized the claims of the Creator upon the affections of his heart and the services of his life. Some 65 years of his christian life having been spent in this community most of you knew him and I will not attempt in words of my own, to portray the christian character of this devout man, but feel that in a letter to a friend, soon after the death of his companion, he reveals the emotions of his heart, his trust and humble belief in the goodness of his Heavenly Father, far better than anyone else can.
"Your
favor
of the 16th just received. Your letters were always gladly received and anxiously looked for, but there are times when the same favor is unspeakably more precious. I find this equally true in my Scripture reading and meditations. I have never been so experimentally impressed with the marvelous fitness of God's Word to meet the wants of his children. Whatever their trials may be they may find support to bear them up under their several and diversified needs. How necessary then that we "search the scriptures." "Truly there is balm in Giliad and a Physician there." We sometimes stop to contemplate a particular trial that may come upon us, and we trembling, could I bear that if required of me? My late experience disclosed a preciousness revealed in certain passages of Scripture that I was never able to realize so fully as now. The 28th Psalm, portions of the 15th chapter of 1 Cor.-1 Thess. 5 chapter 13 to 18 verses-14th chapter of the Gospel by John and kindred portions. I have never been so powerfully impressed with a sense of the Devine Wisdon and loving compassion of the dear Redeemer.
I am so glad you thought about writing to me. Your concern for me is a comfort to me so great that I will not attempt to describe in words and can't help but think I shall miss your supporting presence and help more than you can mine.
How precious is the memory of happy days past-But to think; I hope so soon to meet those loved ones who have gone before."
Ripe in years his labor well done the Heavenly Father who blessed him with so many noble and worthy traits called him home to his eternal reward. With him the battle of life has ended, the trials and joys of this earth have faded away, but he hath attained to a higher and better home, one of unending peace and joy. May we cherish his memory and follow his example that we too may leave the world better by having lived.
Funeral services were held in the Vernon Baptist Church, of which he had been a member for some 40 years, conducted by Rev. Seburn from Rev. 14th-18th vs.-"And I heard a voice from Heaven saying unto me, Write, Blessed are the dead which die in the Lord from henceforth: Yea, saith the Spirit that they may rest from their labors and their works do follow them." After which the remains were laid by the side of loved ones in the Vernon cemetery there to wait the resurrection of the just. "That man lives twice, who lives the first life well." H.
---
This is one of those instances where simply copying these obituaries made me curious so I did some checking and stumbled into a quandry. In both of the above Sabrina G. is stated to have the maiden name of McCaulou (which have many various spellings but is consistantly McCaulou in Jennings county records) but her marriage record to Patrick D. Baughn is giving me fits, it lists her name as Sabrina G. Neal?? I also found where when their son Richard Grant Baughn married he filled in his mothers name as McCaulou. I am posting here both his marriage application and Patrick and Sabrina's marriage record. I am still trying to get to the bottom of this so if anyone out there has the answer please let me know.
Sheila Kell
PART OF MARRIAGE APPLICATION OF R. GRANT BAUGHN & MARY TWADELL

MARRIAGE RECORD OF PATRICK BAUGHN & SABRINA G. NEAL (McCAULOU)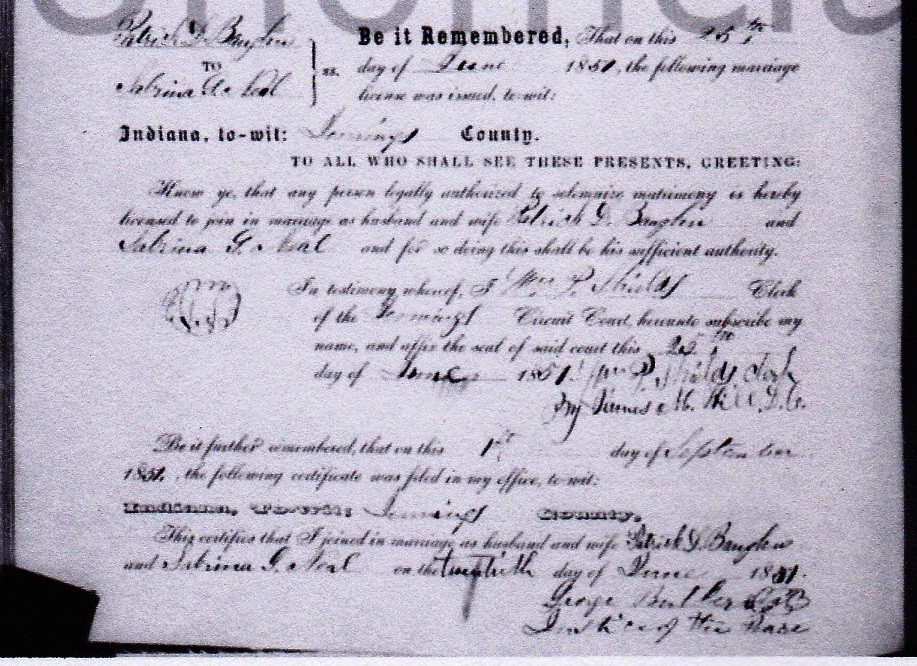 ---
You may use this material for your own personal research, however it may not be used for commercial publications without express written consent of the contributor, INGenWeb, and