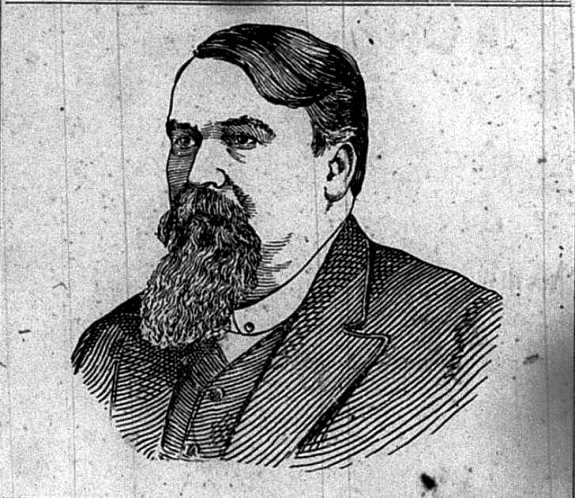 REV. JOHN E. McCOY
North Vernon Sun July 29, 1891
---
AT REST
Rev. J.E. McCoy died at his residence in this city last Friday morning at 7 o'clock. In his death our city loses an excellent citizen and a man who had the friendship and respect of all who knew him. He was a good man-generous to the poor, kind to the afflicted, and a comforter of the distressed. The remains were taken to Dupont Sunday on a special train and interred in the cemetery at that place at 4:30 p.m. Funeral was in charge of the I.O.O.F. and K. of P. lodges of this city. The attendance was at least 2,500.
John E. McCoy was born at Lexington, Scott Co., Ind., Nov. 1848, and died at his residence in North Vernon, Ind., last Friday, July 24, 1891 at 7 a.m., aged 47 yrs. 7mo and 16 days. He was the son of Rev. Wm. and Elizabeth A. McCoy, of New Philadelphia, Ind. His father, whose death occured just 9 weeks prior to the death of the deceased, was, at the time of his death the oldest Baptist minister in southern Indiana. For the past 22 years, the son has followed in the footsteps of the father, and the work accomplished for the churches over which he had charge is sufficient testimony of his true worth. During his ministry he has preached over 150 funeral sermons, thus adding comfort to the bereaved ones of his congregations. He married nearly 100 couples and added to the church over 1200 members, besides doing much evangelical work for other ministers in the fields of labor.
Bro. McCoy was educated at Franklin College, entering that institution first in 1851, nd returning again after a service in the U.S. Army during the Civil War. It was during his first year at college that he was converted and baptized by Rev. James S. Read, pastor of Franklin church.
The demand for men to fight for the safety and perpetuation of this government took many students from the colleges throughout the north. Bro. McCoy was one of the number who obeyed his country's call. He enlisted in Co. E. 13th. Ind. Cavalry, 131st Reg't under Col. Johnson. On Oct. 18, 1864, he was honorably discharged on account of injuries received while in the service. His army record was irreproachable.
After his return from the war he successfully followed the profession of teaching until his ordination as a Baptist minister at New Philadelphia, Ind., Aug. 14, 1869. It was in this same year that he became pastor of Enor Baptist church, Jeffersonville Ind. subseqently he came to Dupont, where he labored successfully, preaching to his and surrounding churches for 17 years, and at his death was the beloved pastor of his church.
He was married on Thursday, May 1875 to Miss Lizzie Williams, the estimable daughter B.B. Williams, this place, and who has in various ways greatly assisted her husband his ministerial work.
Other churches have enjoyed the blessings of his labors and to-day the good people of Freedom, Union, Lick Branch, Big Cedar, Dupont, Mount Pleasant and other churches, mourn the death of this exellent man and sympathize with his bereaved relatives. In his plain, practical manner the truth was presented, and like the needle which always points out the right direction, so truth estimated under an inspiration of natural force and eloquence accomplished the good work with which his labors were so signally blessed.
Possessing the social element well-developed, he was able to make friends of all with whom he came in contact. The rich and the poor alike were his friends, and to the needy his heartstrings vibrated readily. No one was freer to open his purse to him who asked aid, and in the benevolent organizations to which he belonged he was all that could be desired as an upright, exemplary brother. "With charity to all and malice toward none", he had the esteem and confidence, not only of all religious philanthropists but of everyone who knew him. The fraternities have lost a noble member, the church a grand Christian, and the ministry one of its best instruments in the upbuilding of the cause of the blessed Redeemer. An excellent brother, a filial son and a kind and devoted husband has gone to rest.
Findagrave link
---
July 29, 1891 - Vernon Journal
Death and Burial of the Rev. John E. McCoy
The Rev. John E. McCoy died at his home in North Vernon, on Friday morning July 24, 1891, after an illness of two weeks. He was born at Lexington, Indiana, Nov. 28, 1843, and was therefore 47 years 7 months and 16 days old at the time of his death. Before the war, he entered Franklin College with a view of finishing the course of study of that institution, but obeying his country's call for volunteers, he left school and in 1841, he enlisted in Company E. 13th Ind. Cav., from which he was honorably discharged Oct. 18, 1864. After the war, he finished his college course and became a teacher until he was ordained as minister of the Baptist chruch in 1869. In 1879 he was married to Miss Lizzie Williams of Dupont, who survives him.
Mr. McCoy was an eloquent and successful minister, and especially happy in his pastoral work. Endowed with fine social qualities, he made friends werever he was known, and the fact that he had a large circle of friends, was attested by the immense throng that attended his funeral at Dupont on last Sabbath afternoon. He was a member of several secret organizations, and several lodges of Odd Fellows, Knights of Pythias and Grand Army men attended his funeral, and participated in the exercises. A special train of six coaches carried the remains and the friends to Dupont. The funeral was preached by Rev. F.M. Huckleberry of Madison, assisted by Revs. Clevenger and McRee of North Vernon.
The Journal begs to extend sympathy to the bereaved family of the deceased, for we mourn with them the loss of a valued friend. A good, useful man has gone from our midst to his reward, but we find the key to open the door of truest comfort in the text of his funeral sermon: "Blessed are the dead who die in the Lord, from hence forth: Yea, saith the Spirit, that they may rest from their labors, their works do follow them."
---
You may use this material for your own personal research, however it may not be used for commercial publications without express written consent of the contributor, INGenWeb, and