July 29, 1891 - North Vernon Banner Plain Dealer, Page 1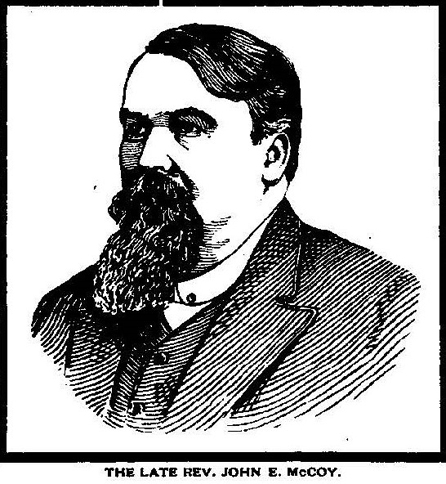 PASSES PEACEFULLY INTO REST ON FRIDAY, JULY 24th.
---
As Soldier, Citizen and Minister His Work Has Been Well Done
---
John E. McCoy was born at Lexington, Scott county, Indiana, on November 8th, 1843, and died at his residence in North Vernon, last Friday, July 24th, 1891, at 7 a.m., aged 47 years, 7 months and 16 days.
He was the son of Rev. William and Elizabeth McCoy, of New Philadelphia, Ind. His father whose death occurred just nine weeks prior to the death of the deceased, was, at the time of his demise, the oldest Baptist minister in Southern Indiana. For the past twenty-two, the son has followed in the foot-steps of the father, and the work, accomplished for the churches over which he had charge, is sufficient testimony of his true worth.
During his ministry he preached over one hundred and fifty funeral sermons, thus adding comfort to the bereaved ones of his congregations; and married nearly one hundred couples, and added to the church over twelve hundred members, besides doing much evangelical work for other ministers in their fields of labor.
Brother McCoy was educated at Franklin College, entering that institution first in the year 1861, and returning again after a service in the Union Army during the civil war. It was during his first year at college that he was converted, and baptized by Rev. James S. Read, pastor of Franklin Baptist church. The demand for men to fight for the safety and perpetuity of this government, took many student from the colleges throughout the North, and Brother McCoy was one of the number who cheerfully obeyed his country's call. He enlisted with Co. E, 13th Ind. Cavalry, 131st Regiment, under Col. Johnson. On October 18, 1864, he was honorably discharged on account of injury received while in the service. His army record was irreproachable.
After his return from the war, he successfully followed the profession of teaching until his ordination as a Baptist minister, at New Philadelphia, Ind., August 14th, 1869. It was in this same year that he became pastor of Enon Baptist church, Jeffersonville, Ind. Subsequently he came to Dupont, Jefferson county, where he labored successfully, reaching to this and surrounding churches for seventeen years, and to-day the good people of Freedom, Sand Creek, Union, Big Cedar, Dupont and other churches mourn the death of this excellent man, and sympathise with his bereaved relatives. In his plain, practical manner, the truth was presented, and like the needle which always points out the right direction, so TRUTH eliminated under an inspiration of natural force and eloquence accomplished the good work which his labors were so signally blessed.
Possessing the social element well developed, he made friends of all with whom he came in contact. The rich and the poor alike were his friends, and to the needy his heart-strings vibrated readily. No one was freer to open his purse to him who asked for aid, and in the benevolent organizations to which he belonged he was all that could be desired as an upright, exemplary brother. "With charity to all and malice toward none," he had the esteem and confidence, not only of all religious philanthropists, but of every one who knew him.
The fraternities have lost a noble member, the church a grand Christian, and the ministry, one of its best instruments in the upbuilding of the cause of the blessed Redeemer. An excellent brother, a filial son and a kind and devoted husband has gone to rest.
A special train, bearing the remains of deceased, was run from this place to Dupont. The train consisted of six coaches and a baggage car, and all were filled to their utmost extent with those who had known and loved Bro. McCoy in life, and who attested that love their presence on the occasion.
The funeral was under the direction of the Odd Fellows and Knights of Pythisa, of which Orders deceased was a valued member, and was from the Baptist church at Dupont, conducted by Rev. Frank M. Huckleberry, of Madison. The sermon was eloquent and appropriate. About two thousand people were in attendance.
Near sunset the mortal body of a good man was laid at rest in the lettle cemetery near by, amid the rears and regrets of a multitude of people who loved him for his kindness, his manly virtue and ever willing spirit to succor the needy, minister consolation to the distressed and uplift the fallen. He has left us, but his good deeds are shafts of strength and purity, worthy an ambition to emulate.
Find A Grave Link
---
"He Giveth His Beloved Sleep"
[A tribute to the memory of Rev. John E. McCoy, who died July 24th, 1891, at North Vernon, Ind. Dedicated to Mrs. McCoy, by her friend, Mrs. P. R. Gibson.]
Close the brown eyes so tenderly,
Fold the pale hands to rest,
Life's sun has set o'er earthly hills,
But yet its radiant glory fills
With light, the golden west,
O, eyes that ne'er again shall weep!
God "giveth His beloved sleep."
Rest weary feet that never more
Earth's toilsome paths shall tread,
O, breathing heart, so full of pain,
No aching throb may come again,
All pain and anguish fled,
Thank God for rest so calm and deep!
"He giveth His beloved sleep."
O, form laid tenderly away,
Where sweet flowers bloom and song birds come,
And dew tears fall and low winds grieve,
In this your rest and home?
Ah, no, though here love comes to weep,
Not here shall His beloved sleep
But entered into heavenly rest
From toil and pain set free,
As glory gilds a setting sun,
"His works do follow him," "Well done,"
"O, faithful in thy misistry."
"Tis thus God calls,-we may not keep!"
"He giveth His beloved sleep."
I desire to thus publicly thak the good people of North Vernon for their kindness and attention during the recent illness of my husband. LIZZIE W. McCOY


---
You may use this material for your own personal research, however it may not be used for commercial publications without express written consent of the contributor, INGenWeb, and