DEATH COMES TO L.C. JONES
North Vernon Sun December 27, 1912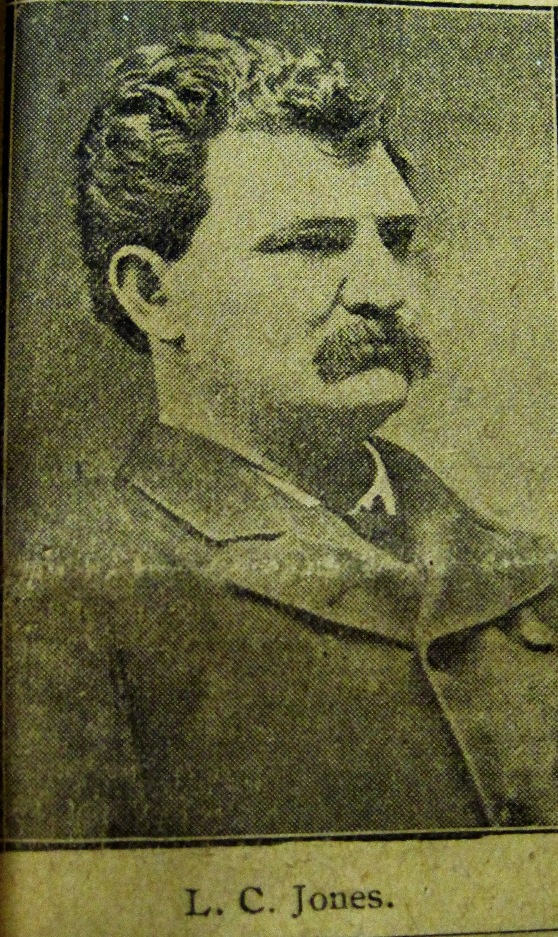 WAS A GALLANT SOLDIER OF THE CIVIL WAR
Served in the 30th Ill. Infantry
Also had a newspaper career--Was editor of the Sun, Madison Herald and Austin Capital--A friend of children.
Linsay C. Jones, soldier and editor, died at his home in this city Monday night, December 22, after an illness of several weeks from a complication of diseases. The funeral was held from the residence Christmas afternoon at two o'clock conducted by Rev. Essicks of the Baptist chruch. Six veterans of the civil war acted as pall bearers. The interment was in the city cemetery.
Linsay C. Jones was born near Ronnsford, Virginia, August 12, 1843 and with his parents came to Indiana when but a boy and settled at Hanover, Ind. At the age of fourteen years he went to Illinois and two years later, at the outbreak of the civil war he enlisted in Co. K, 30th Illinois Volunteer Infantry. He served with great loyalty the country he loved for over three years and was through some of the severest struggles of the war. He is the author of a volumn entitled: "A Story of Sherman's Marches to the Sea," and through it runs a deep sentiment of love and kindness for his fellowmen. This was a characteristic of the deceased and never was it shown to better advantage, unconsciously though, than when the little children came to know him. From his trip back and forth from his work for the past two years he was always met by a crowd of children on Saturday and he would never fail to win new friends as he distributed little tokens of his friendship for them. They watched regularly for Mr. Jones and he never dissapointed them. He enlisted as a private in his company and for gallant service was promoted to first sergeant. He was wounded at the battle of Campaign Hills. At the close of the war he came back to Hanover and entered the field of journalism. For several years he was editor of the Madison Herald and from this paper he came to North Vernon and bought the North Vernon Sun. After editing the paper for some time he sold it and went south and became editor of the Capital, at Austin, Texas. He did not like the southland however and soon returned to Hanover. Shortly afterward he again purchased the Madison Herald and continued as editor of the paper for several years.
In 1904 while residing at Hanover a son, to whom the deceased was greatly attached, met a tragic death and since then his health has gradually failed. Since residing in this city he suffered a slight stroke of paralysis and this also hastened his death.
In 1884 he was married to Fannie Brazzleton Scott and to the union three children were born, one of whom, Mrs. Ed Chance, together with the widow, survive.
Mr. Jones had many admirable traits and he never forgot a friend. His newspaper training stood him in hand on many occasions. After he grew to be inactive in the newspaper business he accepted the position as manager of the advertising for Tripp Bros. and this position he held until the time of his death. For the past five years whenever he was able he made regular trips to his old home, the Sun office, and if he could read a good political editorial by Henry Watterson in the Courier Journal he would go back to his work very much enthused and refreshed. His advise and censure were highly regarded by the editor of the Sun and we had a deep personal feeling of love for him.
He had scores of friends here and at Madison and at Hanover, everybody in the little town counted him as a personal friend.
His army experiences were indeed thrilling and one experience he had at the end of the war come to but few men--made it never came to any before. He was foraging for his company with a party and got into his own brother's house at Jonesboro, Tenn., and came so near being captured that he had to leave a team of mules. It was after the war closed that he visited the brother and recognized his mules.
---
You may use this material for your own personal research, however it may not be used for commercial publications without express written consent of the contributor, INGenWeb, and