JEPTHA D. NEW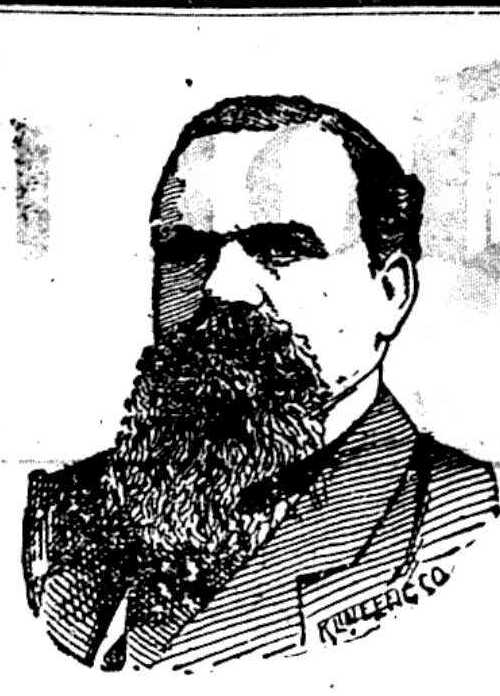 ---
North Vernon Plain Dealer - July 13, 1892
It is with feelings of profound sorrow and regret that we cronicle the death of one of Vernon's most prominent citizens, one of Jennings County's most noted men and one of Indiana's ablest jurists. A thrill of horror ran through this town and community early last Saturday morning, when it was learned that Judge New had committed suicide by shooting himself through the heart. It was generally know that he was in failing health, but his indisposition was not considered serious, and no one dreamed of the dark cloud that lowered over his mental horizon, as he came and went in our midst, during the few weeks preceeding his death. He awoke as usual and conversed with his wife a few minutes previous to the shooting. She left the room to look after breakfast, and he signified his intention of taking another nap. She had not been out of the room but a few minutes when she was startled by the report of a revolver, and rushed back to her husband to find him breathing his last with a death wound in his heart. It had been a long established custom of Judge New's to sleep with a loaded revolver under his pillow, so his family never thought of its presence there, as there had been nothing in his manner to indicate any premeditation of his terrible deed. Judge New's whole life was a contradiction to the thought that he would take his own life in full possession of his faculties. The bravery and endurance with which he met all obstacles antagonizes any such idea. Enfeebled physically by disease and prostrated mentally by long continued overwork, he was rendered wholly irresponsible for his acts.
After our friends have passed from our midst, it is very natural to run into ealogy. In this instance silence is more expressive. The greatness of his public life is now part of history. His was an exceptionally brilliant career, which makes it all the sadder that the sun of his prosperity was beclouded at its setting.
In his private life he was quiet and unostentatious. He was in no sense a society man, but was an ideal father and husband. When not engaged in the discharge of his official or business duties, he found surest rest for weary heart and brain in the loving atmosphere of home, where all was harmony and peace. And it is to the stricken inmates of this home-to the wife of his youth, so sorely bereaved in her declining years, to the daughter who was always the object of his tenderist solicitude, and to the two sons, on the threshold of their young manhood, are deprived of a father's wise counsels,-that the sympathy of all who have ever known Judge New, goes out in fullest measure.
The funeral service was conducted from his late residence on Monday afternoon, and was attended by a vast concourse of people, including the Governor and State Officers and many prominent in the legal profession throughout the State.
The sermon was preached by Rev. John Brazelton of North Vernon, a friend of the deceased for forty years. He spoke feelingly and tenderly, and made the occasion one of interest and profit to all who heard him. Gov. Chase followed him at the cemetery and paid an eloquent and beautiful tribute to the life and character of the departed
The following named gentlemen acted as pall bearers: Gov. Ira J. Chase, Sec'y of State, Claude Mathews, Reporter of the Supreme Court, John L. Griffiths, Attorney-General A.G. Smith, Clerk of the Supreme Court, A.G. Sweeny, Attorneys C.A. Corbly and Charles L. Jewett and Judge Thomas C. Batchelor.
The remains were interred in the Vernon Cemetery, near the graves of his parents and other kindred. Jeptha Dudley New was born in Vernon, Jennings County, Indiana, November 28, 1830 and was the son of Hickman and Smyra Ann New.
Judge New was reared in the town of Vernon, and was educated at the Vernon Seminary and Bethany College Va., an institution founded by the celebrated Alexander Campbell. After leaving College in 1850, he read law in the office of Lucius Bingham, at Vernon. The first public office held by him was that of Mayor of his native town. To which he was elected at the age of twenty-two. In 1862 he was elected Commonwealth Attorney for two years, when he was elected Common Pleas Judge for four years, at the end of which term he declined re-election.
He then returned to the practice of his profession, and continued in the same with great success and profit until 1874 when he was elected to the 44th Congress as a Democrat in a strong Republican district, carrying it by thirteen hundred majority. He was the first and only Democratic candidate for Congress, who has ever carried Jefferson and Jennings counties. In 1876 he was unanimously renominated for Congress but declined. In 1879 he was urged to accept the nomination, and did so; and he was elected after the hottest political contest ever known in Indiana in an off year. His work in Congress was important, he being a member of various special committees whose duty it was to adjust important concerns, prominent among them the much talked of Real Estate Pool in the District of Columbia, the Hayes-Tilden contest at New Orleans, and the investigation of the charges against Mr. Seward our minister to China.
At the close of the 45th Congress he resumed the practice of his profession, and persued the same activity, until 1882, when he was elected Curcuit Judge. His term as Judge expired November, 1888.
At the time of his death, Judge New was one of the Appellate Judges appointed by Governor Hovey in 1890. He received the nomination at the last Democratic State Convention held in April, for Supreme Judge of the second district.
He leaves a wife, Mrs. Sallie Butler New, one daughter Mary, wife of Dr. W.H. Stemm of North Vernon, two sons Willard and Bert, who are lawyers and members of the Jennings County bar, two little grandchildren, Merle and Jeptha Dudley Stemm and one brother and sister, Geo. W. New of Indianapolis and Mrs. Preston Branham of Princeton, Indiana.
---
---
You may use this material for your own personal research, however it may not be used for commercial publications without express written consent of the contributor, INGenWeb, and