JOHN WOOLEY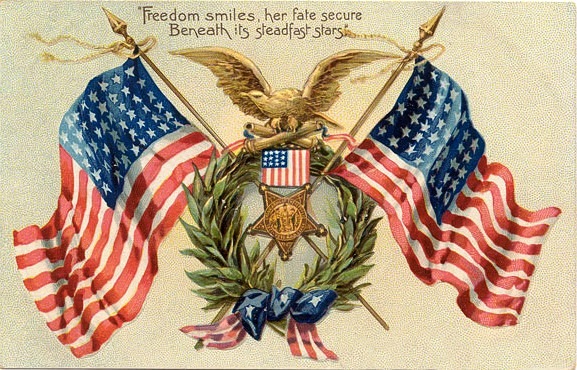 Company B, 6th Indiana Infantry
---
OBITUARY
Vernon Banner - April 14, 1864
Our esteemed friend, John Wooley, a member of Co. B. 6th Ind., departed this life February 14, 1864, at the hospital in Chattanooga. He was in the 22nd year of his age. He was the adopted son of James and Sarah Miller, who feel their loss more keenly than words can express, for he was to them a dutiful son, in every acception of the term. Society has lost a valued member. The country also has lost a faithful son, for notwithstanding the short period he was permitted to live in the service of his country, we have every reason to believe he discharged every duty faithfully. At the Graham church, Sunday April 3rd, Elder Mitchell, an eloquent and able Presbyterian Minister, delivered the funeral service for our friend, which was most touching and beautiful, from these words: "Therefore be ye also ready, for in such an hour as ye think not, the son of man commeth." Mathew 24th chapter and 44th verse. He was followed by Rev. W. Mallick, who, in a few brief sentences, referred to the upright life led by Mr. Wooley, the acts of kindness he was ever ready to perform, and closed by saying that he died as he had lived, honored and esteemed by all, and now his memory, pure and unsullied, is left us to cherish. A large number of persons were present to pay this last tribute of respect to one who had passed from home and friends, never more to return. But his friends have the comforting assurance that he has gone to join the army above. In a letter a comrade of his wrote, at his request, after he became to ill to write, he said----"Tell father I have no fear of death; all is well with me." It is evident from this that his soul had made its peace with its God ere it quit its tenement of clay. It was the melancholy task of William Carson and Isaac Hall, who had been his friends from earliest youth, to stand by his bedside in his dying moments and mark his ebbing spirit, as it gradually lost its hold upon its mortal tenement, and winged its way beyond the skies to God who gave it. All who knew him loved him, for his many manly and shining qualities of heart and mind, as exhibited in his daily intercourse with those around him.---Generous, obliging and courteous, to know him was to love him---such was the gentle, kind and loving Wooley. SARAH C. JAMES
---
Comments & Research
Here is another case of me getting hung up on something I am putting on the website. For one thing the young lady who wrote this obituary is the 1st cousin 1 time removed of the husband of my first great grand aunt (Sarah Catherine Ayers). At the time the obituary was written Sarah Catherine James was about 17 years old, and had been raised near James & Sarah Miller and John Wooley. Sarah Catherine James never married, she died in 1868 at the age of 21. The way this obituary is written you can see she was very fond on John Wooley.
So I decided to see what I could find on this young man. So many of our Civil War soldiers died of sickness during the war and it appears John was no exception. Since I could not find a grave for John here in Jennings County I checked the Military records and cemeteries, here is what I found.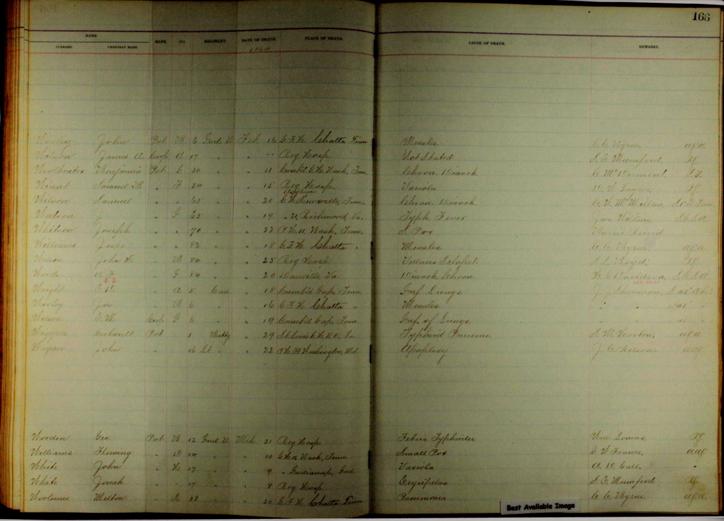 As you can see this document from Ancestry.com and is hard to read but he is listed first on the page which is a U.S. National Cemetry Interment Control Form and reads Wooley, John, Pvt. Co. B, 6 Ind I, Feb. 16, 1864, C.F.H., Chatta, Ten, Measles, C.C. Byrne, afa.
Next on Ancestry I found this: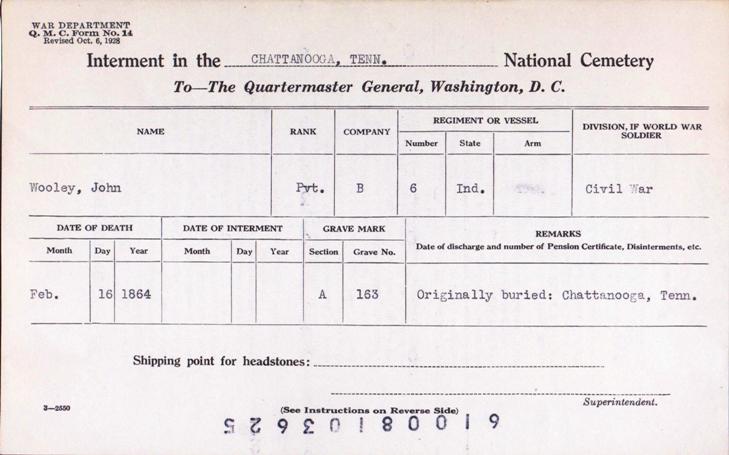 Next I checked Findagrave for a headstone
John Wooley
I have not yet figured out if there is any blood connection to his adopted parents James N. & Sarah (Wood) Miller. John Wooley shows in their home from the age of 5 years (1850 census). I do know from previous research that the Millers were members of Graham Presbyterian Church, in fact were among the founders, they lived in Jennings County from at least the 1820's and are buried in Graham Presbyterian Cemetery here are links to their headstones.
James Miller
and
Sarah Miller.
If anyone has anything they can add to this please let me know!
Sheila
---
You may use this material for your own personal research, however it may not be used for commercial publications without express written consent of the contributor, INGenWeb, and